What's up with… BT, Juniper Networks, Vodafone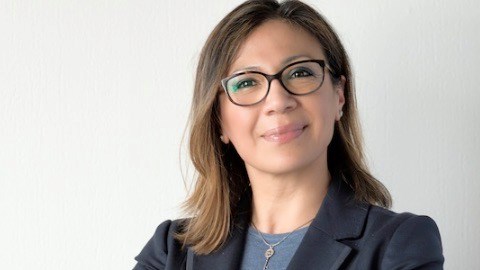 BT has a new MD of research and network strategy
Juniper Networks has a new CMO and some 'Beyond Labs'
Reports suggest Vodafone might try to sell a slice of its IoT unit
In today's industry news roundup: Gabriela Styf Sjöman is replacing Tim Whitley as BT's head of research; Juniper Networks has a new CMO and some funky new R&D labs; Vodafone's ongoing revamp might involve the sale of a stake in its successful IoT unit; and more!
BT Group has appointed industry veteran Gabriela Styf Sjöman (pictured above) as its new managing director of research and network strategy, the UK telco's chief security and networks officer, Howard Watson, announced on LinkedIn. She will replace Tim Whitley, who is retiring after 40 years at BT, with effect from 1 June. "Gabriela brings extensive international business experience and is a proven leader and innovator in the telecoms & IT industry," noted Watson. "Currently, Gabriela is a board member at TDC Net, the leading Danish network service provider, and Global Legal Entity Identification Foundation (GLEF), which was founded by the G-20 Financial Stability Board to increase transparency in global financial transactions. She has held senior positions across technology, strategy, operations and business development in organisations including Nokia, Ericsson and Telia," added Watson. "I am humbled and extremely excited to embark on my next professional journey with BT Group. I am counting the days," noted Styf Sjöman in response to Watson's post. Whitley's retirement was first announced late last year when BT's networks team underwent an overhaul. "As well as leading BT's applied research team, Tim has been the MD for Adastral Park [BT Group's innovation centre] for many years… Tim has represented the location, its work and people with distinction, both internally and to the outside world," noted Watson. "Under Tim's leadership, BT Group has worked at the forefront of new technologies and standards development in areas such as broadband applications, IP and data networks and converged services and has delivered many European and World research 'firsts'. I would like to thank Tim for his leadership, support, and advocacy for Adastral Park, along with his stewardship of our world-leading research programmes. I wish him very well for the future," added the chief security and networks officer. Lisa Perkins, who is service research and realisation director in BT's networks team, will be the lead executive at Adastral Park and report to Styf Sjöman. "Lisa has been a high-profile presence at Adastral Park for some time and I look forward to her continued advocacy and leadership in ensuring it remains the globally recognised home of BT Group research and innovation and central to the UK's innovation ecosystem," noted Watson.
Juniper Networks has appointed Jean English as its new chief marketing officer (CMO), with immediate effect. English "joins Juniper with a strong track record of successfully building holistic data-driven marketing strategies to scale enterprise growth and transform AI and cloud companies as they aim to enter new market segments and reinvent their brands," noted the vendor with some prose that sounds like it's right out of a marketing handbook (the use of the word 'holistic' is usually a bit of a giveaway…). English has more than 20 years of marketing experience at major companies, having been CMO at NetApp and Palo Alto Networks and global vice president of marketing for IBM Cloud. As for Mike Marcellin, who had been warming the CMO chair until a few days ago, a Juniper Networks spokesperson told TelecomTV: "Juniper Networks can confirm that Mike Marcellin has decided to leave the company. We want to thank Mike for his tenure at Juniper and his contributions to the company's success."
Still with Juniper Networks… the vendor also has unveiled the Juniper Beyond Labs – to be based at its innovation hubs in Sunnyvale, California, Bengaluru in India and Westford, Massachusetts – where it will "collaborate with a community of academic and industry partners with a goal of breaking new ground for sustainable leading-edge networking technologies to help meet the future needs of a digital world." This covers a lot of interesting ground, as it will "focus on a cross section of networking domains, including IT, data center, security, AI/automation, network operations, WAN and 5G/6G, along with emerging areas like quantum computing," according to the vendor. Partners already on board include network operator Eurofiber in the Netherlands, which is collaborating with Juniper on a quantum testbed that is experimenting with a "new security approach using quantum key distribution (QKD) and post quantum cryptography (PQC)," and Purdue University, a research university based in West Lafayette, Indiana. Juniper is also working with Intel on "the integration of the Intel FlexRAN reference architecture, private 5G networks, Juniper RAN intelligent controller [RIC] and the Juniper cloud-native router on Intel Xeon processors, to enable new capabilities to support 5G transformation." And with the RIC comes a green networking angle to the vendor's research: "Juniper Beyond Labs will prioritise sustainability as an integral part of network design principles and related use cases to help network operators meet sustainability targets. For example, the Juniper RAN intelligent controller (RIC) platform today offers energy-saving features, such as traffic steering, that allows efficient utilisation of network resources to meet capacity demands while avoiding additional capital investments." We expect to hear more about these labs in the future…
Vodafone Group is reported to be seeking an external investor for its internet of things (IoT) unit, Sky News has reported. According to the report, Vodafone has hired Akira Partners, an merger and acquisition advisory firm specialising in the telecom, media and technology sectors, to seek out companies that might buy a minority stake in the unit, which is valued at around £1bn. Vodafone, which has been developing its IoT business for years, boasted 162.3 million IoT connections at the end of March this year, according to details published in this week's full financial year report. The average revenue per user (ARPU) for IoT, though, is much lower than for regular mobile connections, so Vodafone's IoT service revenues for the full year came in at about €1bn, though that still makes it one of the leaders in a market that Vodafone values at around €13bn per year. The move to seek an external investor comes as the telco begins a business transformation under its recently appointed CEO Margherita Della Valle, who noted this week that the company's performance has not been good enough, that major changes are needed, and that 11,000 jobs will be cut over the next three years.
Sam Altman, CEO of OpenAI, the company that developed ChatGPT, has reportedly urged US lawmakers to regulate artificial intelligence (AI). Testifying before a US Senate committee and cited by BBC News, Altman said that an agency should be formed to license AI companies, adding that the technology itself could be as big as "the printing press" but with potential risks. "I think if this technology goes wrong, it can go quite wrong... We want to be vocal about that," he was cited as saying, adding that he would like to work with the government to prevent that from happening. Altman also reportedly admitted that AI will affect certain jobs, and said the government needs to "figure out how we want to mitigate that", despite being bullish about "how great" jobs of the future will be in the report. His comments come after various people and organisations in the tech industry, including Telefónica CEO José María Álvarez-Pallete, and thousands of AI experts, researchers and supporters warned of the risks from the rapid developments in generative AI (GenAI).
South African operator Telkom SA has warned of a potential asset impairment of about 13bn South African rand (ZAR), equivalent to around $673m, for the year ended 31 March 2023. In a statement to shareholders, it noted that a number of factors have had "an adverse effect" on the company, including "significant market changes and current economic conditions" including accelerated loadshedding (temporary shutdown of power supply when the demand for electricity nears available supply levels), low anticipated economic growth rates and a high interest rate environment, coupled with evolving technological advancements. In February, the troubled telco announced plans to lay off 15% of its workforce. Its full-year results are to be published on 13 June 2023.
The CEO at OSS vendor Teoco has described the recent M&A deal with Amdocs as a "win-win outcome" for the two companies and confirmed that it is only a specific part of the Teoco business, the Helix service assurance unit, that is being sold to Amdocs for an initial $90m. "We believe that Amdocs is a good home for our Service Assurance business," Atul Jain told TelecomTV in an email. "Amdocs and Teoco have been partners since 2016, winning several clients together. Our progress in cloud-enabling Helix made it a more compelling and strategic fit for Amdocs. When Amdocs approached Teoco earlier this year, we were able to find a win-win outcome for both parties," noted the CEO. "This transaction leaves Teoco with more resources to invest in its business analytics and RAN solutions business. You can reasonably expect even greater innovation from us in the coming 24 months as a result of applying greater financial resources and narrowing our focus," concluded Jain. Let's see, first, if the deal goes through, as Amdocs abandoned its planned $188m acquisition of service assurance specialist Mycom OSI in December last year, almost six months after the deal was announced.
- The staff, TelecomTV