Ant Group's AI efforts build on its fintech heritage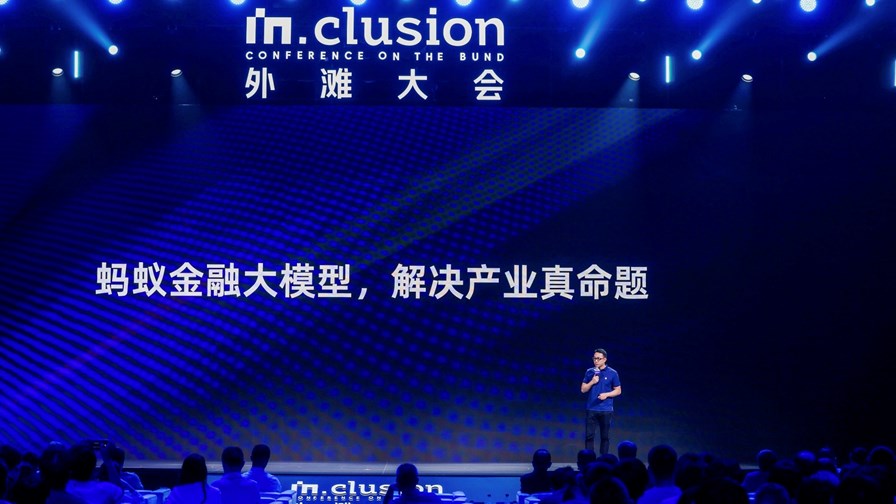 China's Ant Group has unveiled its large language model (LLM) for the financial services sector
It's a market well known to Ant Group, which has more than 1 billion users for its Alipay platform
Its LLM is being trained on hundreds of billions of datasets containing Chinese financial documents
The system is under closed testing for six months and nearing commercial release
After years of heavy regulation, political scrutiny and financial penalties, China's Ant Group has further signalled its return to more normalised operations with the unveiling of a large language model (LLM) and related AI applications developed for the financial services sector, where it is already a major player with its Alipay payments platform that boasts more than 1 billion users.
At the 2023 INCLUSION·Conference on the Bund in Shanghai, the company revealed it has invested huge sums in the back-end technologies that are absolutely vital to the training of a LLM.
Wang Xiaohang, vice president of Ant Group and head of the financial LLM development, told his audience (see picture, above), "We have built computing power at a level of 10,000 GPUs [graphics processing units]. On this basis, Ant's entire financial business has quickly switched to the LLM paradigm."
The system has been – and continues to be – trained on hundreds of billions of token datasets containing Chinese financial documents, in addition to more than 1,000 billion tokens from general corpus datasets, the company noted in an announcement about its efforts. The LLM also has a dataset of more than 600,000 instructions from over 300 real-world industry use cases, "significantly optimising its capability for financial-specific tasks."
Ant Group's financial sector LLM is based on its existing general LLM but, as Xiaohang explained, specific LLMs are needed for specific industry sectors, and that's something we're starting to see already in the telecom sector – see SK Telecom to develop telco-optimised LLM with AI partner Anthropic.
"General-purpose LLMs are difficult to be applied to industry-specific use. To truly bring value to the finance industry, language capabilities, domain knowledge, domain expertise and security capabilities are the prerequisite conditions, which are also key challenges to the development of financial LLMs," noted Xiaohang. "Based on our extensive experiences from financial service businesses, Ant Group has developed an architecture integrating LLM technologies with domain knowledges and industry services, which has already been tested in Ant Group's intelligent financial services scenarios."
The financial LLM is now in closed tests on its wealth management and insurance platforms, and has been integrated into various associated services.
LLMs came to public prominence in November last year when OpenAI's ChatGPT was launched. Although such systems were in development prior to the hype that accompanied the introduction of ChatGPT – which has been followed by many other, similar LLM models – levels of investment were nowhere near where they are today as more and more money is poured into a very immature and problematic technology.
Along with the unveiling of the LLM itself, Ant Group also introduced two new applications powered by it. Zhixiaobao 2.0 is an intelligent financial assistant for consumers able to provide services including market analysis, financial product evaluation, portfolio diagnosis, asset allocation suggestions, investor education, wealth management, the relative merits of different insurance products and family insurance plans.
Meanwhile, Zhixiaozhu 1.0, an intelligent business assistant for financial industry professionals, can be tailored to help service representatives, investment advisors and insurance claim specialists, and to provide comprehensive and intelligent support for tasks such as investment analysis, information extraction, content creation and business opportunity insights, as well as the verification of insurance claims. What could possibly go wrong?
Simultaneously, Ant Group made its open-sourced, AI-powered, coding platform "CodeFuse" available to the developer community and made its financial-specific AI task benchmark Fin-Eval available to the public to facilitate industrial innovation of LLM for the financial industry.
So far, Zhixiaobao 2.0 has been in closed test for about six months and will be available to users once it gets regulatory approval, which is expected by the year end.
The move suggests that better (or at least less challenging) times are ahead for Ant Group, its founder Jack Ma, and Alibaba – the gigantic Chinese internet and e-commerce conglomerate that owns a third of Ant Group and was founded by Ma. Alibaba got a bit too big for its boots and fell foul of the ruling Communist Party, politburo and the country's regulators, which ultimately resulted in the company being broken up into six units.
The "organisational overhaul" was an effort to appease the political powers after Ma made the mistake, in 2020, of publicly criticising Chinese regulators for preventing innovation at Ant Group, which was just about to undergo a massive IPO. That IPO was cancelled and Ma subsequently disappeared from view for several months before apparently going into a period of self-exile overseas, and then latterly returning to China as a much-diminished and chastened figure who now talks about his desire to return to his first love and go back to being a schoolteacher in a far-flung Chinese province.
- Martyn Warwick, Editor in Chief, TelecomTV
Email Newsletters
Sign up to receive TelecomTV's top news and videos, plus exclusive subscriber-only content direct to your inbox.