Feature-phones are looking interesting again as smartphone growth stalls
With smartphone growth slowing, the hitherto eclipsed feature-phone is in the spotlight

Many older users find the latest smartphones too smart for their own good

Plus LTE-based feature-phones could get a bit of telco push to help reclaim spectrum for 5G
It may sound unlikely, but the venerable old feature-phone is making a bit of a comeback. With the smartphone market stalled and perhaps even contracting in some regions, the feature-phone segment suddenly looks attractive. It may not be growing (it's been squeezed for many years by increasingly competitive smartphones) but its rate of contraction has slowed, according to Hong Kong-based market intelligence firm Counterpoint Research, which reckons that whatever the short-term trends, the "easy days of smartphone growth are over". With smartphones in the doldrums, there are several reasons why feature-phones could step in to provide some vendor relief.
Firstly, it says, telcos will put in marketing effort to shift LTE feature-phones to replace the huge pool of 2G and 3G models still being happily used. If they can replace the long tail of old phones in developed markets particularly, they'll be able to comprehensively refarm for 5G the old (but highly valuable) lower frequencies and optimise their infrastructure around IP.
It reckons that more than half a billion LTE capable feature phones will ship globally over the next five years, and will prove an attractive upsell since, for about the same money, users will enjoy more efficient 4G access and clearer calls with VoLTE.
As many feature-phones won't have an app store to download apps, Counterpoint thinks the opportunity for telcos to pre-install apps and services might also be attractive to them.
The other driver is that there is a large (and probably growing) market segment - especially amongst the older (over 55) mobile cohort - which wants to avoid upgrading to the more expensive, complex to learn and use, not to mention worryingly insecure, smartphone category. "For many, voice calls and texts remain king," says Counterpoint. These users, it thinks, can be coaxed into a more versatile feature-phone purchase with the right enhancements and extra features (especially the 4G label) at the right price.
With top-line smartphones getting even more eye-wateringly expensive, those owners will also be looking for feature-phones as second phones to take with them into hostile environments (like music festivals).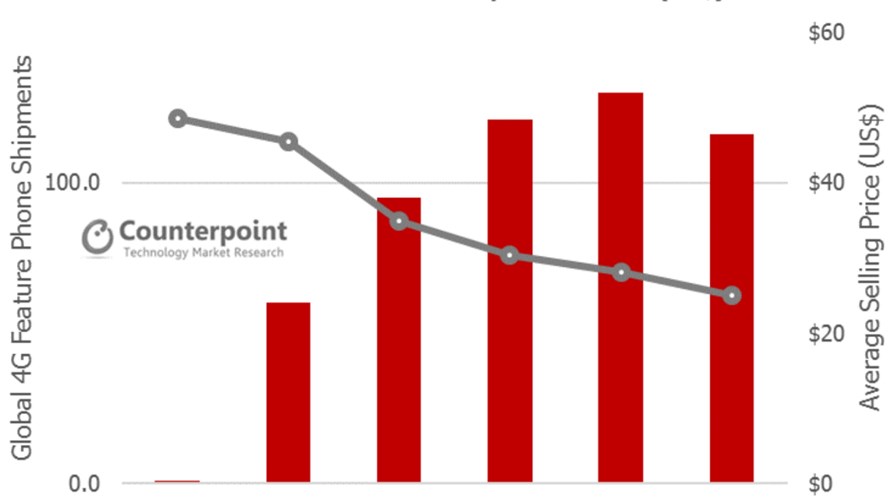 Feature-phone rennaisance
Signs of a feature-phone rennaisance are already visible. By now you've probably heard of HMD, the stunningly unmemorable company name attached to the start-up - officered by ex-Nokians - licensed to sell Nokia-branded phones.
HMD has a full slate of phones from the very dumb to the reasonably smart, with three new Android smartphone launched yesterday ( see - Nokia continues its smartphone come-back via HMD). But where it appears to have done best, at least in terms of brand profile-raising, is in the feature-phone category (profitability at this stage is another matter) where it has been resuscitating some old Nokia favourites including the 'iconic' slider phone, the Nokia 8110.
So well, in fact, that HMD recently announced that it was now valued at over $1 billion, having raised $100 million in a funding round designed to get it properly off the ground. Observers think its successful foray into retro styled feature-phones has played a big part in boosting investor confidence.
Another company riding what appears to be a feature-phone wave is Reliance JioPhone, owned by India's richest man Mukesh Ambani. It went from nothing to 15 per cent of the feature-phone market in less than a year after launch.
Together with HMD, Global Reliance JioPhone has injected some new excitement into the feature-phone scene helping to push the global growth of the segment.
Nobody's suggesting that we declare the smartphone a big mistake and that the world should stampede back to feature-phones, but old prophecies of feature-phone death at the hands of the smartphone were clearly wrong. The feature-phone is taking up a permanent place in the mobile device hierarchy.
Email Newsletters
Sign up to receive TelecomTV's top news and videos, plus exclusive subscriber-only content direct to your inbox.