Back to the Feature? Get ready for the 'Digital Detox' phone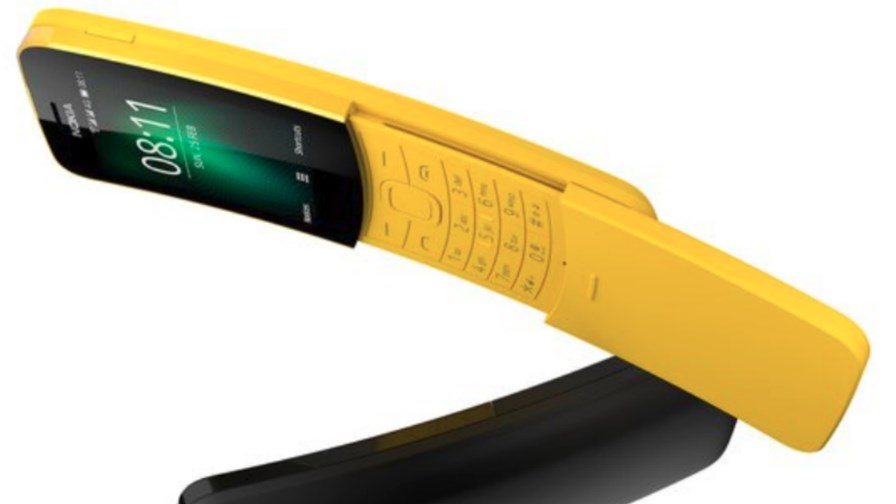 Why a re-thought feature phone segment offers more than nostalgia
Many feel that smartphones have become too complicated, too chaotic and too dangerous
Perhaps it's a question of finding more appropriate platforms for different apps
It's tempting to attribute the apparent signs of new life in the feature phone segment to nostalgia (see - Feature phones are looking interesting again as smartphone growth stalls); to the idea of returning to a simpler world of messaging and voice calls; of a time before apps were weaponised to plague us with notifications or set up to forward our critical data to those who would strip our money from our bank accounts. Given this, you can see the attraction of a phone that is only capable of a few 'smart' functions and might, if purchased, form the basis of a 'digital detox'.
But there could be more to it than that. There are several other reasons why a form factor smarter and more capable than the classic feature phone, but more modest and restrained than today's smarties might find a growing market.
So, what's the problem exactly?
It's not that many of us suddenly want to turn back the clock, but we would like to control the online clamour. Having a phone that only performs those vital messaging and voice call functions along with 'mobility' aids (like mapping) and is, as a result, much easier to deal with, could be just what the digital doctor ordered. For more complex and/or demanding apps there may be another platform. More on this later.
The poster child for the digital detox phone appears to be (so far) the recently re-issued Nokia 8110 4G. The 8100 is the slider phone that reminds phone reviewers of a certain age of 'The Matrix', the 1999 movie which featured the original Nokia 8100 as a futuristic prop. My own phone nostalgia goes right back to the original Smartphone - the one deployed by Agent 86, Maxwell Smart (rotary dialer and all), but that's another story.
As for the 8100 4G, I've played with a demo model (in the shop, no unboxing). It's a good example of what a 'Digital Detox' phone could be on paper, although the ideal one could be more robust and involve less plastic.The following reasons for its purchase over a smartphone might apply:
It's (much) cheaper (just £70 or so). If it's lost or broken it's less tragic
It's smaller and lighter
It can be more robust, particularly with a slider to keep it safe
It can concentrate on being a communications device - calls, emails and messages.
It can be a back-up to a smartphone, in case the smartie gets stolen or broken.
For the budget buyer - especially in developing markets - it may be deemed a better option than an ultra cheap smartphone for about the same money. A very cheap smartphone can be bad at everything, a 'digital detox' phone can do a few things well and be more manageable into the bargain.
If you don't use your phone to get into your bank account or buy things, then you don't need to worry quite so much about phone security.
The battery life can be measured in days, not hours.
I suggest that many people might find a home for those highly involving apps that won't make it onto the digital detox phone on slim, low-powered, notepad-like, solid state, feather-weight, and mostly inexpensive user device. Google's Chromebooks are just one example.
Let me explain...
Chromebooks are doing nicely in comparison to the traditional PC market - which is flat. Concrete figures are non-existent, but Gartner reckons Chromebooks' share of the overall PC market rising steadily from a low base. They commanded 3.6 per cent of that market in 2016 by shifting 9.4 million units (as against 6.8 million in 2015). That represented a growth rate of 38 per cent and should grow to a lofty 11.9 million this year with that growth over the next few years.
Chromebooks are being joined by other form factors engineered along the same lines and will jostle in the market against Microsoft's Windows 10 machines and other detachable 2-in-1 devices, all basically attempting to be ultra-mobile, and easy-to-use computers.
To extend the Chromebook's appeal Google is using 'container' technology to host established applications from other environments on the platform - most importantly Android. This means Chromebook users can access the playstore and run Android Apps alongside Chromebook apps and cloud services.
This move is usually taken to be a sign of Google trying to increase the appeal of the Chromebook concept by making it more like a 'proper' PC running proper standalone programs.
In fact, it's as much a way of ensuring the position of Android (and its crucial info-gathering and ad-placing role) by giving it a more expansive form factor to ride on, one capable of presenting information and entertainment in a more impressive, useful and compelling way.
Take shopping on Amazon. Yes, you could compare and buy things on a smartphone and I'm sure many people do, but given a choice I'd go for a large(ish) screen and a keyboard to shop with any day. After all, the phablet can only get so big before it busts pockets; while bezels can only be removed once.
So Google is offering a bigger screen and (importantly) a proper keyboard for many of the apps that would conventionally run on an Android phone, but can now be run on a Chromebook
Google has already been busy shoring up the other end of my equation by putting serious money ($22 million) into an outfit called KaiOS which is responsible for a feature phone platform designed to run on very small amounts of RAM. KaiOs is in the Nokia 8110, so this way Google ensures that its all-important key applications can be baked into the feature phone OS (and will presumably attempt to do the same for any other Feature phone OS getting ready to hit the market).
KaiOS is already going great guns in India where it's being used in Reliance's Jio phones.
Email Newsletters
Sign up to receive TelecomTV's top news and videos, plus exclusive subscriber-only content direct to your inbox.