Light Sabres at the ready: augmented reality gathers pace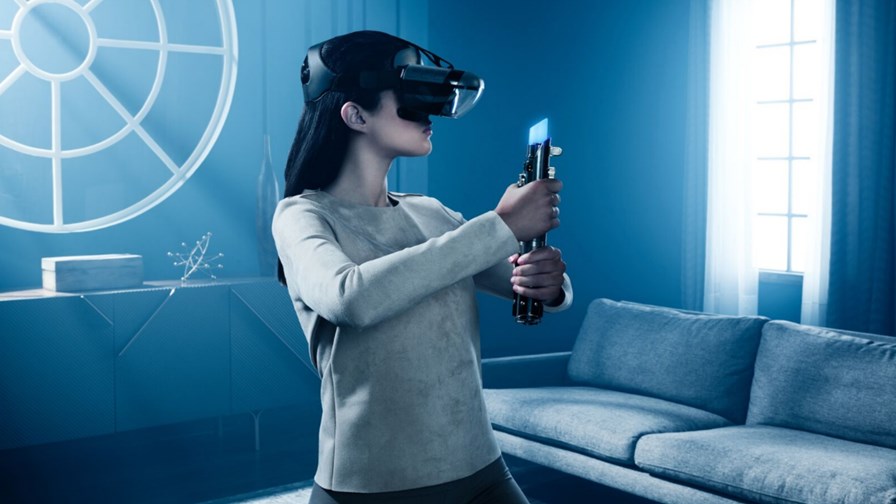 Consumer-oriented AR/VR looking healthy
Big spending increases of 262 per cent over the $130 million spent in 2016 in Central and Eastern Europe
Consumer spending on AR/VR around 40 per cent of total
It's difficult to tell from all the hype and extreme marketing, but it looks like there's an ongoing surge in everyday consumer virtual and/or augmented reality software and gadgets - at least if an informal temperature test of what's happening in Berlin at the IFA consumer electronics show, is anything to go by.
Just one example: Lenovo - no doubt on the hunt for the next Pokemon Go-style craze - has splashed out on a big, Disney-partnered campaign for its 'Star Wars: Jedi Challenges', described as "a new augmented reality Star Wars product that allows fans to experience Star Wars in ways never before possible."
Jedi Challenges features a smartphone-powered Lenovo Mirage AR headset, Tracking Beacon, Lightsaber controller, and hours of Star Wars gameplay. It's a part of Force Friday II, which celebrates the worldwide launch of new Star Wars products.
Lenovo says the product is compatible with both Android phones and iPhones, will be available this holiday season. Yes, Christmas starts on the 1st September of course.
Users start by downloading the Star Wars: Jedi Challenges app onto their compatible phone and sliding the phone into the tray of the Lenovo Mirage AR headset. Sleek, portable and lightweight, the Lenovo Mirage AR headset will provide full gaming immersion with an optimal level of comfort during gameplay. The headset also comes with a Tracking Beacon, which is placed on the floor and acts as a stable base for the headset's sensors to detect the user's movement during gameplay.
On a broader note, IDC has forecast revenue from Augmented and Virtual Reality (AR/VR) for Central and Eastern Europe. It's expected to reach $471 million in 2017, reflecting an increase of 262% over the $130 million spent in 2016, IDC claims. AR/VR spending will continue to soar in the coming years, achieving a compound annual growth rate (CAGR) of 133% over the 2016-2021 forecast period and totaling $9 billion in 2021.
Augmented and virtual reality spending in CEE
"The CEE region is seeing a wide range of successful augmented and virtual reality projects across all countries and various verticals," says Jiri Tersel, senior research analyst at IDC CEMA for wearables and AR/VR. "A few examples include enhanced warehouse management using augmented reality glasses for a wholesaler in Romania; in the Czech Republic, printed natural science textbooks in secondary schools that allow interacting with 3D models of a human body using smartphones; and augmented reality art exhibitions in Moscow."
Of course the consumer segment will be the largest source of AR/VR revenues in 2017, accounting for almost two fifths (38%) of spending in Central and Eastern Europe, including hardware, software, and services. This will be especially pronounced in the virtual reality market. Industry spending will trail consumer spending as virtual and augmented reality applications slowly find their way into everyday use. The largest-spending segments will be discrete manufacturing and process manufacturing, which together are expected to account for more than $100 million in AR/VR investments this year.
Email Newsletters
Sign up to receive TelecomTV's top news and videos, plus exclusive subscriber-only content direct to your inbox.