What's up with… BT, Vodafone, Huawei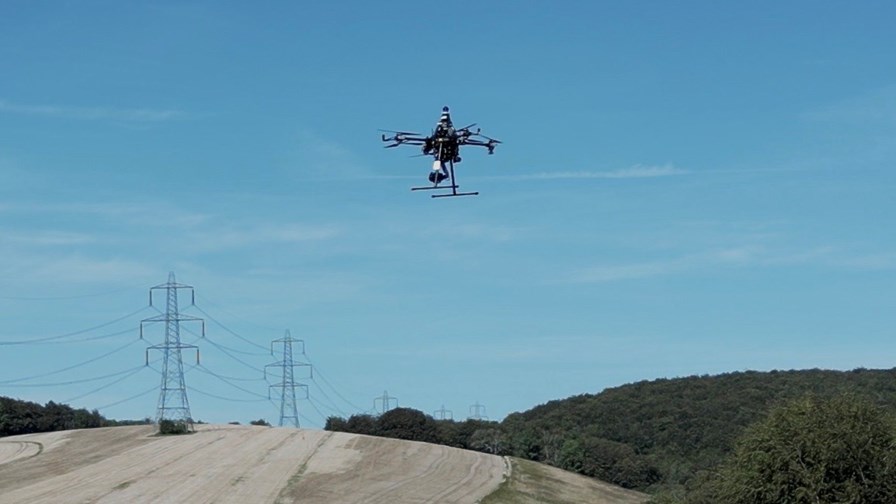 BT unveils its Drone SIM
Vodafone supports connected drone tests in Germany
Huawei's latest European battle is in Spain
In today's industry news roundup: BT has launched a SIM device designed to connect unmanned aerial vehicles (UAVs), otherwise known as drones; Vodafone is also droning on in Germany; Huawei gears up for a 5G state aid battle in Spain; and more!
BT has unveiled the UK's first Drone SIM, which is designed to connect with the operator's EE mobile network from altitude and offer, according to the operator, "continuous connectivity in the sky" with unlimited data plan options. The Drone SIM is also able to "endure vibration, temperature and humidity extremes, supporting all-season drone use" (A Drone for All Seasons? I might watch that movie…) The SIM can enable control of the connected drone and ultra high-definition video streaming, deliver telemetry data to enterprise users, and allow "drone users to capture detailed, survey-quality imagery and video for a wide range of purposes, from search and rescue to infrastructure inspection," noted BT in this press release. The launch of Drone SIM follows a series of successful trials and development by Etc, the digital startup and incubation unit at BT that invested £5m in unified traffic management (UTM) specialist Altitude Angel at the beginning of this year as part of a joint effort to advance the development of the UK's 165 mile-long drone superhighway. UPDATE: In a response to questions from TelecomTV, the BT team noted that the Drone SIM supports 4G, 3G and 2G connectivity, but not yet 5G. "We have chosen to launch with 4G as it has much better geographic coverage across the UK and the frequencies in which it operates on our network are better aligned with the Ofcom UAS [unmanned aircraft systems] framework," noted BT. And as for the potential altitude at which the Drone SIM can provide a service, a "connection can happen as high as 400ft," noted BT, and if a customer needed to connect at a higher altitude they would need to consult with the BT drones team.
BT isn't the only major telco in the European region to be exploring various possibilities related to the drone market. In Germany, Vodafone's "high-performance mobile network" is providing support for a project that is testing a delivery service by drones in a remote part of the country. The town of Michelstadt has been selected as the testing ground for the new delivery solution, called 'LieferMichel', as part of a research project by German drone solutions provider Wingcopter and the Frankfurt University of Applied Sciences. The pilot, funded by Germany's Federal Ministry for Digital and Transport (BMDV), uses a Vodafone SIM card, which allows the drone to send and receive its location data in real time to a control station on the ground. As a result, the drone is able to steer itself "safely across the fields and villages to its destination". Following the testing phase, the project could be extended beyond 2023. Find out more.
Beleaguered Chinese vendor Huawei is fighting a number of market exclusion battles across Europe right now. The latest is in Spain, where the government has allocated more than €500m in state aid for the deployment of 5G networks in rural areas but noted that some suppliers considered "high risk" would be excluded from the process, reports The South China Morning Post. Spain's Ministry of Economic Affairs and Digital Transformation, which will allocate the funds, has not yet decided which companies will be designated as high risk, but Huawei is clearly anticipating that it will be included in that list and has filed an appeal via its Spanish operation, claiming that the exclusion of certain suppliers goes against the law, is disproportionate, and is politically motivated.
Still with Huawei… The company says it has been working with China Mobile, China Telecom, and China Unicom on the deployment of 5G reduced capability (RedCap) technology in more than 10 cities, including Shanghai, Hangzhou, Ningbo, Shenzhen, Foshan, Ningde, Jinan, and Suzhou. RedCap is designed specifically to support internet of things (IoT) applications and provide better latency and bandwidth than is possible with its 4G precursor, LTE-M. Huawei says it is also working with multiple operations within the STC Group, e& (formerly Etisalat) and Zain in the Middle East, and AIS in Thailand on RedCap service development, and is working with numerous technology partners to bring RedCap products, including customer premises equipment and modules, to market. To find out more about Huawei's RedCap developments, see this press release. RedCap is increasingly popular among the global telco community with operators in the US, Australia and South Korea making headway with the IoT-friendly capabilities.
NTT (the parent company of Japanese telco NTT Docomo) and Japanese IT and electronics giant NEC have joined forces to tackle supply chain-related challenges. Together, they have established the Security Transparency Consortium, which will work to resolve "social issues, including the response to supply chain security risks, by enhancing and enabling the use of security transparency in products, systems and services". "In recent years, supply chain security has become an issue, as products, systems and services are subject to security breaches through the supply chain in their procurement, maintenance, and operation," NTT explained in a statement announcing the move. And in countries outside Japan, the company has witnessed an "increasing demand" for business operators in the supply chain to provide so-called 'visualisation data' on software configurations, which is said to entail "cost burdens for suppliers of products". Therefore, the company believes "it is essential to effectively utilise visualisation data at an appropriate cost" and claims that the new consortium will contribute to the use of visualised data through the cooperation of various players within the supply chain, including product vendors, system integrators and security vendors, as well as businesses that use and operate products, systems and services.
- The staff, TelecomTV
Email Newsletters
Sign up to receive TelecomTV's top news and videos, plus exclusive subscriber-only content direct to your inbox.