What's up with… FWA in the US, SKT and RedCap, the O-RAN Alliance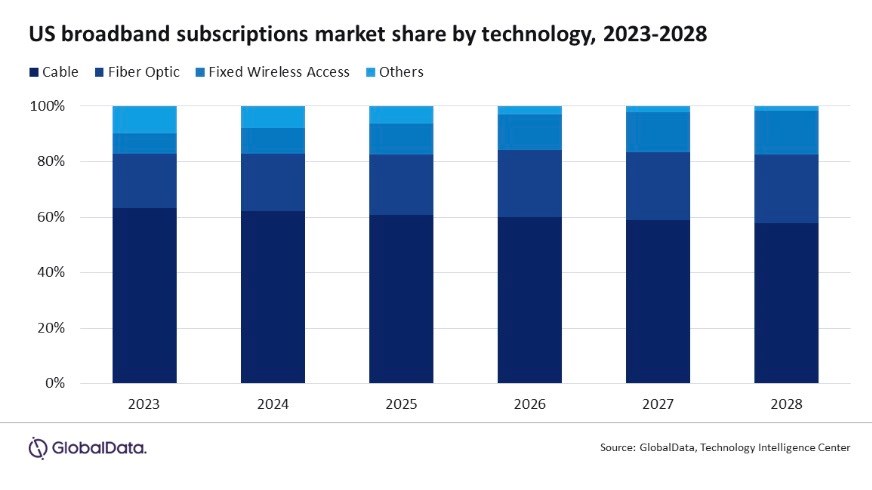 Fixed wireless access (FWA) is taking the US by storm
SK Telecom is the latest operator to embrace 5G RedCap
The O-RAN Alliance unveils four new OTICs
In today's industry news roundup: Fixed wireless access (FWA) connections are set to account for more than 15% of all US broadband lines by 2028, according to a new forecast; SK Telecom has joined the 5G reduced capability (RedCap) gang to explore the potential of enhanced IoT services; the O-RAN Alliance takes its Open Testing and Integration Centre (OTIC) tally to 15; and much more!
The fixed wireless access (FWA) sector is on course for rapid growth in the US, according to GlobalData, which expects the technology's subscription market share in the US fixed broadband market to more than double in the coming years from the 7.2% expected in 2023 to 15.8% in 2028. The driving force behind the uptake will be FWA's customer-friendly attributes, such as easy self-installation and affordability, combined with "high reliability and performance", according to Tammy Parker, principal analyst at GlobalData. But despite its rapid adoption, the number of FWA broadband connections will still be way behind those of cable and fixed fibre in the US by 2028, according to the data and analytics company. Cable technology is set to keep its dominance, accounting for 58% of all broadband access lines in 2028, but it is expected to lose market share during the period as it faces increased competition from 5G FWA networks and fibre-optic network rollouts. The latter "presents a significant challenge as it is highly reliable and can deliver the symmetrical multigigabit speeds that are increasingly demanded by consumers and businesses", Parker commented. Fibre deployments are also gaining momentum as government subsidies result in "an unprecedented expansion" of the fibre broadband infrastructure. This technology's share of the market is forecast to grow from 19.5% in 2023 to 24.7% in 2028. In total, US broadband services revenue is forecast to rise from $102.9bn in 2023 to $126.3bn in 2028. Find out more.
GlobalData's forecast follows the second quarter updates from both Verizon and T-Mobile US, which have been pushing hard with their respective FWA broadband service offerings. T-Mobile US ended June with 3.7 million "high speed internet" FWA customers, having added 509,000 during the second quarter, the operator noted in its earnings release. It also boasted that its latest FWA customer growth number was "more than AT&T, Verizon, Comcast and Charter combined for the fifth consecutive quarter." Meanwhile, Verizon, which has just invested further in 5G FWA technology vendor Pivotal Commware, added 386,000 FWA customers during the second quarter of this year to take its total to 2.26 million at the end of June.
The IoT potential of 5G reduced capability (RedCap) technology is attracting increasing attention in the mobile operator community. Hot on the heels of developments at AT&T and Australia's Optus, South Korea's SK Telecom says it has verified a commercial pilot network based on technology from Nokia and MediaTek. "Through this demonstration of RedCap technology, SK Telecom confirmed that it can effectively reduce power consumption by optimising the bandwidth and number of antennas of a terminal," noted the operator in this press release (in Korean). "The development and demonstration of RedCap technology is significant in that it has secured the core technology necessary for SKT's 6G and AI technology evolution, and has laid the technical foundation for AIoT services that combine artificial intelligence and IoT [internet of things] in the future," added the operator, noting that it "plans to develop various services through cooperation with domestic and foreign operators and manufacturers so that AIoT can be used in various fields."
Industry body the O-RAN Alliance has approved four new Open Testing and Integration Centres (OTICs) in North America. "OTICs are vendor-independent, open and qualified labs approved by the O-RAN Alliance that issue awards in the O-RAN Certification and Badging Program so that operators can deploy products at scale and with confidence," according to the organisation. The four new OTICs are located at: The Institute for the Wireless Internet of Things (WIoT) at Northeastern University near Boston; the Center for Wireless, Communities, and Innovation (WiCI) at Iowa State University (ISU); Powder (the Platform for Open Wireless Data-driven Experimental Research) at the University of Utah in Salt Lake City; and the Commonwealth Cyber Initiative (CCI) xG Testbed at Virginia Tech. "The O-RAN Alliance welcomes four additional OTICs to North America, bringing the worldwide total to 15," noted Alex Jinsung Choi, the organisation's chairman. "The essential function of OTICs to certify and badge products complements the work of our operator members and contributing vendors to continuously develop products and operationalize O-RAN specifications," he added. For a lot more information about the new OTICs and the tests and verifications they are undertaking, see this announcement.
Counterpoint Research has painted a bleak picture for the global smartphone market this year. According to its preliminary estimations, shipments are set to hit their lowest level in a decade, sinking by 6% year on year to 1.15 billion units in 2023. The Asian region (excluding China and India), North America and China are outlined as the regions dragging down the market with low demand. Aside from this, with the expected launch of iPhone 15, Counterpoint Research implied that "2023 could mark the start of a new era for Apple as a resilient premium market and strong showing in the US could help it become number one globally in terms of annual shipments for the first time ever". According to Jeff Fieldhack, research director for North America, this is the closest that Apple has been to the top smartphone vendor spot, and if "Apple doesn't run into production problems like it did last year, it's really a toss-up at this point."
SK Telecom (SKT), KT and LG Uplus have been collectively fined 33.6bn Korean won ($25m) for allegedly exaggerating their 5G network speeds. Additionally, the Korea Fair Trade Commission (KFTC) has claimed that each of the telcos has unfairly made advertising claims to be providing the fastest connectivity in comparison with their domestic rivals, reported Reuters. The authority further stated that the promoted 5G network speeds are unachievable in a real-life environment. SKT was reportedly the hardest hit, with a fine of 16.8bn won ($12.5m), followed by KT with a 13.9bn won fine ($10.4m) and LG Uplus, which was ordered to pay 2.8bn won ($2m).
- The staff, TelecomTV
Email Newsletters
Sign up to receive TelecomTV's top news and videos, plus exclusive subscriber-only content direct to your inbox.