Vodafone under fire for UK broadband service – Ofcom report
Ofcom has issued its latest data on the most and the least satisfactory telecoms service providers
Vodafone ranked as the most complained-about broadband provider
The operator has promised to mend its ways
Sky and EE top the charts with the fewest complaints for broadband, mobile and landline services
Vodafone was the most complained-about broadband provider in the UK in the second quarter of 2023, with a "substantial" rise in grievances that it has consequently pledged to address.
These are some of the findings from the latest complaints figures published by the national telecoms watchdog Ofcom, covering the period from April to June. An average 24 complaints per 100,000 fixed broadband users represented a significant increase compared to the opening quarter of this year when it received 17 grievances per 100,000 customers.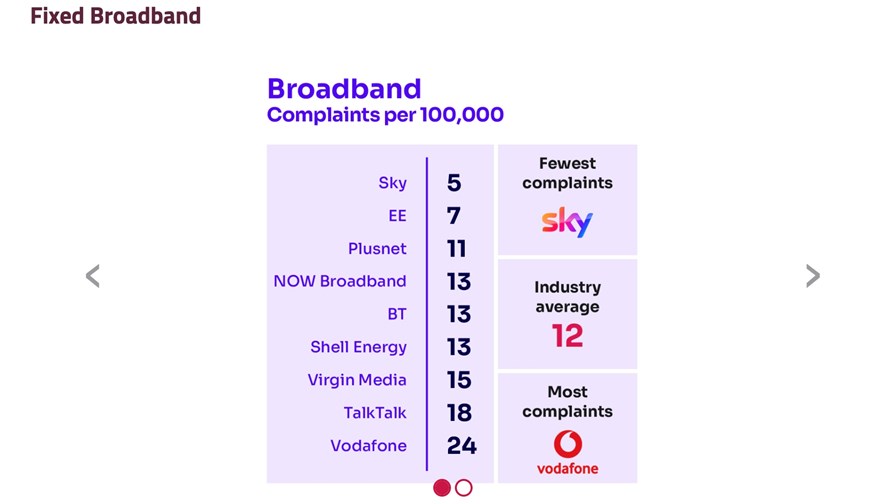 Complaints from users experiencing faults, issues with getting connected, and overall service topped the charts. "We have engaged with Vodafone regarding their performance in this latest round of complaints data – they have been taking steps to identify and address the causes of these complaints and we would expect to see the results of this to show in the coming months," noted Ofcom.
Vodafone is not likely to take such findings lightly, given that it is currently awaiting clearance for its planned merger with domestic rival Three. And while the proposal is subject to assessment before a potential approval by a different body – the UK's Competition and Markets Authority (CMA) – it is important for the telco to show itself in the best light possible amid concerns that the deal could disappoint customers with reduced options and higher prices.
Sky ranked at the other end in the scale, getting five complaints per 100,000 customers, followed by BT's EE division with an average of seven complaints.
In terms of mobile services delivery, BT Mobile received the most complaints in the period – an average of eight per 100,000 users, mostly for the way grievances were handled and issues with changing providers.
Again, Sky, through its mobile unit, and EE (BT Group's main consumer brand) received the fewest complaints, with an average of two per 100,000 customers.
Sky and EE also topped the landline provision chart, attracting the fewest complaints in the period (two and six per 100,000 users, respectively), while TalkTalk, Shell Energy and Virgin Media were the most complained-about landline providers in the quarter.
Once again, Sky was the least complained-about provider of pay-TV services, receiving just two complaints per 100,000 customers, while BT and Virgin Media attracted the highest number of grievances in the period (ten per 100,000 users).
The report further suggests that the volume of complaints overall was consistent with the first quarter of 2023. However, it did witness "a slight increase" compared to the same period in 2022 which, according to Ofcom's consumer protection director, Fergal Farragher, means that "providers still have work to do in improving customers' experiences".
- Yanitsa Boyadzhieva, Deputy Editor, TelecomTV
Email Newsletters
Sign up to receive TelecomTV's top news and videos, plus exclusive subscriber-only content direct to your inbox.