AST SpaceMobile boasts satellite-to-smartphone breakthrough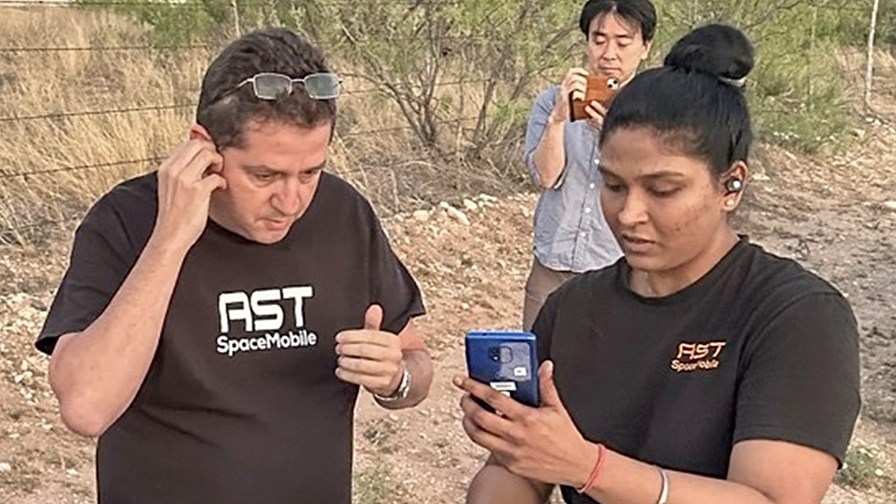 AST SpaceMobile is building a satellite network capable of voice and data communications with regular smartphones
The aim is to enable cellular services in areas beyond the reach of terrestrial networks without the need for bespoke handouts or devices
It has numerous telco investors and partners
It claims to have completed the first two-way voice call via one of its satellites with help from AT&T, Rakuten Mobile and Vodafone
In the race to enable the potential of ubiquitous cellular service delivery to standard smartphone devices via low-earth orbit (LEO) satellites, AST SpaceMobile claims to have edged ahead of its rivals with the successful completion of voice calls between a regular smartphone in the US and another unmodified cellular device in Japan via its prototype BlueWalker 3 satellite, a feat made possible with help from three of its telco supporters – AT&T, Rakuten Mobile and Vodafone.
"This is the first time anyone has ever achieved a direct voice connection from space to everyday cellular devices, demonstrating a significant advancement in AST SpaceMobile's mission to provide broadband services to the nearly 50% of the global population who remain unconnected," the company and its partners boasted, while the satellite firm's chairman and CEO, Abel Avellan (pictured above, left), described the call as "the most significant milestone to date in our quest to deliver global cellular broadband from space."
Engineers from AT&T, Rakuten Mobile and Vodafone were involved in setting up the calls, the first of which was made from the Midland, Texas area in the US, where AST SpaceMobile has its headquarters, to Rakuten in Japan over AT&T spectrum using a Samsung Galaxy S22 smartphone. The BlueWalker 3 satellite that connects the calls is a beast – it has a 693-square-foot surface of phased array antennas (see image below) that unfurl once the satellite is in orbit and can connect directly to standard smartphones as well as earth stations that connect to terrestrial mobile networks.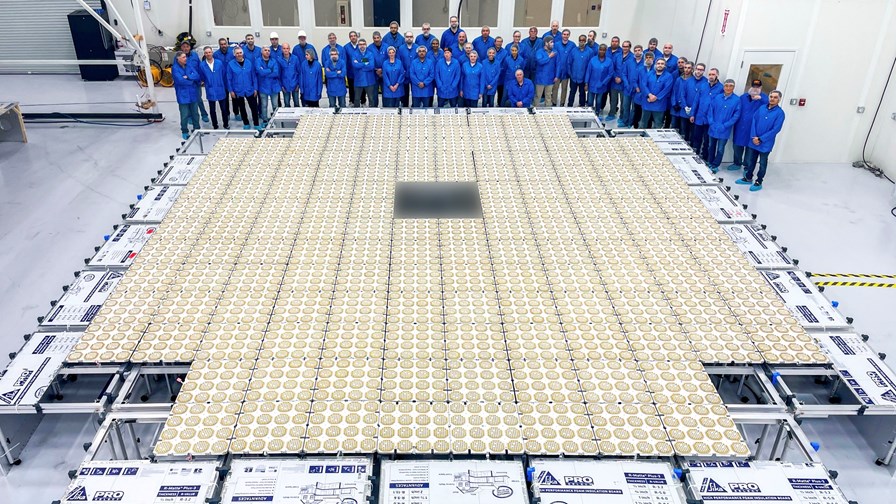 In late December last year, AT&T announced it had obtained "conditional approval" from the US regulator, the Federal Communications Commission (FCC), to use part of its licensed wireless spectrum to connect mobile handsets to AST SpaceMobile's satellites and that it planned to offer "integrated, complementary and real connectivity from satellite-based solutions for voice, data and video services." The operator's head of networks, Chris Sambar, noted that the service "will integrate with all of our customers' devices using LTE and 5G broadband on our existing mobile network."
Rakuten Mobile noted last November that it had "obtained preliminary experimental test station licences… to conduct mobile communication tests and preliminary verification in Japan using AST SpaceMobile's low-earth orbit satellite, BlueWalker 3… In the future, Rakuten Mobile aims to offer mobile communication services using AST SpaceMobile's planned network to connect to smartphones in mountainous areas and remote islands that are commonly out of range of mobile communication services, as well as to strengthen communication network resilience in times of disaster."
There's obviously a long way to go before that can happen, of course. AST SpaceMobile needs to launch, test, verify and secure additional satellites, long-term regulatory approval will be needed for commercial services by each of the satellite specialist's telco partners, and many more devices will need to be proven to be compatible with the BlueWalker 3 'birds'.
But some of those steps are already being taken. In announcing the successful test voice calls, the partners did note that they had also "conducted initial compatibility tests on a variety of smartphones and devices," but did not specify which ones. "The phones successfully exchanged Subscriber Identification Module (SIM) and network information directly to BW3 – crucial for delivering broadband connectivity from space to any phone or device. Additional testing and measurements on the smartphone uplink and downlink signal strength confirm the ability to support cellular broadband speeds" (again unspecified) and to support 4G and 5G waveforms.
And the number of telcos teaming up with AST SpaceMobile is growing seemingly by the month: It already has "agreements and understandings" with more than 35 mobile operators that, between them, have approximately 2 billion existing subscribers, including Bell Canada, Orange, Telefónica, Telecom Italia (TIM), Saudi Telecom Company (stc), Zain KSA, Etisalat, Indosat Ooredoo Hutchison, Smart Communications, Globe Telecom, Millicom, Smartfren, Telecom Argentina, Telstra, Africell, and Liberty Latin America, as well as Vodafone Group, AT&T and Rakuten Mobile. Vodafone Group is also one of the companies that has a financial stake in the satellite firm.
"We have taken another major step in mobile communications," noted interim Vodafone group CEO, Margherita Della Valle. "Thirty years after Vodafone sent the world's first text message, we supported AST SpaceMobile in successfully making the first ever direct-to-smartphone test call using satellite communications. This is just the start. As a lead investor in AST SpaceMobile, we will continue to break technological boundaries by connecting many more millions of people across the planet when the service becomes commercially available," she added.
AST SpaceMobile has so far raised $725m from multiple investors, including Rakuten and American Tower as well as Vodafone, to fund its development and launches.
And the opportunity? To enable cellular services to smartphone users when they are beyond the reach of terrestrial mobile networks as, according to AST SpaceMobile, 90% of the earth's surface is not covered by a mobile network signal. Quite how much it might cost smartphone users to receive or make voice and/or data connections when beyond the reach of regular mobile networks is not yet known, of course, so the ultimate business plan still needs to be solidified. But there's no doubt that the services offered via satellites, such as those operated by AST SpaceMobile, could be not only of business interest but also of humanitarian importance – such services would have been invaluable earlier this year following the devastating earthquake in Turkey, for example, or for people cut off from regular mobile services in war-torn areas, such as Sudan, who need vital real-time information for safety reasons.
And, of course, AST SpaceMobile isn't the only company hoping to provide the satellite link in direct satellite-to-smartphone service offerings. Elon Musk's SpaceX/Starlink is working with T-Mobile US on such a service, and Lynk Global is building a cell-towers-in-space constellation,
In addition, Globalstar is to provide connectivity to Apple iPhones from a special fleet of satellites, while Iridium is also developing a service.
And in early January, Qualcomm unveiled Snapdragon Satellite, a solution that, in partnership with low-earth orbit (LEO) satellite operator Iridium, will "provide global connectivity using mobile messaging from around the world, starting with devices based on the flagship Snapdragon 8 Gen 2 Mobile Platform."
Samsung, meanwhile, is developing technology to be integrated into all of its smartphone devices to enable satellite-to-smartphone connectivity, while the UK's Bullitt Group has developed a two-way satellite messaging service, called Bullitt Satellite Connect. And California-based eSAT Global, meanwhile, is developing technology that will enable IoT devices and smartphones to connect directly to geostationary (GEO) satellites for messaging services.
- Ray Le Maistre, Editorial Director, TelecomTV