What's up with… 6G R&D in Europe, AT&T, Telia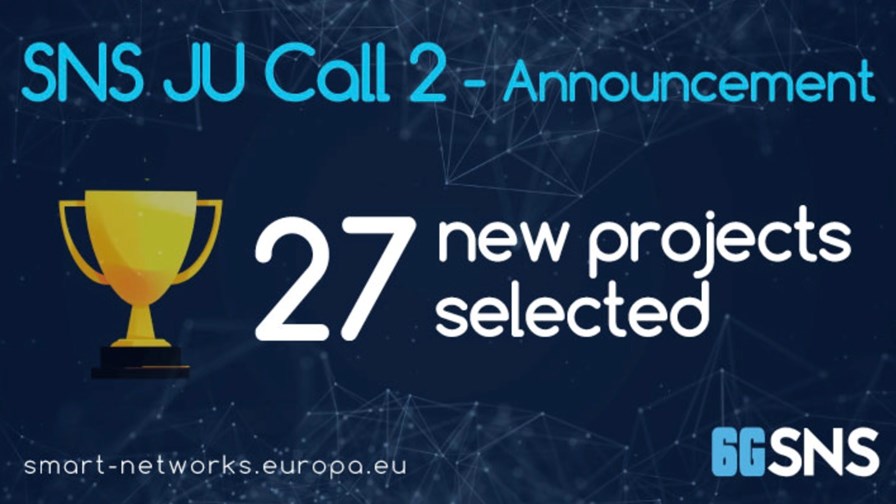 Euro body awards €130m to new 6G projects
AT&T tops 8 million fibre broadband customers
Telia reaps the benefits of its focus on telco ops
In today's industry news roundup: The Smart Networks and Services Joint Undertaking has committed €130m in funding towards 27 new 6G research and innovation projects; AT&T passes the 8 million subscriber threshold for its fibre services; Telia reports steady quarterly growth driven by core telco operations; and much more!
The Smart Networks and Services Joint Undertaking (SNS JU), a European Union body that enables the "pooling of EU and industrial resources in smart networks and services", has awarded €130m to 27 new research, innovation and trial projects that will "support and accelerate ground-breaking research in 6G technologies throughout Europe and beyond." Erzsébet Fitori, the recently-appointed SNS JU executive director, announced the funding and the selected projects, which will begin operations on 1 January 2024, during her keynote speech at the 5G Techritory 2023 event in Riga, Latvia. The projects cover a broad range of 6G-related developments, from wireless technology and signal processing to cloud-native architectures, devices and security. The SNS JU now has 62 projects under its belt, including those just announced. Read more.
US operator AT&T reported slightly improved results for the third quarter of 2023, booking a 1% year-on-year rise in total revenues to $30.4bn. The increase was driven by higher revenues in its mobility segment and consumer wireline unit, as well as its services in Mexico. The company also saw improved performance in its fibre operations, with 296,000 net additions and, as a result, surpassed 8 million fibre subscribers in total. "Our investments in best-in-class 5G and fibre connectivity are fueling our growth engine. We're gaining profitable customer relationships and becoming more efficient. This is powering our strong business performance and gives us the confidence to raise our full-year free cash flow guidance," noted John Stankey, CEO of AT&T. The telco's operating expenses, however, were on the rise, reaching $24.6bn in the period versus $24bn in the third quarter of 2022. According to AT&T, this is reflecting "higher severance and restructuring charges and continued inflationary cost increases in the third quarter of 2023, partially offset by continued transformation efforts". Read more.
When Patrik Hofbauer takes over as CEO of Swedish telco Telia from Allison Kirkby, who leaves on 31 January 2024 for the chief role at BT, the company is set to be in a good place. In the third quarter of 2023, Telia's total revenue saw a year-on-year increase of 4.3% to 22bn krona (SEK) ($2bn), driven by a 20.4% growth in revenues in Lithuania, a 14.1% increase in Estonia, a 11.4% rise in Finland and a 2.7% increase in Norway. Its revenue in the domestic market of Sweden rose a mere 0.1% to SEK 8.7bn ($792m). Telia noted that its core telco operations were a significant contributor to its performance, as service revenue in the segment grew by 3.9% year on year, in line with consistent growth of between 2% and 4% in six of the last seven quarters. "In the third quarter, Telia's growth accelerated to levels not seen in many years, with momentum in our telco operations more than compensating for the weak advertising market. With all telco markets now showing solid top- and bottom-line development, we are clearly progressing against our plans to build the Better Telia we envisaged for all our stakeholders, when we laid out our growth strategy almost three years ago," explained Kirkby. Telia's results for the period are in line with the CEO's back-to-basics approach in which the company focusing on the core operations of providing fixed and wireless connectivity – see For telcos, getting back to basics is key to future growth.
Verizon Business has boosted its presence in Europe with the launch of an innovation hub in Germany dedicated to technologies such as 5G and multi-access edge computing (MEC). The new facility, dubbed Digital Hub Ruhr, is a joint venture between the telco, IT systems developer Gelsen-Net and IT solutions provider K-TEL. Spanning 160 square metres, the digital hub will act as a "showroom and innovation centre", presenting various use cases of "state-of-the-art 5G, fibre optic and LoRaWAN campus networks". In a statement, the US operator noted that priority use cases and industry verticals will focus on crowd management, smart city applications, manufacturing, logistics and medical technology. The hub is part of the operator's global network of innovation centres, which include facilities in the US and in the UK – see Verizon Business plays its global card with London Hub upgrade.
Indian telco giant Bharti Airtel has partnered with software company Amdocs in a quest to boost its 5G and internet of things (IoT) monetisation opportunities, and to improve the end-user experience. The deal will see Amdocs create a digital platform to automate and digitise Airtel's business operations. It will also help the Indian operator form a single-bundled plan and bill for all its services, which is expected to enhance billing accuracy and improve customer satisfaction. "We are delighted to transition to Amdocs's converged billing platform as we consolidate our digital architecture and optimise service delivery in critical areas like billing," commented Pradipt Kapoor, CIO of Bharti Airtel. Find out more.
Still with Airtel… The Indian operator has announced the launch of Airtel CCaaS (contact centre-as-a-service), which it describes as an "industry first omni-channel cloud platform that offers a unified experience for all contact centre solutions required by an enterprise." The operator says its CCaaS offer, which comprises voice-as-a-service (VaaS), cloud platform functionality and contact centre software from leading vendors such as Genesys, will save enterprises the need to source voice, cloud and software separately from multiple vendors and reduce the overall costs of setting up and running a contact centre. Read more.
It's been a week of woe for the vendor community as they unveil financial results impacted by the reduced spending by telcos and large enterprise users in many markets. Ericsson and Nokia have been high-profile victims of the capex crunch trend but many others are suffering too, including network and application performance management specialist Netscout, which earlier this week announced that its full year revenues are now expected to be in the range of $840m to $860m, much lower than the previous forecast of $915m to $945m. The news sent Netscout's share price tumbling by more than 20% and it is now trading at $23.19 compared with the $27.59 it commanded at the end of trading on Monday. Anil Singhal, the company's CEO, noted that the Netscout's dip in orders "is related to industry and economic headwinds facing our customers that began to affect our revenue in the last month of the second fiscal quarter and is expected to impact the second half of fiscal year 2024. In consideration of these recent impacts to revenue, we have begun to take several actions to manage discretionary costs and align spending with the current environment," noted the CEO. So, it looks like more cuts to operating costs and jobs are on the cards.

Video streaming giant Netflix has reported a 7.8% year-on-year increase in revenue, hitting $8.5bn in the third quarter of 2023. The company's results were driven by an increase in member numbers that surpassed its own estimations, with 8.76 million paid net additions, climbing 10.8% to a total of 247.15 million. A number of factors contributed to its performance, according to the company, including a higher percentage of membership growth from countries with lower average revenue per membership (ARM), limited price increases over the past 18 months, and "some shift in plan mix". Netflix also issued a bullish forecast for the final quarter of 2023, when it expects to see a 11% rise in revenue to $8.7bn. Find out more.

- The staff, TelecomTV
Email Newsletters
Sign up to receive TelecomTV's top news and videos, plus exclusive subscriber-only content direct to your inbox.