The GSMA enters the 5G debate, setting out its view on the evolution of cellular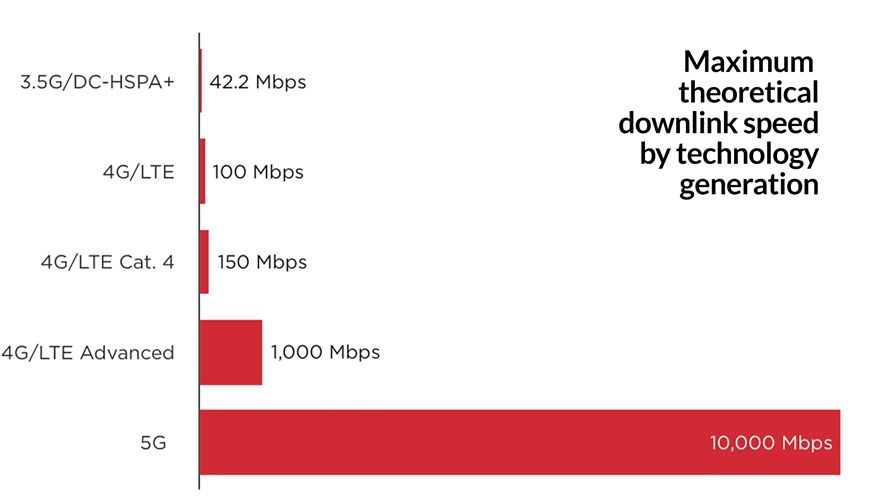 It's been a long time coming, but the GSMA industry association has finally published a positioning document on its view of 5G. First things first, it's a welcome relief to see them use the term "5G", after arguing for years about the need to end the market fixation over generational revolutions of mobile technology. But delve into the report and you start to see signs that the definition of 5G is not going to be easily agreed upon by all parties.
"The arrival of 5G will help deliver a fresh wave of mobile innovation that will further transform the lives of individuals, businesses and societies around the world," said Anne Bouverot, Director General of the GSMA. "Of course, 5G is still to be standardised by the industry and it has not been fully agreed what 5G will look like or what it will enable."
The GSMA maintains that there are two main views on 5G, which it adds are frequently mixed together to form the basis of the 5G definition. The first is of a "hyper-connected" world, where 5G is a blend of existing technologies (2G, 3G, 4G, Wi-Fi and others) that can deliver greater coverage and availability, higher network density in terms of cells and devices, and the ability to provide the connectivity for M2M and IoT. The second view, it says, is that 5G is a next-generation radio access technology, setting specific targets that new radio interfaces must meet in terms of data rates and latency.
Within these two views, according to the report, are eight core technical requirements for 5G. These set targets for:
data rate (1Gbit/s to 10Gbit/s connections to end points)
latency (below 1ms)
network densification, connections
network densification, cells
coverage (a perception of 100 per cent)
availability of service (again, a perception of 100 per cent)
operational expenditure reduction
field life of devices
The GSMA argues that only two of these – data rates and latency – relate to a true generational shift, with the remaining six being either economic objectives or aspirations applicable to all network technologies. In other words, the message appears to be "don't forget about LTE". According to the report, 4G still only accounts for 5 per cent of the world's mobile connections, and mobile operators will invest $1.7 trillion globally in network infrastructure over the period 2014 to 2020 (when the first 5G networks are expected to appear), much of which will be spent on 4G networks.
Indeed, it maintains that many of the 5G technical requirements already form part of the network innovations being undertaken by operators today. It says that NFV, SDN, HetNets and Low Power, Low Throughput networks are being "bundled under the title of 5G" despite the fact that they are already being brought to market by vendors and deployed by operators.
The GSMA wants to see work done on potential "use cases", to help better define 5G. It believes that a true 5G use case must include a requirement for either greater than 1Gbit/s downlink or a sub-1ms latency (or both). As for what these applications might be, the GSMA suggests:
Virtual reality/augmented reality/immersive or tactile internet,
Autonomous driving/connected cars
Wireless cloud-based office/multi-person videoconferencing
"The GSMA will support the industry to continue to innovate and grow, working in close collaboration with our members, the wider mobile ecosystem, governments and other industry organisations to deliver a digital future for all," added Bouverot.
But there are signs of some tough lobbying and negotiations to come, as the GSMA pushes to be the central player in 5G's development. And why shouldn't it? After all, this is the association that created digital cellular communications. Okay, so technically the GSM standard emerged from ETSI's Groupe Special Mobile, and the GSM Association has since changed its status into that of a support, marketing, lobbying and increasingly a media organisation, although it still engages in important technical and standards work. But with 800 operators on its membership list, it remains a powerful organisation whose views carry much weight.
However, the mobile ecosystem is changing, and new players are emerging from many different sectors. So who is going to drive the roll-out of 5G networks? Can we still assume it will be the incumbent mobile network operators? And how will 5G sit with fixed networks – can it be used to provide the "last mile" for FTTdp architectures? Even the report authors argue that a model of just one physical network per territory could make the best financial sense, and for the GSMA, that's radical thinking.
We have five years to find out. In the meantime, TelecomTV will be stepping up its coverage of 5G issues, starting in the new year.
The GSMA's report, "Understanding 5G: Perspectives on Future Technological Advancements in Mobile", is available as a free download from its website, and is a recommended read.
Email Newsletters
Sign up to receive TelecomTV's top news and videos, plus exclusive subscriber-only content direct to your inbox.