Orange calls for all telcos to rally around ONAP and OPNFV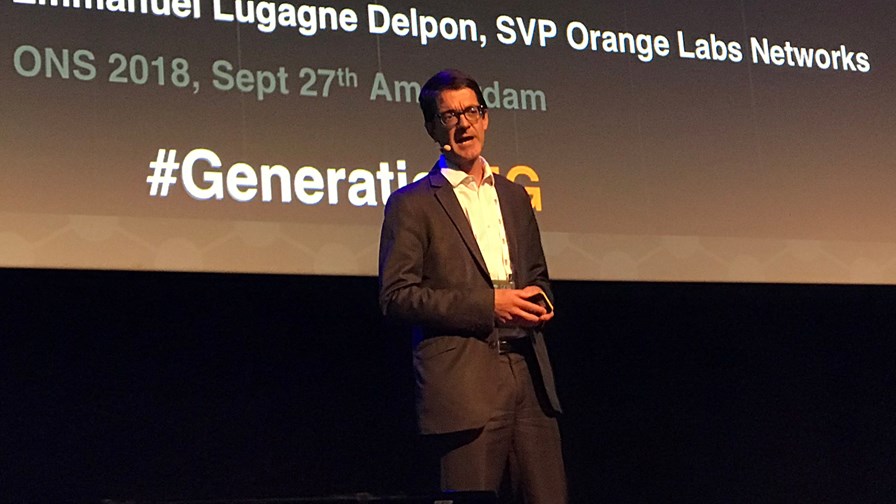 For Orange, ONAP is the right orchestrator for the future
OPNFV is the telco's preferred project to standardise NFVi
Warns that disaggregation is leading to a fragmented market
"If we fail to deliver one standard, we will have an industry disaster"
Emmanuel Delpon, SVP of Orange Labs Networks, pulled no punches at the Open Networking Summit Europe in Amsterdam this week. Delivering his keynote address on "Generation 5G", Delpon reminded the audience that the underlying technology of 5G is based on virtualisation, whilst "the magic word is disaggregation". He argued that 5G is going to introduce a new order of complexity, in terms of both technology and services, and this is why Orange fundamentally believes the industry is going to need automation.
Not just any automation mind you, but ONAP – the open network automation platform that is housed in the Linux Foundation's LF Networking organisation. There is no place, it would seem, for ETSI's Open Source MANO (OSM) alternative.
"We will not have the full benefit of 5G if we don't have the right orchestration layer," said Delpon. "We firmly believe ONAP is the right orchestrator for the future and we urge the operator community to join forces to have ONAP as the unique orchestration."
Delpon also targeted the state of NFVi for his wrath, encouraging wider support of OPNFV (another LFN project).
"The issue is that there are today too many configurations and parameters proposed by the ecosystem of vendors," he said. "There is no one NFVi standard, there is no one standard for orchestration. The observation is that the disaggregation is leading to a fragmented market, which is bad for all."
He compared the state of 5G network development to the creation of GSM, where collaboration around common approach led to the emergence of first a European and then a global standard.
"If we fail collectively to deliver one standard, I believe we will have an industry disaster," he added. "Some actors will arrive a kind of de facto standardisation; they will try and bring their standards, and I do not believe all the industry will benefit."
However, Delpon believes that the 3GPP is the right place to standardise, but that the big question is how you implement it in a cloud-native commercial environment. That's where the open source community comes into play. Orange says it is fully engaged with the open source community and will continue its investment, and that these communities will provide the industry with the economies of scale necessary to make 5G a success. It is particularly committed to OPNFV, as it believes the project is the right place to create a standard IaaS approach (I.e. NFVi) in the shortest timeframe.
An end user driven innovation
In his introduction to the keynote session, Arpit Joshipura, GM Networking for The Linux Foundation, reminded delegates that ONAP was "an end user driven innovation, not vendors". But ONAP is not without its critics. On the one hand, there are open source projects who look at ONAP with envy as it sucks up huge amounts of investment in terms of time and money, and on the other there are those who see it as far too complex and unwieldy.
Addressing the last point, the session after Delpon's keynote looked at how to industrialise ONAP. Moderator John Zannos of Inocybe Technologies summed up some of the negatives levelled against ONAP: "It's a big pile of code; not everything works independently; difficult to implement if you are not a Tier 1 operator; not well supported by VNF providers; poor documentation, and it's not productised or presented by a vendor backing it."
Nonetheless, as Zannos also mentioned, ONAP is "a project that has incredible momentum and has backing from many service providers." Orange is one, obviously, and has already incorporated it into its RFP documentation. But the ONAP project is still relatively immature and, given the number of supporters and contributors, don't underestimate its ability to fix its initial shortcomings and secure wider commercial support.
Email Newsletters
Sign up to receive TelecomTV's top news and videos, plus exclusive subscriber-only content direct to your inbox.