Only the brave: Germany's telcos grapple with 5G uncertainty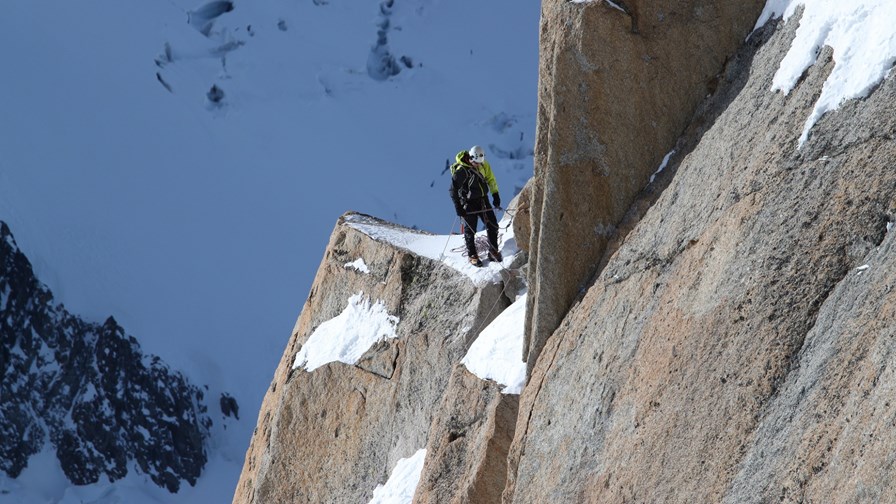 "Auction requires special entrepreneurial courage," industry association says
Telcos face forced roaming agreements, onerous 5G coverage targets
1&1 Drillisch could move aggressively as fourth network operator
Freenet says no to €10 billion network rollout
Germany's telecoms operators are having to show courage in the face of adversity, which amongst other things includes an unfavourable investment climate for 5G and the prospect of a new, disruptive market entrant.
The country's 5G auction is due to take place within the next two months, but the mood of optimism that often accompanies the sale of frequencies for a new generation of mobile technology is sadly absent. Its existing mobile network operators are in a tricky situation. An uncertain political, and regulatory climate provides the worst possible backdrop to investment, and yet, realistically they have little choice but to plough on and spend hefty sums on spectrum and network rollout.
The regulator last week announced that it has received applications from four players for the upcoming auction. "We will decide on the applications quickly," it promised, adding a confirmation that the auction is scheduled to start in the second half of March.
We're taking it as read that three of the four would-be participants are the country's established mobile network operators: Deutsche Telekom, Vodafone and Telefonica. The fourth is 1&1 Drillisch, which informed the market that it intends to take part via a wholly-owned subsidiary Drillisch Netz AG. It has secured a €2.8 billion credit line with a syndicate of European banks, in addition to intercompany credit lines through parent United Internet.
"Never before has a frequency auction been fraught with such a wealth of uncertainties," commented Achim Berg, president of German digital association Bitkom, when the deadline for applications passed last week. He highlighted unclear rules on procurement and the possibility of intervention from the authorities on roaming. "This auction involves many unknown variables and it requires special entrepreneurial courage," he said.
Deutsche Telekom has already confirmed that it will take part in the auction, noting that the available spectrum – frequencies in the 2 GHz and 3.6 GHz bands – is important for rolling out 5G in metro areas and for industrial applications. However, it too harbours serious concerns over the rules governing the sale and what they will mean for spectrum winners.
"Frequency spectrum auctions and network build-out demand investments in the billions," said Wolfgang Kopf, Senior Vice President for Group Public and Regulatory Affairs at Deutsche Telekom, in a recent statement. The company will commit to the required investments, "but legal uncertainty is toxic for investments," he warned.
Deutsche Telekom is one of a number of operators to have filed a lawsuit against the regulator, challenging its auction conditions. In particular it is objecting to the rollout requirements attached to the spectrum and to proposed new rules on roaming that could allow the regulator to force roaming deals between operators.
"The award condition[s] refer to the possibility of future requirements for local roaming, in accordance with the new EU legal framework," Kopf explained. "As a result, the [regulator] could officially intervene in roaming negotiations and even mandate agreements granting access to existing network infrastructure," he said. "This will undermine commercial agreements and favour free riders – to the detriment of companies that actually invest."
The incumbent is not the only one up in arms; reportedly, its two main rivals have also launched challenges of their own, as have Freenet and 1&1 Drillisch.
Deutsche Telekom said it hopes the spectrum conditions will be altered retroactively, suggesting it is not looking to derail or delay the auction process; it has committed to bidding under the current conditions after all. However, should it fail to sway the regulator, it may have another weapon in its arsenal: Huawei.
Germany is one of a number of markets exploring the possibility of a ban on Huawei equipment in 5G networks. This would be bad news for Deutsche Telekom, around half of whose network is reportedly Huawei kit, but there would be an upside. As a Bloomberg columnist pointed out recently, the Chinese vendor could prove to be a useful scapegoat for the telco; an equipment ban would give Deutsche Telekom a good excuse to proceed with 5G build-out at its own pace, rather than meeting the government's onerous targets. According to internal documents seen by Bloomberg, Deutsche Telekom believes a ban on Huawei kit in Germany would delay its 5G rollout by two years.
That said, replacing its main equipment supplier would be a huge, and potentially costly, headache for Deutsche Telekom and other German players. The political furore surrounding Huawei at present just adds further unwelcome uncertainty.
Risky business
Germany's 5G auction has elicited different responses from two telcos in broadly similar situations in the market, one of whom is willing to embrace the associated risks and the other not.
Christoph Vilanek, CEO of Germany's largest MVNO Freenet, gave an emphatic "no" to questions from Handelsblatt earlier this month about whether his company will take part in the auction.
"The construction of a new mobile network would probably cost at least 10 billion euros," he told the publication, adding that there are also "high uncertainties" that would come with such an investment. The available frequencies are not particularly suitable for wide area coverage and there is no clarity on whether Freenet would be able to roam on the other networks, he explained. "The risk would be too big for us."
But not for everyone.
"He would not take such a step if he did not have a good plan," Vilanek said, of United Internet founder and CEO Ralph Dommermuth, whose 1&1 Drillisch unit has stated that it aims to create the fourth mobile network operator in Germany via the acquisition of 5G spectrum.
One element of that plan is doubtless aggressive price competition, as we have seen in other European markets that have welcomed, for want of a more accurate word, a fourth network operator in recent years. Iliad became France's fourth mobile network operator via Free Mobile at the start of 2012 and launched a similar disruptive offering in Italy last year, while Masmovil acquired a portfolio of assets to set itself up as a credible fourth player in Spain, although admittedly those assets included a network from Yoigo. 1&1 Drillisch has a similar background; MVNO Drillisch acquired spectrum Telefonica Germany was required to divest as part of its E-Plus acquisition in 2014 and later brokered a tie-up with United Internet's 1&1 Telecommunication to create a stronger, full-service provider.
With a population in excess of 80 million and three mobile networks, it is tempting to assume there is room for a new disruptor in Germany. But the market dynamics are slightly different to those seen elsewhere; for one thing, it is Europe's biggest MVNO market.
Germany is , of course, highly penetrated, with an estimated 132.9 million active SIM cards at the end of 2018, according to Dialog Consult. Those SIMs are split evenly between the three networks, but many are served by discount or second brands offered by the operators, or by third-party MVNOs. A look at the revenue splits gives a clearer picture: Deutsche Telekom leads the market, but its revenue share is only a whisker over 30% and the big three together claim 77% of mobile revenues (see chart).
Freenet takes fourth place with an impressive 12% – it claims to have 13 million customers across its mobile and TV businesses – while 1&1 Drillisch has already built up an 8% revenue share.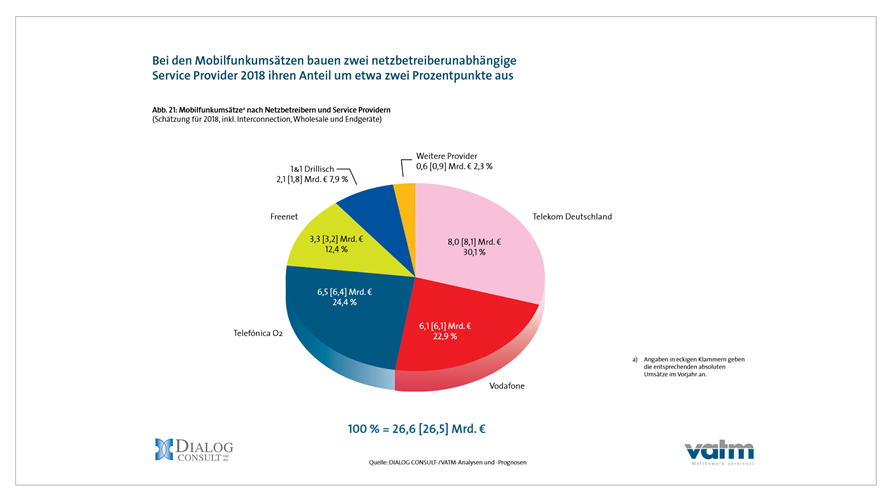 1&1 Drillisch is in a strong position to build on its existing business and establish itself as a credible competitor in Germany, and its larger rivals would be well advised to take it seriously.
As alluded to above, Germany was a four-player market until Telefonica swallowed up E-Plus just over four years ago and only time will tell whether the 5G era will enable it to support that number of players again, or whether history will repeat itself and we will be once again discussing market consolidation in a year or two.
In interim, we will learn whether fortune really does favour the brave, or whether a lower-risk, lower-spend approach proves wiser.
Email Newsletters
Stay up to date with the latest industry developments: sign up to receive TelecomTV's top news and videos plus exclusive subscriber-only content direct to your inbox – including our daily news briefing and weekly wrap.