Lack of fireworks at Beijing 5G event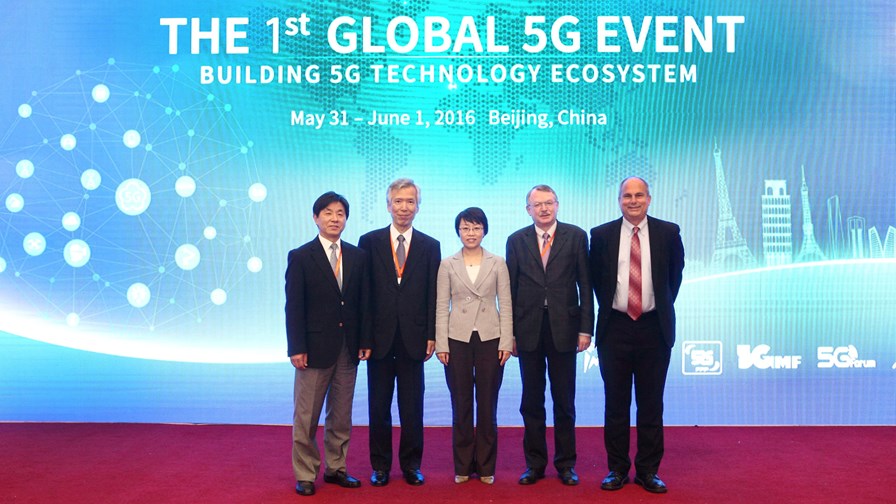 Inaugural Global 5G Event concluded in Beijing this week
Details of discussions and agreements few and far between
When are we going to see firm action to involve verticals?
Next event scheduled for Rome in November
[UPDATED]
The first Global 5G Event has concluded in Beijing, China. Organised by five of the main 5G industry groups – the 5G Public Private Partnership (Europe), IMT-2020 (5G) Promotion Group (China), the Fifth Generation Mobile Communications Promotion Forum (Japan), 5G Forum (South Korea) and 5G Americas (Americas) – the two-day event's theme was "Building 5G Technology Ecosystem".
So what have we learned? Not very much, unfortunately, (not even a Chinese whisper), but we hope the next event – scheduled for Rome later this year – will result in more openness and the dissemination of useful information. Thanks go to 5G-PPP for supplying the group photo and trying to help us out with news and details, but all we really have are agreed statements from the heads of the various organisers.
To be honest, we expected more. The stakes are sky high for 5G, and time is running out to establish consensus on what 5G could and should represent, before we get too focused on working out the vast amount of technical detail required for the various standardisation processes. Vendors are already shouting about their own 5G candidate technologies, as the loudest voices usually get their views and solutions to the top of the evaluation list.
So here come the quotes:
"The multi-lateral association 5G event hosted in Beijing was a great success," said Chris Pearson, President of 5G Americas, "as it emphasised the importance of leading 5G wireless organisations working together to progress the next generation of wireless technology."
"Gathering the leading 5G visionary organisations for the first time in Beijing enabled a fruitful collaboration and reinforces the links between our organizations," said Werner Mohr, Chair of the Board, 5G PPP.
"To make 5G vision into reality, 5G standard requires innovative technologies, especially in system design, key technologies, and network architecture," said Cao Shumin, Chair of IMT-2020 (5G) Promotion Group. "5G trial plays an important role in the R&D of 5G. It is very important to build 5G trial in an open and collaborative way."
"International cooperation and collaboration on 5G field trials is very important," said Susumu Yoshida, Chairman of 5GMF, "and we understood that the Global 5G Event could be a good opportunity to discuss it further."
"We really want to take these opportunities to collaborate and cooperate together with any vertical industry for ICT convergence through 5G technology development," said Youngnam Han, Chair of Executive Committee, 5G Forum.
At least the 5GMF took the opportunity to publish a new white paper on 5G on the eve of the event.
What have we learned?
Huawei, Qualcomm, ZTE, Nokia Bell Labs, and Samsung spoke on system design; China Mobile, Datang Telecom, Intel, MTK and Ericsson spoke on the new air interface; China Telecom, Docomo, Orange Labs and KT discussed network and operation; Google, Lenovo, Spreadtrum, LG and Coolpad spoke on terminals; and verticals were scheduled to have representatives from Baidu, Volvo and Foxcomm.
But what were the action points from the event? What items will the associations take with them to develop at the next event in five months' time? Other than the importance of working together (which is pretty much a given), the fact that vendors are particularly keen on getting prototype equipment and technology into field trials as soon as possible, and the realisation that we need to engage with verticals (easier said than done) – what have we learned?
Of course, it's difficult reporting on an event that you didn't attend. But that's what the internet is for – opening up the discussion to a global audience. The five organisations say they are committed to the establishment of a global 5G ecosystem. We await further evidence with interest.
In fact, if any conference organiser or event company is serious about 5G and Verticals and wants to follow this up, then drop me a line and let's have a chat. It's extremely important.
[Updated 6 June] Our friends at the 5G-PPP have informed us that several of the presentations should be made public soon, once all approvals have been sought. When this happens, we'll go through them and pull out the pertinent points for our readers.
Email Newsletters
Sign up to receive TelecomTV's top news and videos, plus exclusive subscriber-only content direct to your inbox.