Cities must become more telco-friendly for 5G to make them "Smart"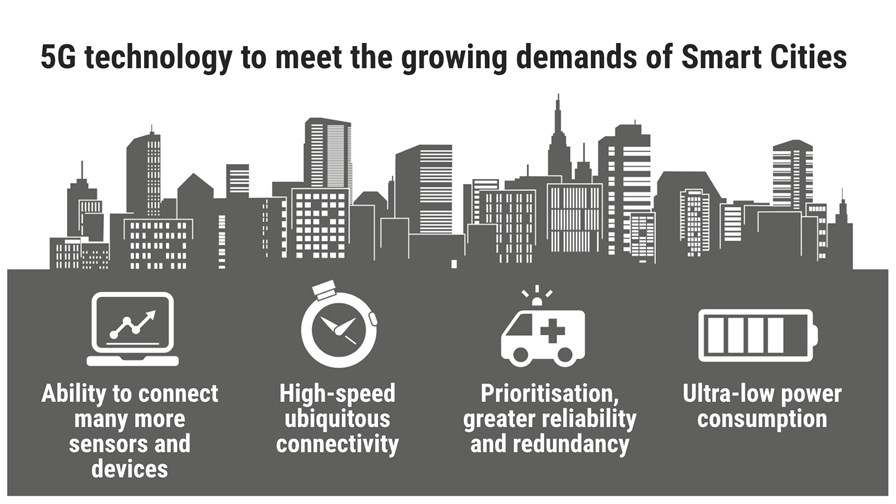 New research from CTIA and Accenture on role of 5G in developing smart cities
Study looks at how US municipalities need to become more telco-friendly
Recommends changes to cell-site permits, fees and regulation
Suggests 5G deployment could add $500bn to US economic GDP
A new study commissioned by US cellular industry association CTIA and conducted by Accenture Strategy suggests that 5G will bring the full reality of Smart City solutions to municipalities across the United States, no matter what their size. It reasons that the next generation 5G wireless networks could create up to three million jobs and add approximately $500 billion to US GDP through direct and indirect potential benefits.
However, if municipal and regulatory leaders wish to harness these economic benefits, including jobs and GDP growth, and accelerate their transformation to becoming Smart Cities, they need to make changes. They need to streamline the permit process, change their fee structures, and reduce regulatory hurdles to support the new small-cell deployment model.
Wireless operators may will invest as much as $275 billion in the US over seven years as they build out 5G, as Accenture concludes, and create 350,000 new construction jobs and around a further 850,000 jobs throughout the country via their suppliers and other partners – leading to an additional 2.2 million jobs through the broader economic benefits from 5G – but only if they are allowed to deploy effective and efficient networks first.
"The report findings show what an incredible opportunity there is in local economies," said Tejas Rao, Managing Director and Mobile Offering Network lead for Accenture's North America practice. "5G-powered smart city solutions applied to the management of vehicle traffic and electrical grids alone could produce an estimate of $160 billion in benefits and savings for local communities and their residents. These 5G attributes will enable cities to reduce commute times, improve public safety and generate significant smart-grid efficiencies."
The network deployment build of 5G will involve 10 to 100 times more antenna locations than 4G or 3G, says the report. These small cells are critical not only for delivering the speed and capacity promised by 5G, but also for supporting the increased number of devices that will be connected to the network.
Changes to permits, fees and regulation
Accenture says that today, many municipalities require approvals and fees based on the historical deployment of large towers that can be more than 250 feet tall. The shift from traditional large wireless towers to small-cell sites – affixed on locations from lamp posts to utility poles – will require a streamlining of the permitting process governing wireless infrastructure deployment and an appropriate adjustment in permit areas.
The report suggests that by pre-approving cell antenna types and providing approval for specific areas, as opposed to pole by pole, approval processes can be streamlined, saving the city time and resources that would otherwise be spent processing repetitive permits. Also, given the pervasive yet non-intrusive nature of small-cell technology, municipalities would benefit from providing access to sites or assets such as government-owned utility poles, streetlights and other street fixtures, wherever possible.
It also argues that the fees typically charged for macro towers, when applied to small cells, will deter telco investment. Given the increased number of cells required for a 5G deployment, a new, rational fee structure – one that does not compromise revenues of the city – should be considered: "A city will benefit much more from the increased jobs and prosperity that 5G Smart City technology brings, than from the revenue the city generates from pole fees or permits," the report concludes.
"5G will be transformative for all Americans; not only will 5G deployment unlock substantial job growth and economic gains in cities and towns across the country, it will help make our lives safer," said Meredith Attwell Baker, President and CEO of CTIA. "The Accenture report importantly underscores the need for policymakers at all levels of government to take action – cities and states with modernised zoning and siting rules that support tomorrow's networks will be the first to realize the economic and civic benefits of 5G."
Email Newsletters
Stay up to date with the latest industry developments: sign up to receive TelecomTV's top news and videos plus exclusive subscriber-only content direct to your inbox – including our daily news briefing and weekly wrap.