Aggregated LTE-Advanced goes live in Korea as SK Telecom launches 225Mbit/s service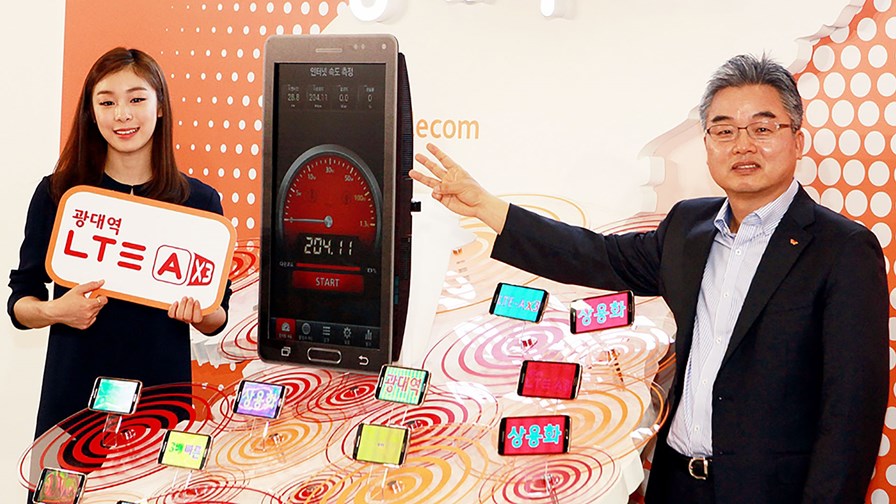 This is why South Korea continues to lead the way with 4G mobile, and why the European Commission is so keen to partner for 5G development. SK Telecom has today launched an upgraded commercial LTE-Advanced service – and with data speeds of 225Mbit/s it is three times as fast as current LTE implementations. Not surprisingly, it's a world first.
SK Telecom has upgraded its existing LTE-Advanced, which already supports speeds up to 150Mbit/s, by applying carrier aggregation technology to combine 20MHz bandwidth in the 1.8GHz band with 10MHz bandwidth in the 800MHz band. At its peak speed, the telco claims that its customers will be able to download a 1GB movie just in 37 seconds.
SK Telecom launched the world's first commercial LTE-Advanced service last June, three years after first switching on LTE in the country. The GSA say there are now 300 network operators with commercial LTE services across 107 countries. Its new 225Mbit/s service is currently available to users in Seoul and all other metropolitan cities, with LTE upgrades being made throughout the country from July.
Despite the technical achievements, this is actually an interim step in SK Telecom's main goal – to launch a three band LTE-Advanced by aggregating three component carriers. Earlier this month, it announced successful trials with Nokia to aggregate 10 spectrum frequencies to achieve 3,78Gbit/s throughput.
"The world's first commercialization of 225Mbps LTE-Advanced by SK Telecom will pave the way for Korea to open up an era of 5G in the future," said Lee Jong-bong, EVP and Head of Network Division for SK Telecom. "With ceaseless innovation of services, SK Telecom surely will elevate Korea's status as an ICT powerhouse."
LTE-A Galaxy S5
Of course, any commercial service needs compatible devices. Thanks goodness for Samsung then. The Korean vendor has produced a new version of its flagship Galaxy S5, optimised for the 225Mbit/s service and featuring an ultra-high resolution WQHD display installed, with immediate availability. It is the world's first, commercially available Broadband LTE-A (Cat.6) smartphone.
"The Galaxy S5 Broadband LTE-A provides users with stronger and faster connectivity united with our notable flagship experience to further demonstrate our commitment to meeting the needs of our consumers on a global scale," said Shin, CEO and President of IT and Mobile Communications Division at Samsung Electronics.
SK Telecom says that other phones will be launched at a later date.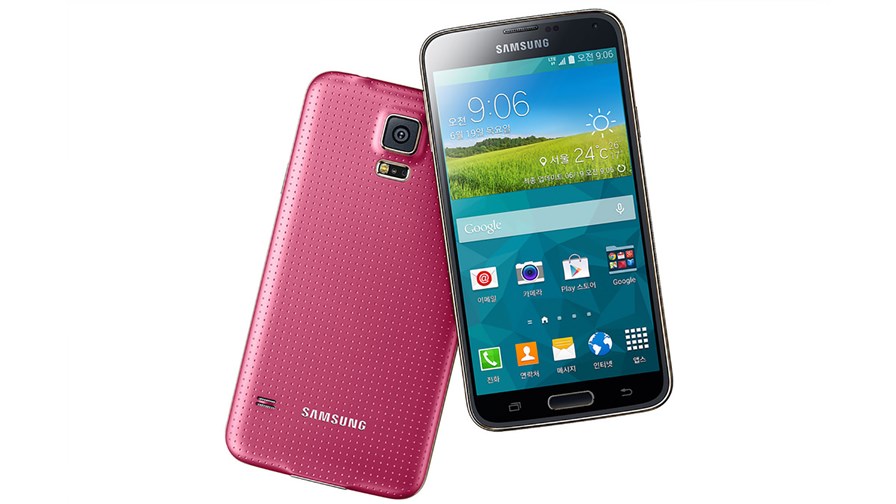 Over in Europe, Bouygues Telecom and Swisscom both announced this week that they will be introducing LTE-A later this year. Other operators will no doubt follow. No news on whether or not the new Galaxy will be the launch device.
To showcase the new network speeds, SK Telecom has introduced some new, dedicated services. 'Angles' is a social multimedia service that allows HD video files filmed from different angles by up to four users to be automatically edited into one single file in the cloud then to be viewed and shared on smartphones. 'Cloud Game' is, as its name suggests, a cloud-based streaming game platform, enabling users to play on a smartphone with real-time streaming in Ultra HD (4K).
Interestingly, SK Telecom reveals that the average monthly data consumption per user for its LTE services is 2GB, which sounds rather low. It calculates that if a user spends all this allowance on downloading, then with the new service they will be able to save a rather precise 2 minutes and 26 seconds of waiting time each month compared to the previous 75Mbps LTE service (or 17 minutes and 18 seconds if they are upgrading from 3G). Is this really a selling point? Do users complain about a wasted two minutes each month?
The good news for customers though is that they won't be charged extra – they get a significant speed bump at no extra cost. Hopefully, other operators will take heed of this superb example of respecting their customers, but probably not. It has also added some interesting tariff options, such as allowing location-restricted unlimited data use (albeit at a lower data rate) in subways.
Oh, and that's not the new Samsung LTE-Advanced phone in the photo with SK Telecom's Lee Jong-bong , it's just a speedometer…
Email Newsletters
Sign up to receive TelecomTV's top news and videos, plus exclusive subscriber-only content direct to your inbox.