Not a lot of fibre for such a Big Apple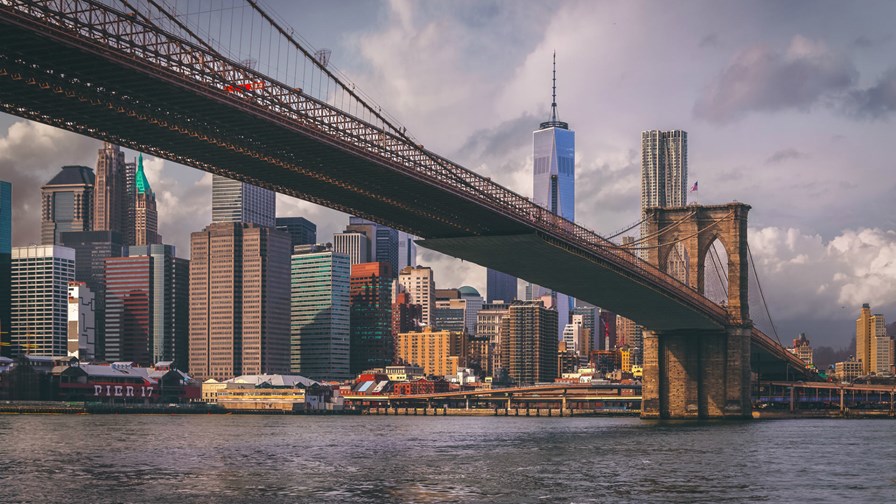 In 2008, Verizon, with a fanfare worthy of the crowning of a Roman emperor, duly trumpeted the signing a major agreement with the New York City authorities in which the telco guaranteed every resident of the five boroughs of the Big Apple access to a fibre-optic broadband (FiOS) connection by July 2014. It didn't happen.
The quid pro quo for the promise (and, of course, there had to be one) was that Verizon was allowed to up its price per subscriber by US$1.95 a month, ostensibly to pay for the fibre roll-out. A dollar ninety-five doesn't sound much. It wasn't much seven years ago, and its value has declined considerably since then but… a lot of people live in New York and those small monthly sums, twelve time a year for more than seven years have totted up to almighty mighty greenback windfall for Verizon.
And now, almost 12 months after the deadline for full fibre-optic broadband deployment expired, the city is taking the carrier to severe task for reneging on its solemn undertakings.
On Thursday of last week NYC's Department of Information Technology and Telecommunications published an audit showing that far too many New Yorkers are still waiting for fibre connectivity and cites the "multiple broken promises" that have resulted in Verizon's network remaining "painfully slow in many places".
Commenting on the audit report, the mayor of New York, Bill de Blasio, said, "Through a thorough and comprehensive audit, we have determined that Verizon substantially failed to meet its commitment to the people of New York City. Broadband is a key component of this administration's fight to create opportunity and sustainable economic development in every corner of the five boroughs. As I've said time and again, Verizon must deliver on its obligation to the City of New York and we will hold them accountable."
The report lists many examples of cases where Verizon dutifully reported that it had "wired-up networks" but failed entirely to mention that the connectivity was only to the sidewalk and not actually in to the adjacent homes, houses and apartments where Verizon had consistently and continually failed to install the necessary kit to connect to the kerbside.
The audit also reports that in tens of thousands of cases Verizon failed to respond to requests from subscribers for fast fibre-optic connection and that the telco deliberately and repeatedly obfuscated about and, for months on end, delayed handing over the key data and metrics necessary for the audit to be completed.
It also emerged that an astonishing 75 per cent of those requesting the new fibre-optic broadband services have had to wait over a year before receiving even an initial response from Verizon. Thereafter, as the process 'progressed', subscribers found themselves locked into a loop of byzantine bureaucracy and repeated form-filling that further delayed connection by many more months.
Ben Kallos, a member of the New York City Council said, "We would have universal broadband in New York City, if only Verizon had kept its promise to provide universal fibre to every home, as was required by the 2008 franchise agreement. Countless New Yorkers have tried to get fibre in their homes only to be told it was 'unavailable,' and I know because I am one of them. The Mayor's shocking audit shows that Verizon did not deliver on its word to do just that, stalling the city's modernisation for years. Now, I join the Mayor and advocates to strongly call on Verizon to do what is right and make good on its promises so that all New Yorkers can access fibre Internet."
The audit report shows that 24 per cent of New Yorkers still do not have a home internet connection, and the various service packages available to those that do have domestic residential access "are slow and expensive".
The exact reasons for Verizon's failure to keep its word remain unclear despite the telco issuing a long, very long, rebuttal of the audit report. It is long, very long, on self-justification, but short, very short, on actual explanation for the delays to the deployment timetable and the missed deadlines.
Verizon claims to have invested $3.5 billion on the project, (that's a lot of $1.95's a month) and to have laid 15,000 miles of fibre-optic cables and the main plank of Verizon's defence is that whilst it is comparatively easy and quick to lay fibre underground in the streets it is a very much more difficult task to get from the kerbside and into buildings, many of which are under the shared ownership of multiple landlords, each of whom have to be contacted and must give their approval before in-building broadband technology can be installed.
Verizon's rebuttal claims that, since the start of 2014, it has "filed petitions with state regulators alleging that owners of 219 buildings in the five boroughs housing 26,000 apartments have prevented crews from coming in to wire the premises." Even it that turns out to be the case it is a very small number indeed compared to the hundreds of thousands of subscribers who, despite repeated promises, are still nowhere near being "fibre'd-up".
And for their part landlords have challenged the Verizon version of events with building owners saying that they stopped Verizon from entering their buildings because in the past "they left work unfinished, never came back to fix the holes that were drilled, fix the boxes they installed or put moulding on their respective wires."
Verizon now wants to revise the ground rules (well it would, wouldn't it?) to allow it to apply a "grid approach" to the problem. This, the carrier claims,"would build up demand through an all-out marketing blitz across a set area. Verizon could then wire multiple dwellings at once, and do a quicker job of obtaining permission from property owners."
Meanwhile, the telco indignantly denies failing to release information to be used in compiling the audit and claims that there is "an ulterior motive" behind the release of the report. A Verizon spokesperson said, "It is important to note that it's not a mere coincidence that the report is made public today, and labour negotiations with our largest union begin on Monday. It is well known the union has ties to the city administration, and things like this are a familiar union tactic we have seen before."
Last year, Lowell McAdam, the CEO and chairman of Verizon, received $18.3 million 'compensation' for giving up his time to run the company (a rise of 16 per cent on his pay for 2013) while Daniel Mead, EVP and President of Strategic Initiatives (FiOS is one such 'strategic initiative') got $7.5 million. These figures do not include various stock options and other 'incentives'. Over the course of 2014, Verizon's share price fell by 4.8 per cent. Nice work if you can get it. And nice work too if you can get fibre-optic broadband in New York. I'll bet Lowell and Daniel have.
Email Newsletters
Sign up to receive TelecomTV's top news and videos, plus exclusive subscriber-only content direct to your inbox.