Telcos need hyperscalers to grab $513bn digital services opportunity – report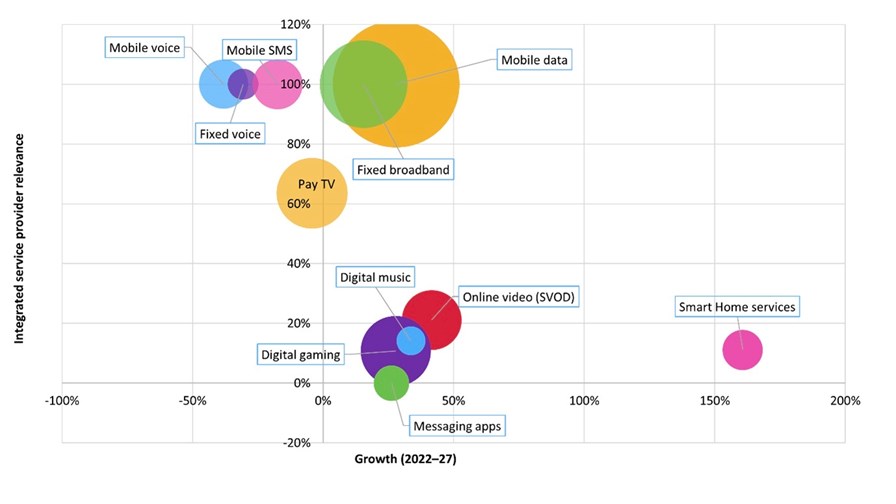 Telcos stand to gain if they switch their focus towards rapidly growing digital services, according to a new Omdia report
The digital consumer services market is expected to hit half a trillion US dollars by 2027
However, operators won't be able to capture opportunities by themselves in the face of hyperscaler competition, an Omdia analyst cautions
Telcos are advised to forge partnerships with hyperscalers if they are to capture opportunities in the fast-growing market for digital consumer services, estimated to be worth around $513bn by 2027, new research has shown.
In its 'Quantifying the Consumer Telco Opportunity – 2023' report, analyst company Omdia has estimated that non-traditional categories, such as digital gaming, online video, messaging apps, smart home services and digital music are going to grow at compound annual growth rates (CAGRs) of between 5% and 21% in the next five years.
While these markets are expected to still be of smaller value compared to established telecoms services such as mobile data, fixed broadband and pay TV, these five markets are forecast to be worth a total of $513bn by 2027, with the largest share comprising of digital gaming and online video.
Additionally, "strong future potential" for operators can be unlocked through e-health and financial services, Omdia has identified. Several telcos have already began investing in these areas, including Vodacom South Africa with its 'financial services and lifestyle super app' VodaPay which has more than 1.1 million monthly active users (MAUs) since launching in 2021 (in fact, VodaPay was responsible for a 30.6% rise in financial services revenue for Vodacom Group in the last three months of 2022).
Jonathan Doran, principal analyst for digital consumer operator strategy at Omdia, called for service operators to look beyond data and "diversify into adjacent digital markets to enable continued growth of their telco consumer businesses".
While many telcos have already invested in TV and online video entertainment, Doran suggested that there are other fast-growing markets that operators can explore.
But despite the prognosis for substantial benefits in the digital customer services field, Omdia expects "significant competition" from hyperscalers, especially big tech players Google, Amazon, Meta and Apple.
"In many areas, telcos will need to accept that competing head-on is unrealistic and developing partnerships with such players is not only more pragmatic but will also serve to strengthen their own products and brands", the analyst emphasised.
Furthermore, as Doran puts it, the more active operators are in investing in a given service area, including through partnerships, "the bigger market impact they have, which in turn better positions them to take a bigger slice of overall market revenue".
Omdia's report and related recommendations are far from unexpected, as many global telco players already have a flair for the possibilities in the realm of digital offerings. Just two days ago, Middle East telco giant e& agreed to spend $400m for a majority stake in Careem Super App to deliver digital services, including food and grocery delivery, fintech offerings and a digital wallet among many more – see e& boosts its digital services play with $400m investment into super app.
In another recent move, UK operator BT expanded its partnership with hyperscaler Amazon Web Services (AWS) to unlock a potential $500m in revenue from connectivity and digital solutions, including internet of things (IoT) and 5G edge computing.
And in 2022, Spain-based Telefónica reported a 57% year-on-year increase in revenue for its digital business, Telefónica Tech, which focuses on cybersecurity, IoT and big data, as well as cloud services – see Telefónica hails progress despite tough times.
- Yanitsa Boyadzhieva, Deputy Editor, TelecomTV
Email Newsletters
Sign up to receive TelecomTV's top news and videos, plus exclusive subscriber-only content direct to your inbox.