O2 pleads with government to ease 5G rollout to enable smart cities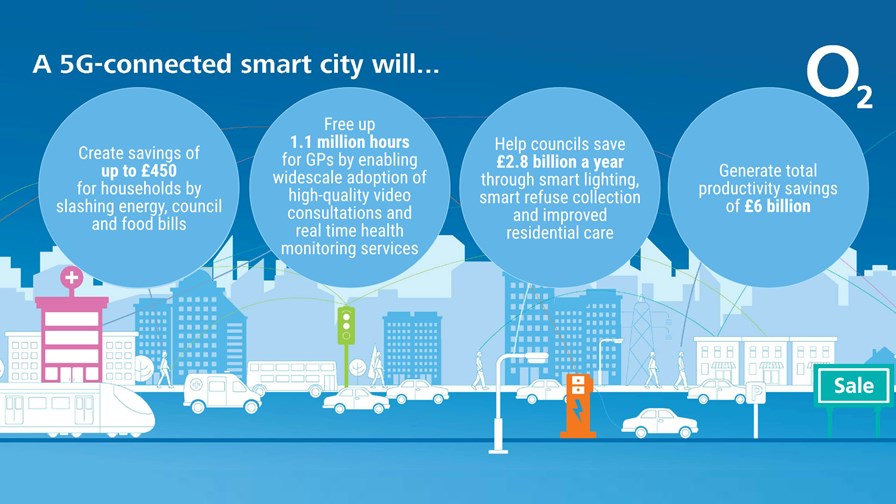 UK operator complains that access to new cell sites comes with barriers
Wants government and local authorities to "unblock these hurdles"
Argues that in so doing, UK cities will gain productivity savings of £6 billion a year
CEO says not enough time spent on what smart cities mean for citizens
A new report published today from UK mobile operator O2 looks at the productivity savings that could be attained through the creation of 5G-enabled smart cities, closely echoing the report of earlier this week from Intel and Juniper Research. Rather than present the savings in terms of reclaimed work days, the O2 study attributes a monetary value – but is focused purely on the UK.
"In my view, too much time is spent analysing the technology and not enough time on what it means for citizens," wrote Mark Evans, CEO of O2, in the forward to the report. "This report examines the difference 5G-enabled cities will make to people's lives and pockets, what it means for their council bills and the gains at a city level. Because if we agree the benefits are tangible, we can agree what needs to happen to make them real and not a distant utopia."
The report finds that households stand to save £450 a year on energy, council and food bills; councils will regain £2.8 billion annually thanks to the introduction of smart lighting and smart refuse collection, as well as improved social care; and the NHS will benefit as 5G frees up 1.1 million GP hours by facilitating telehealth videoconferencing and real-time remote health monitoring. Meanwhile, cities will increase their "liveability" through reductions in road congestion and rail delays and improvements to smart grids and healthcare – generating total productivity savings of £6 billion for the UK's cities economy
"Of all the ingredients that keep our economy and society moving, arguably top of the list is mobile," said Evans. "Our report demonstrates how 5G technology, when it arrives, will provide unprecedented benefits for consumers, councils and cities alike. The enhanced connectivity on offer will make a real difference to people's lives and pockets. However none of these benefits are assured. 5G works a bit like a patchwork quilt. It needs a high level of collaboration to hardwire the technology into our cities' infrastructure. The danger is we treat it as an afterthought, when in fact it needs to be planned in now."
Evans continues with his theme, arguing that we need a world where connectivity is as prized as an energy performance certificate by home buyers and sellers, and where connectivity is checked off by building regulations. Digital infrastructure, he says, must have equal billing with physical infrastructure.
Plea to government
At the launch event today, O2 called for greater collaboration between industry, Government, local councils, landlords and developers to ensure the UK can reap the benefits of 5G.
"We want the UK to be a world leader in 5G, and this report highlights the huge potential we have to get ahead and reap the benefits of this exciting new technology," said Margot James, Minister for Digital and the Creative Industries, speaking at the launch. "We're already investing £25 million in new testbeds across the UK that will pave the way for our 5G future and our work with industry will be vital to help us achieve our ambitions."
For its part, O2 says it has already taken steps to pave the way for the rollout of 5G in the UK. Last month, it announced it will partner with AEG to launch a 5G trial at The O2 venue in London. Parent company Telefónica has gone one further though, having launched its 5G Technological Cities project in January, which will see the Spanish cities of Segovia and Talavera de la Reina converted into 5G living laboratories over the next three years to 2020.
"While 5G promises a range of unprecedented benefits, we should be clear that these won't be achieved without collective investment and collaboration," said Derek McManus, O2's Chief Operating Officer. "That means complete alignment from operators, public service providers, local authorities, landlords and technology companies to explore new opportunities for better connectivity and denser coverage."
What all this really comes down to is a call for government to ease the barriers to creating new cell sites, which is seen as a necessity for the network densification promised by 5G, especially with small cell mmWave deployments in city locations. The US mobile industry is going through the same thing at the moment. Whether the pleas are being heard remains debateable, but reports like this that forecast huge cash savings and productivity gains are proving to be a useful weapon for the operators.
"Rather than working together, we and other mobile operators are thwarted because access to sites comes with barriers," McManus spelled out in the report. "Going forward, regulators, operators, vendors, landlords and industry need to align on the prized outcome of 5G connectivity and move forward with government and local authority support to unblock these hurdles to better connectivity."
Email Newsletters
Stay up to date with the latest industry developments: sign up to receive TelecomTV's top news and videos plus exclusive subscriber-only content direct to your inbox – including our daily news briefing and weekly wrap.