Australia's nbn delivers "Gigabit LTE" in rural fixed wireless trial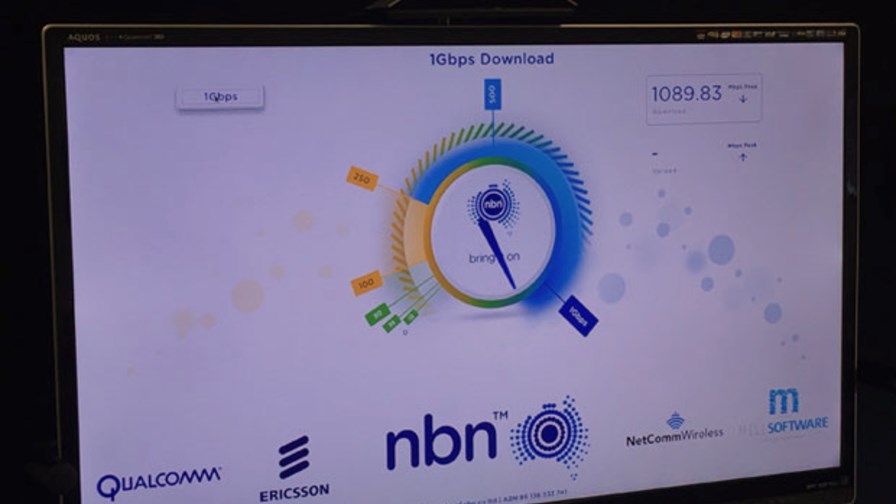 1Gbit/s fixed wireless trail in rural Australia
In partnership with Qualcomm, Ericsson and NetComm
Demo used a range of carriers in the 2.3GHz and 3.4GHz bands
Nbn becomes first Australian operator to join CableLabs
The term "LTE" was good enough for many operators when it came to marketing the fourth generation cellular technology to their customers. True, some preferred the simpler "4G", but LTE won out. So what the heck's wrong with LTE Advanced and LTE Advanced Pro? We've already seen how AT&T is ditching all reference to the 3GPP evolved standards in favour of the misleading "5G Evolution", now its Australia's turn to abandon it in favour this time of "Gigabit LTE".
Yes, Gigabit LTE is by far more preferable to 5G Evolution for a consumer-facing service, and is already in use by a number of vendors. Given that two of these vendors – Ericsson and Qualcomm – are working with Australia's nbn company on its high-speed wireless offering, then it's no great surprise that nbn is going along with the Gigabit LTE movement.
In the city of Ballarat in Victoria, Australia, nbn has just demonstrated speeds of 1.1Gbit/s downstream and 165Mbit/s upstream over a trial fixed wireless network. The demo used three prototype Category 16 compliant NetComm Wireless Network Termination Devices (NTDs) with Qualcomm Snapdragon X16 LTE Advanced modems, delivered in partnership with Ericsson. The demonstration also delivered speed combinations of 400Mbit/s and 55Mbit/s; 250Mbit/s and 50Mbit/s; and 100Mbit/s and 40Mbit/s using a range of carriers in the 2.3GHz and 3.4GHz spectrum bands.
"Our demonstration of 1Gbit/s speeds on our fixed wireless network once again shows our commitment to delivering a great experience to the 600,000 premises in regional Australia that will be served by the network," said Bill Morrow, CEO of nbn. "We are determined to [make] sure regional Australians get access to the same high speed broadband available in our cities."
In order to conduct the trial, nbn used a spare operating sector on an established fixed wireless tower with additional radio equipment. The tower then delivered its signals to the new wireless NTDs that had been installed on the roof of a nearby school. nbn recently committed to launching its new "nbn100 Fixed Wireless" product aimed at the regional business segment in 2018. The success of the demo underlines the ability to launch even faster services on nbn's network.
"Ericsson has been nbn's partner for the TDD fixed wireless network since its inception in 2011, and we are proud of our achievements with nbn to connect regional Australia, closing the digital divide," said Emilio Romeo, Head of Ericsson Australia & New Zealand.
The combined features of Ericsson's Gigabit LTE solution include three component Carrier Aggregation, 4X4 MIMO and LTE 256 QAM. The vendor says the combination of these features delivers up to a 100 per cent increase in downlink peak data rates compared to three components Carrier Aggregation alone (although we wish PR teams would stop using "up to" as it is a pretty meaningless term, being so vague).
nbn joins CableLabs
In related news from last week, nbn was granted membership of global cable research and development body CableLabs, becoming the first cable network operator in the Oceania region to be admitted to the not-for-profit organisation.
"Our story here at nbn is unique globally and we are really excited about working alongside CableLabs to deliver the best HFC product in the market," said Dennis Steiger, Chief Technology Officer at nbn. "CableLabs has been driving some amazing innovations in our industry with things like DOCSIS 3.1 and Full Duplex DOCSIS and we really look forward to being part of this organisation in the coming years."
CableLabs is working to help operators bring DOCSIS 3.1 to market, which can currently delivering 1Gbit/s speeds to cable broadband subscribers. The next step is Full Duplex DOCSIS technology that promises symmetrical speeds of 10Gbit/s. It develops the core technologies and helps align cable network operators around these new technologies to ensure the necessary economies of scale with vendors.
"As the research and development lab for the global cable industry, we are looking forward to supporting nbn's deployment of DOCSIS 3.1 in its integrated optical fibre and coaxial cable network," said Phil McKinney, President & CEO of CableLabs. "We are very pleased to welcome Australia's National Broadband Network to CableLabs as our 56th member and our first in Australia."
Email Newsletters
Sign up to receive TelecomTV's top news and videos, plus exclusive subscriber-only content direct to your inbox.