Las Vegas: smarter than the average city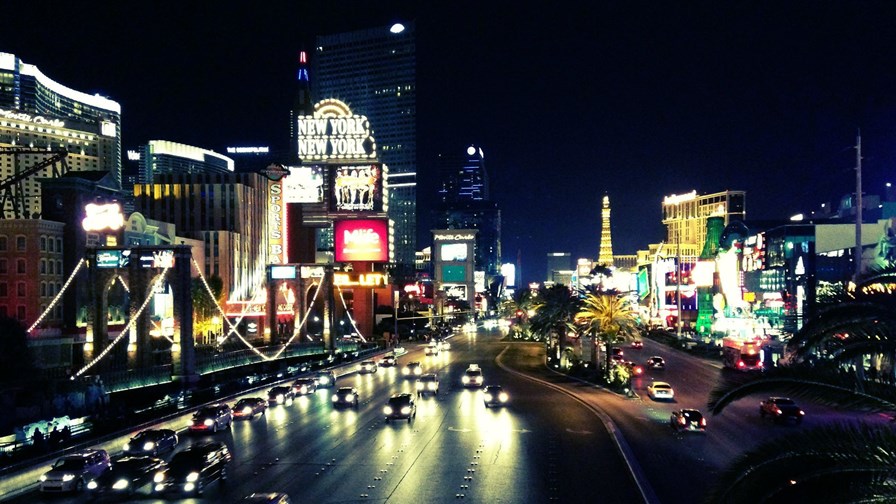 Overloaded municipal IT infrastructure and systems being transformed

A place always in the sun - and now in the Cloud too

Moving to AI-led IT operations

Machine Learning has central role
Flying into Los Angeles from the UK about an hour after dark and an hour from landing at LAX, looking from a window seat on the starboard side of the aircraft, the seemingly interminable darkness of the mountains and Mojave desert 39,000 feet below is suddenly illuminated by startling bright, jewel-like multi-coloured lights as the plane crosses Las Vegas.
The velvety desert sky is usually so clear that is easy to pick out beneath you exact details of the Las Vegas Strip in all its gaudy glory and then, as that falls away behind, you can make out a vast grid of less brightly lit streets that comprise the sprawling suburbs whose inhabitants keep tourist Las Vegas open for business 24 hours a day, 365 days a year.
It's by far the greater part of the city, so much bigger than the Strip and adjoining tourist areas, that visitors rarely ever see but is vital because Las Vegas simply cannot function without it. Las Vegas attracts millions of visitors a year and they bring on more than US$60 billion tourist dollars. To maintain, and even increase that incredible income stream, the City of Las Vegas has to manage a complex municipal IT-based infrastructure that works more or less perfectly, more of less all the time.
Just think about the support infrastructures, water, sewerage, street lighting, transport, refuse collection and all the other services needed to keep Vegas up and running. It's a tall order, Las Vegas is now a community of more than 2.3 million people. The city infrastructures were built piecemeal and very quickly dated as the city grew by leaps and bounds and put them under ever-increasing strain as more and more visitors required more and more workers and systems to support them.
To make matters worse, Vegas had deployed networks from dozens of IT vendors and was spending 80 per cent of its IT budget on patching-up legacy environments. Infrastructures were creaking at the seams, outages were common and something had to be done. So , in 2016 Las Vegas City Council took the bull by the horns and created an Innovation District with the remit to test new technologies that would improve communications and mobility, increase public safety and create a better city.
In an exclusive interview, with TelecomTV, Michael Sherwood, the Director of Technology and Innovation for the City of Las Vegas, said, "We soon discovered we needed to move away from hardware-dependent systems and over to a much more agile IT infrastructure. That meant using the cloud as as a catalyst in modernising, streamlining, reducing costs and innovating and started migrating to the cloud last year."
Mr. Sherwood knew that digital transformation has increased operational complexity to the point that humans can no longer manage the relentless deluge of data detailing the minutiae of millions upon millions of events reported by myriad information systems every day and he saw that the way forward is via AI, analytics, automation, big data, IoT, machine leaning and predictive algorithms. Hence the move to 'AIOps' or AI-led IT operations (also sometimes referred to as 'artificial intelligence for IT operations') for Las Vegas.
Looking for a needle in a huge virtual haystack
AIOps were first deployed in the city's overburdened municipal IT systems and then rolled out further to oversee everything from traffic information and public safety systems to network infrastructure and garbage collection. As Michael Sherwood says, "It's all about customer experience, the same as in the private sector. It allows us to understand our critical processes and, if they fail, to know where to go fix them. It brings a huge increase in efficiency and operational effectiveness. It has made a huge difference in the way the city is managing virtually all of its systems, saving a significant amount of resources and enabling faster and better business decisions."
Las Vegas has partnered with Oracle for some years past and it has been a productive relationship, however, the City picked specialist California-based FixStream to implement the AI for IT operations in a smart city environment. FixStream supplies similar AI software to high-volume manufacturing companies and its USP is a determined focus on IT with an emphasis on machine learning.
A major problem in a connected city environment, is that with sensors and systems communicating with sensors and systems and with the cloud and back again, when these complex structures go down or are not working efficiently it it can take hours or, in some cases, even days to isolate and resolve the problems while the mission critical services and applications across the city can go into both literal and metaphorical gridlock and meltdown.
As Sameer Padhye, the founder and CEO of FixStream, told TelecomTV, "Hitherto, the IT function has had manually to correlate data from across the IT stack, which takes time and results in errors, just because it had relied on humans dealing with millions of data points. Our AIOps software pulls massive volumes of data from across the stack and processes them to reveal faults and identify remedies. We provide a correlation engine that sits on top of it all and detects dependencies, patterns, problems, predictions failures and fixes issues."
He added, "What can't be seen in a network, can't be controlled. FixStream's solution co-ordinates vast amounts of data and provides a visualised representation of that information revealing dependencies and patterns and making it massively easier to isolate problems and solve them."
"Without that capability, trying to track down and resolve an issue in an enormous network and across a vast array of storage and transmission devices really is like trying to find a needle in a virtualised haystack that is as big as a city. Our solution applies machine learning to correlate and map the relationships among different data resources, entities, devices, data and applications across end-to-end systems and uses that information to identify patterns and anomalies that help it predict when and where trouble spots might appear."
Michael Sherwood is absolutely right when he says "There's is no other city on earth like Las Vegas." Love it or loathe it, you never forget it. What's more, it is now a world-leading hub for innovation both in the entertainment industry (some of the high-tech effects on show in Vegas really do have to be seen to be believed) in business and in technology.
The old adage is, "What happens in Vegas, stays in Vegas" but the city is now one of the global leaders in the roll-out and daily application of smart city technology. Given that, there are some things that really shouldn't stay in Vegas but should be exported to other US cities that also want to 'get smart'. They'd learn a lot.
Email Newsletters
Sign up to receive TelecomTV's top news and videos, plus exclusive subscriber-only content direct to your inbox.