Huawei doubles down with its smart city strategy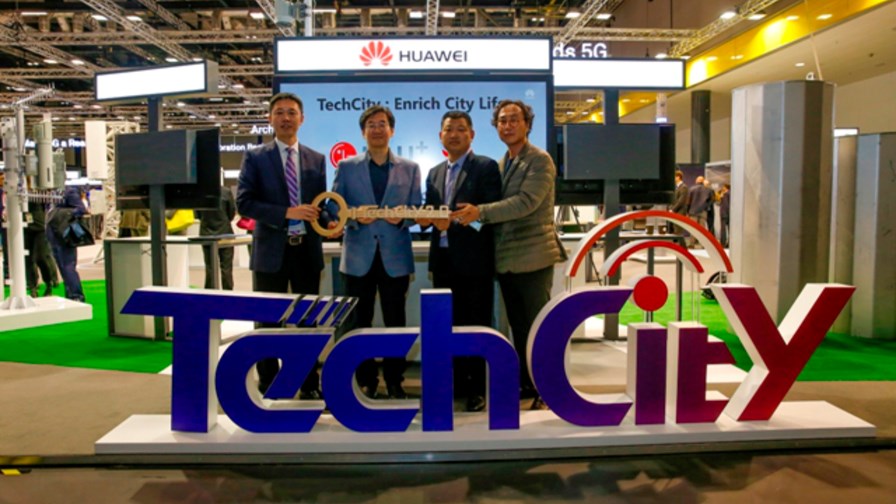 Huawei launches TechCity in Seoul with LG U+
Builds on their existing 5G development work
Proposed Smart City structure agreed for IEEE Standard
IEEE says development of Smart Cities and edge computing needs IoT
LG U+ and Huawei have launched Seoul TechCity, a collaborative project that aims to deliver smart city capabilities for the Korean capital, including Gigabit broadband, mobile enabled digitised industry infrastructure, and the tools to create new ecosystems for a digital society. It comes as a result of the work the two partners have done on pre-standard 5G in Seoul, including the recent completion of fixed-wireless IPTV and dense urban 5G field trials in Seoul's Gangnam district, and the understanding that there will be plenty more challenges in the rollout of 5G.
"Network innovation aims to deliver more and more business growth," said Peter Zhou, Chief Marketing Officer at Huawei's Wireless Network Product Line. "With a clear-cut, long-term strategy and direction, operators are advised to accelerate commercial deployment and the monetization of TechCity's new technologies in small increments, but at an increasingly expedited pace."
The "Giga Everywhere Experience City" aims to drive basic urban communication capability with LG U+ offering 1Gbit/s for every building in major cities via fixed broadband. Whilst Gigabit internet service has been offered in Korea since 2014, extending this to LTE delivery outside buildings remains a challenge. TechCity will build cluster networks to provide 5G-ready Gigabit everywhere with a 10-20Gbit/s peak data rate capability.
TechCity will also support the digitisation of industries through mobile technologies. It should allow operators to quickly verify new solutions and services, with LG U+ and Huawei working alongside other industry partners to develop new services and service based solutions. It is envisaged that these will include 4K IPTV over 5G FWA, VR/AR, drones, V2X and various NB-IoT applications.
Finally, Huawei and LG U+ hope that TechCity will support an ecosystem for the digital society, helping to create better connected cities. "We believe TechCity will help LG U+ with leading technology innovation and fostering new services," said Kim Dae Hee, VP of the LG U+ 5G Strategy Unit. "LG U+ will work together with Huawei to create a better experience for our customers in South Korea."
Smart City standards
Meanwhile, Huawei says it has successfully submitted standards proposals for IoT at the meeting of the IEEE P2413 Work Group, held last week in Shenzhen. The work group is focused on developing a standard for an architectural framework for IoT, and Huawei had submitted a proposal that encompassed device management, connection management, application enablement of IoT platforms and Big Data analysis. The group agreed to add Huawei's proposed text into the P2413 standard.
"The IEEE P2413 Standard will be one of the key factors driving the success of Smart City development," said Joe So, CTO of Huawei EGB Industrial Solutions. "It will help Smart Cities become smarter and safer and enhance the livelihood of citizens, improve government capabilities in city management, and deliver on the promise of digital transformation."
The IEEE P2413 was initiated by the IEEE in 2014. Huawei says that most current standardisation activities are confined to specific verticals and represent "islands of disjointed and often redundant development". The architectural framework defined by the IEEE standard, it says, will promote cross-domain interaction, aid system interoperability and functional compatibility and further fuel the growth of the IoT market.
"Huawei's contributions have significantly enhanced the current body of work, especially addressing the important topics of IoT in Smart Cities and edge computing," said IEEE P2413 chairman, Oleg Logvinov. "Development of Smart Cities, as well as edge computing and its relevant enabling technologies, is not possible without IoT."
A proposed OPC-UA framework document, based on P2413, was also agreed in the meeting. Huawei and Deutsche Telekom will now jointly submit a similar document to describe the framework of oneM2M based on the P2413 principle.
Email Newsletters
Sign up to receive TelecomTV's top news and videos, plus exclusive subscriber-only content direct to your inbox.