2018-06-11
S. Korea's Space Industry Leader to Expand Service to Satellite Platforms
KT SAT Aims for Seventh in the World by 2025 with Latest Technologies
SEOUL, South Korea (June 11, 2018) – KT Corp. (KRX: 030200; NYSE: KT), South Korea's largest telecommunications company, said today that its satellite business operator will gear up efforts to bring the next technology revolution to outer space as well as the Korean peninsula.
KT SAT Co., Ltd., Korea's only satellite service provider, aims to become the seventh-largest satellite operator in the world by 2025, up from its current 18th rank. To achieve this, it will focus on using latest 5G mobile technologies in outer space, applying quantum cryptography to satellite communication, and providing a blockchain service for secure data sharing.
As two Koreas move toward peace recently, KT SAT expects to launch its satellite service in North Korea, a potential market for communications and broadcasting networks. KT Corp. has created a special task force to support inter-Korean cooperation and expand exchanges in ICT following April's landmark summit between North and South Korea.
"KT SAT is leading Korea's space industry in the global market for satellite business, writing a new chapter of the country's satellite history," Chief Executive Officer Hahn Won-Sic said in a press briefing on June 7, at the Kumsan Satellite Service Center, Korea's first satellite earth station. "If things go well, KT SAT can provide telecommunications and broadcasting infrastructure in North Korea by using its satellites."
Hahn stressed that his company is working on providing parent KT's 5G mobile service via satellite to remote areas where Internet access is not available, removing barriers between onshore, maritime and space telecommunications.
KT SAT is also pushing for commercializing quantum cryptography with its satellites by joining KT Group's drive to participate in the national project of research and development on the latest secure method of transferring data.
To improve customer convenience, Korea's leading satellite operator is seeking to use blockchain technology, another promising innovation on cryptography, for maritime satellite services, such as getting real-time information on the use of data, service charges and settlements.
KT SAT has formed the 'Space Odyssey' group of 25 internal specialists to study and develop the use of these new technologies. It also plans to host Korea's first conference on satellite technology in the second half of this year to bring together related local companies for industrial cooperation.
To Emerge as a Global Leader in Satellite Technology
To take the next step toward global leadership, KT SAT is diversifying its portfolio to provide a variety of onshore, maritime and space services. To that end, the company is developing diverse solutions and value-added services, as well as custom-tailored technology support through satellite platforms.
KT SAT was established as a KT subsidiary specializing in satellite services when Korea's top telecom provider spun off its satellite business in 2012. With the launch of KOREASAT-7 and 5A last year, the company is strengthening its position as a leading global service provider.
KT's first satellite operator currently owns five satellites. The latest, KOREASAT-7 and KOREASAT-5A, were launched in May and October in 2017, respectively. KOREASAT-5A extended KT SAT's coverage from the Korean peninsula to the Philippines, Indochina, the Middle East and parts of South Asia. KOREASAT-7 covers the Philippines, Indonesia, Indochina and India.
KT SAT's main business was satellite transponder leasing in the domestic market until it started a global advance in 2015. The company's customer list now has 22 in seven countries, up from 13 in three countries, and its satellite coverage has expanded, boosting sales.
High-speed Internet Connectivity in Oceans and Skies
As an ICT pioneer, KT SAT is striving to bring high-speed Internet service to places where it remains mostly unavailable, such as in-flight WiFi service, also known as in-flight connectivity. The market is expected to grow at an annual average rate of 20 percent or more over the next 10 years.
The company is currently consulting with air carriers at home and abroad as it prepares to build global commercial networks via KOREASAT-5A communications satellite.
KT SAT provides unhindered round-the-clock satellite service management around the year, using its own system, the Global Network Operation Support System (GNOSS), in 24/7 operation. With its two-decade experience of providing stable service to customers and managing its global network, the company now pursues a greater competitive edge in the market through localized, custom-tailored and exceptional services.
To expand its service areas, the company seeks to collaborate with foreign satellite operators. By launching roaming service in cooperation with foreign operators, it expects to provide satellite service to hitherto unexplored markets, including the Central and South Americas.
Korea's No. 1 Maritime Telecommunications Service Provider
KT SAT is also Korea's largest provider of maritime telecommunications service thanks to a two-way satellite ground station, known as a "maritime very small aperture terminal," or MVSAT. Ships at sea are provided unlimited access to data at a fixed rate in contrast to previous charges based on the amount of data used.
Currently serving some 500 ships that operate in international waters, KT SAT expects the number of its clients to increase sharply, particularly because a growing number of young people manning Korea's deep-sea fishing vessels demand stable telecommunications and access to information.
In the domestic MVSAT market, KT SAT provides service to 35 percent of the ships in the 500-ton class, or 700 vessels, which operate in coastal waters. The goal is to have a 50 percent share, or 1,000 ships, by 2020.
Targeting smaller vessels as well to expand its customer base, the company started a pilot service with portable MVSATs in January this year. To gear up for competition against its rivals, the company will also add various services such as Long-Term Evolution(LTE), closed circuit television(CCTV) and satellite broadcasting for those ships
For overseas expansion, KT SAT is exploring the global MVSAT market through its KOREASAT-5A, whose high-powered, dedicated beams for global maritime communications cover Korea's East Sea, the South and East China seas, the Bay of Bengal and the Arabian Sea.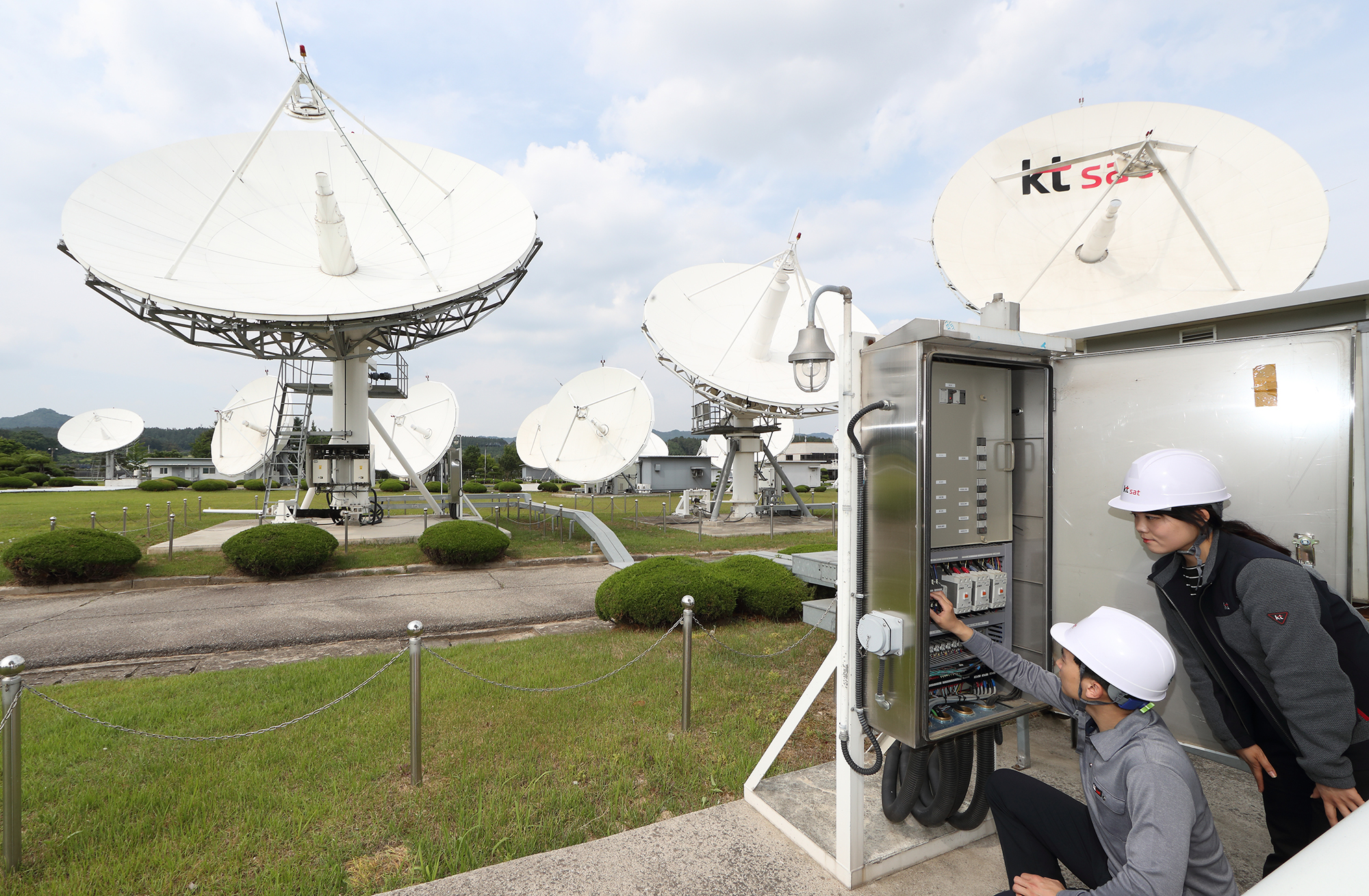 [Picture 1] KT SAT employees inspect satellite antennas at the Kumsan Satellite Service Center on June 7.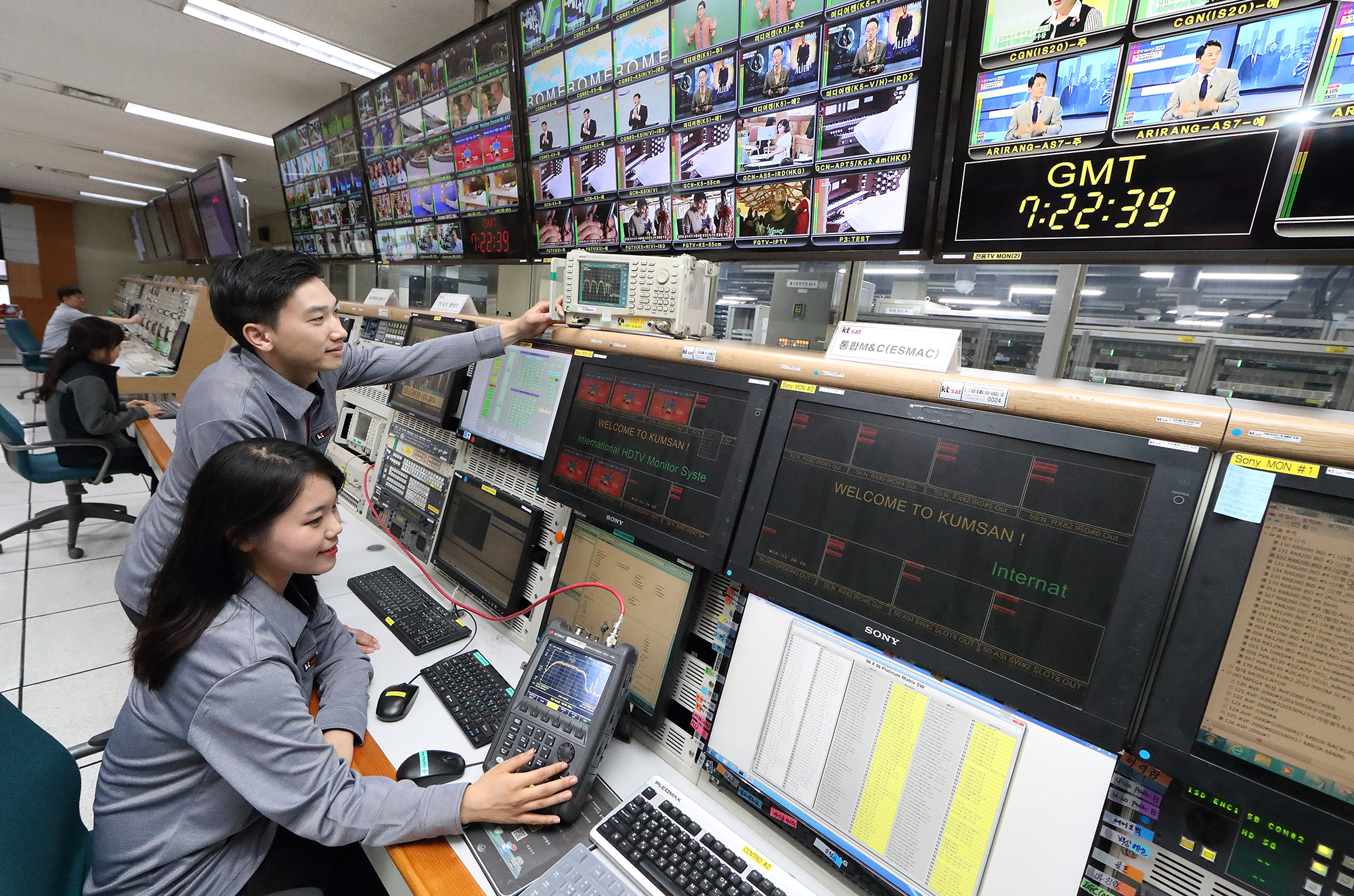 [Picture 2] KT SAT employees monitor the satellite broadcasting system at the Kumsan Satellite Service Center on June 7.
This content extract was originally sourced from an external website (
KT
) and is the copyright of the external website owner. TelecomTV is not responsible for the content of external websites.
Legal Notices
Email Newsletters
Sign up to receive TelecomTV's top news and videos, plus exclusive subscriber-only content direct to your inbox.