FCC says there is "effective competition" for mobile services in the US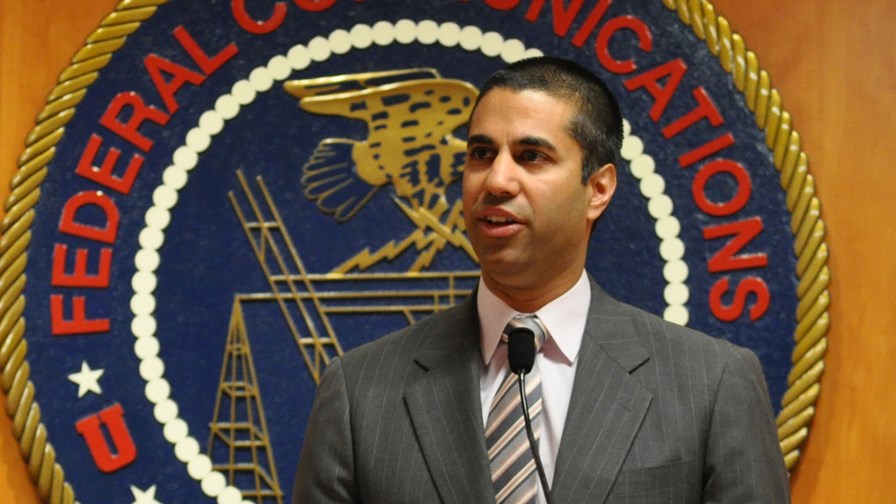 US regulator FCC approves its annual Mobile Wireless Competition report
Vote was passed 3-2 along political partisan lines
"Most reasonable people see a fiercely competitive marketplace," said Pai
Concerns over how a possible T-Mobile/Sprint merger may reduce choice
The US FCC telecoms regulator has approved its 20th Annual Mobile Wireless Competition Report and for the first time since 2009 makes an "affirmative finding" that there is effective competition in the marketplace for mobile wireless services. It concludes that competition continues to play an essential role in the mobile wireless marketplace, driving innovation and investment to the benefit of the American people and economy.
"To be sure, some strenuously resist this conclusion, and have for many years," said FCC Chairman Ajit Pai. "It's hard to say that resistance is inspired by a careful review of the facts. Instead, it's all about ideology. To those who want to impose more regulation upon the wireless marketplace, the reality of effective competition is an inconvenient truth that must be discounted or ignored.
"The last time this report included a finding of whether the wireless market was competitive was our 13th Report, way back in 2009," added Pai. "Unfortunately, the prior six reports have dodged this question. Today, we are finally getting back on track."
Split vote
Unfortunately, we must wait a little longer for the report to be actually published (EDIT: the FCC finally released the report, see link below) so we can scrutinise the findings for ourselves. In the meantime, there is no shortage of opinion and reaction to the announcement of its approval. So let's start with some dissenting views.
"While this report celebrates the presence of four nationwide wireless providers, let's be mindful that a transaction may soon be announced that seeks to combine two of these four," said Jessica Rosenworcel, one of the dissenting FCC commissioners, referring to the possible merger between T-Mobile and Sprint. "While the Commission should not prejudge what is not yet before us, I think this agency sticks its collective head in the sand by issuing this report and implying move along, there is nothing to see here. Someone will also need to explain how having fewer potential big bidders in upcoming spectrum auctions will not render our most potent distribution mechanism substantially less powerful."
"If one of our nationwide wireless carriers covers only 64 per cent of the rural population, that means it is probable that 20.5 million people in these areas do not have access to all four of our nationwide wireless providers," said fellow dissenter Commissioner Mignon Clyburn. "So, my question is a simple one: How then can this Commission conclude that the mobile wireless market is effectively competitive? I can neither understand nor condone why the majority used a truncated analysis to reach this conclusion."
"We shouldn't ignore how four-firm competition, data roaming rules, spectrum screens and other regulations adopted by previous Administrations continue to benefit consumers," said Harold Feld, SVP at open Internet advocates Public Knowledge. "At the same time, we cannot ignore the continuing problems of concentration – particularly in rural markets and for low-income Americans. The purpose of the Competition Report is to provide an important tool for Congress and the American people to understand the wireless market. It is not intended to put a happy face on an industry that remains concentrated by conventional antitrust metrics."
Industry support
"The 20th Report reviews many factors indicating that the wireless marketplace is, indeed, effectively competitive; I won't repeat them here – that's why we have the report," said Pai, ignoring the fact that consumers can't actually access the report yet. "But looking at the bigger picture, most reasonable people see a fiercely competitive marketplace. For example, since the FCC's last report in 2016, all four national carriers have rolled out new or improved unlimited plans. This is strong, incontrovertible evidence."
Of course, there are just as many comments in support of the FCC's decision, particularly amongst the operator community.
"We're pleased that the FCC has recognised the significant consumer benefits of wireless competition," commented Scott Bergmann, VP of Regulatory Affairs at the CTIA industry association. "The industry's unique competitive nature provides Americans with broad choice – nearly 97 per cent of Americans can choose between three or more 4G providers – lower prices, faster speeds and innovative products and services."
Whilst humble folk must wait to read the report, Bergmann has disclosed some of the findings on his CTIA blog. He says that American consumers can choose between three or more 4G providers in nearly 250,000 more square miles and in the last 18 months, the percentage of rural Americans who can choose between three or more 4G providers grew to more than 84 per cent.
According to Bergmann, the report cites that over the past seven years, the wireless industry invested $200 billion in network improvements that have yielded tangible benefits, in that average 4G download speeds are more than 60 per cent faster today compared to 2014. He adds that carriers also invested in advertising, spending over $9.3 billion last year to attract and retain subscribers, which he says highlights the degree of competition.
The report also apparently reveals that the cost for mobile data has dropped from $1.37 per MB a decade ago to less than $0.005 in 2016. Against this, the use of wireless data grew 42 per cent last year, and by 238 per cent over the last two years, to more than 13.7 trillion MBs.
"This consumer engagement is the result of an industry that thrives on competition in a powerful way," wrote Bergmann. "And looking to the future, wireless companies are applying that same entrepreneurial drive to deploy next-generation 5G networks. We compete because we're committed to being the best."
Email Newsletters
Sign up to receive TelecomTV's top news and videos, plus exclusive subscriber-only content direct to your inbox.