Internet Archive to build a replica of the entire Internet in Canada - beyond the reach of President Trump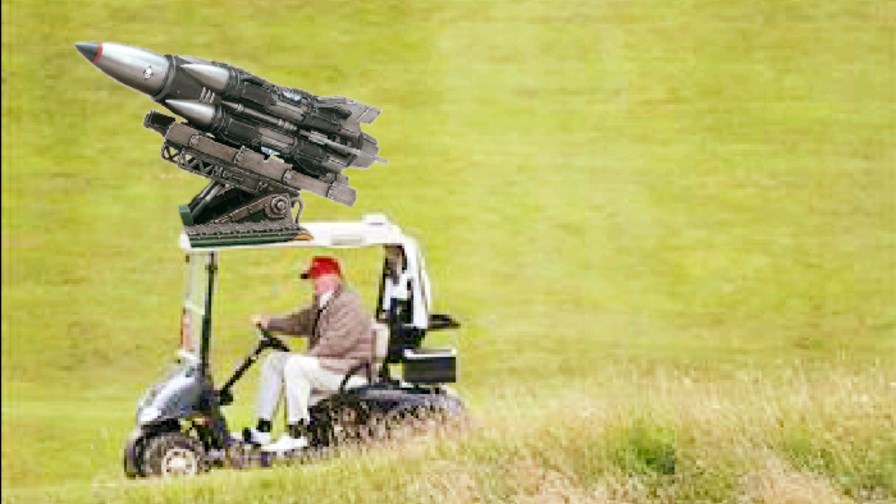 Prompted by campaign promises to "close-up" parts of the Internet the new administration does not like
Campaign rhetoric seen as a threat to First Amendment rights
Plan would insulate the web from attempts to take down and delete specific content
Will also make it more difficult to demand access to data on user activity​
A copy of the whole of the Internet is to be created and sited in Canada! The Internet Archive, based in San Francisco in the US, is so concerned about the various threats about "closing up" the Internet made by US President-Elect Donald Trump whilst he was on the campaign trail that it has decided to duplicate, shift and store the web's entire contents across the 49th Parallel.
In the past, communications from the Internet Archive have frequently focused on the fact that over the years "libraries tend to get lost", citing as evidence examples such as the Library of Alexandria (immolated by invading Romans) the Library of Celsus, in Ephesus, in modern-day Turkey (which was destroyed by an earthquake) and the Library of Congress in Washington DC (burned to the ground by the invading British Army in 1814).
However, the organisation is also worried by recent political events in the US where the Internet Archive is currently located. That's why a full duplicate of the Internet is to be constructed and stored north of the border up Canada way.
A statement from the Internet Archive reads, "On November 9th in America, we woke up to a new administration promising radical change.It was a firm reminder that institutions like ours, built for the long-term, need to design for change. For us, it means keeping our cultural materials safe, private and perpetually accessible. It means preparing for a web that may face greater restrictions. It means serving patrons in a world in which government surveillance is not going away; indeed it looks like it will increase."
The Internet Archive admits that the creation and storage of a duplicate will cost many millions of dollars and is soliciting donations to ensure that will be built. When it was founded, back in 1996, The Internet Archive was more of a dream than a feasible reality. Indeed, at the time of its foundations the technology to collect and store almost infinite masses of constantly multiplying data did not exist.
However, time and technology move on and the Archive now preserves upwards of 27 petabytes of data and the plan is for the Archive to work in partnership with over 400 universities and conventional libraries to create an environment where every book ever published, every film ever made, every piece of music ever recorded, every television programme ever broadcast and every web page ever posted will be kept, catalogued and made available, free, to all the people of the earth - once a few little problems such as copyright issues and the world's dictatorships have been sorted out.
Partial replica archives being built in Amsterdam, the Nethe​lands and Alexandria, Egypt
In point of fact, the Internet Archive is already building partial copies of the Internet that is being housed in Amsterdam in the Netherlands and, naturally enough, Alexandria in Egypt but the election of Donald Trump has galvanised matters.
In a question and answer blog, Brewster Kahle, the founder & Digital Librarian of the Internet Archive, and a New Yorker by birth, wrote, "The statements by Trump on the campaign trail have ramped us into higher gear, moving us further and faster than we would have. The election led us to think bigger. Upon his election we looked through our archive to find what his stand might be on the Internet policies and found announcements like this quote from a campaign rally at the USS Yorktown in South Carolina broadcast by CSPAN on December 8, 2015.
Trump said. "So the press has to be responsible. They're not being responsible, because we are losing a lot of people because of the internet. We have to do something. We have to go see Bill Gates and a lot of different people that really understand what is happening. We have to talk to them, maybe in certain areas, closing that Internet up in some way. Some of you will say, "Oh, freedom of speech, freedom of speech." these are foolish people. We have a lot of foolish people. We have a lot of foolish people. We have got to maybe do something with the internet because they are recruiting by the thousands."
Basically it is gibberish, but it seems that amongst the verbiage Mr. Trump is taking aim at the freedom of speech that is protected by the First Amendment to the United States Constitution - and by many state constitutions and state and federal laws too.
Mr. Kahle continued, "There are stages we can take to achieve our overall goal. The first stage would be done with the University of Toronto and University of Alberta: to make a copy of what has been digitised from these Canadian collections and move that onto their university servers. The next stage is to create a partial mirror at the Internet Archive Canada, which we have been planning to do. Then the next stage is to create a "backup copy" in Canada for researchers. The best case scenario would be to have an active organization running a live copy of as much of the Internet Archive's collections as makes sense. This is what we would like to do."
Thereafter, and to a now accelerated timetable, the plan is to construct a mirror of the Internet Archive's US-based content and transfer it to Canada. Mr. Kahle believes that moving the archive will insulate from interference and attempts to take down and delete specific content whilst, simultaneously, making it more difficult to demand access to data on user activity.
Interestingly and with remarkable prescience given the deluge of fake news that accompanied the most rancorous and divisive presidential campaign in modern US history, back in January this year the Internet Archive launched the Political TV Ad Archive, a resource for journalists to use to fact-check claims made during the election.
And now, as a direct consequence of that election the Internet Archive is creating a replica of its digital database in another country. Is that an overreaction, or a straw in the wind?
Email Newsletters
Sign up to receive TelecomTV's top news and videos, plus exclusive subscriber-only content direct to your inbox.