Mobile service providers fail to meet the "digital first" user experience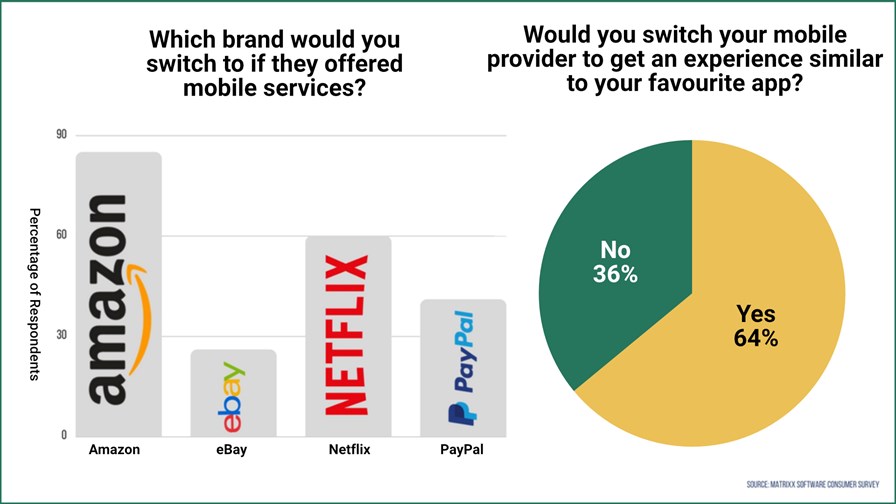 75% of consumers would buy mobile services from digital-first brands
Amazon, Paypal and Netflix rank higher than CSPs, say users
Offer better ease of use, personalisation and easy to understand pricing
Digital commerce company Matrixx Software has announced results of a survey of mobile users across the US and UK. The survey of over 3,000 mobile users found that customers prefer the experience of digital-first companies, with 73 per cent saying they wish their mobile service provider operated more like Amazon. Other "digital first" companies PayPal, Netflix and eBay also ranked highly in terms of digital experience, with respondents highlighting ease of use, clear pricing structure, real-time access to services and the ability to personalise.
Matrixx focused on retail-driven apps for this survey, which is why social media firms like Facebook and the already heavily mobile-focused Apple and Google were not included. The company told TelecomTV that as telcos are often told they need to operate more like digital companies such as Amazon and Netflix, the purpose of this survey was to better understand why customers prefer these apps and what features specifically they consider of most value.
Matrixx said its survey revealed compelling reasons for telcos to leverage mobile user experience as a way of boosting their bottom line and increasing customer acquisition. It cited the evidence from the survey that nearly 40 per cent of UK mobile users said they would increase spending with their carrier if it operated more like a leading digital brand, while 52 per cent of all respondents would recommend their carrier to friends and family.
"The survey clearly demonstrates that digital-first brands have set a new baseline of expectation by which every other consumer service is judged," said Jennifer Kyriakakis, founder and VP of marketing at Matrixx Software. "Telcos have an opportunity to attract an entirely new crop of customers, ones who are motivated by intuitive engagement that results in a highly personalised, transparent and real-time mobile experience."
The company also revealed that 75 per cent of its survey respondents chose transparency in pricing as a feature they most want their mobile provider to adopt from their favourite app. Another 63 per cent preferred ease of use, while 51 per cent cited greater personalisation and 49 per cent wanted instant access to services.
Finally, 64 per cent of mobile users surveyed claimed they would switch their carrier if offered a greater customer experience, regardless of who offers it.
This still remains a very cost-focused business. The survey are revealed that cost was the number one choice (out of six options) for selecting a service provider, with 85 per cent of respondents ranking it as important or very important. That doesn't bode well for all those operators who believe they will recoup their 5G investments through increased revenues.
Updated with additional information from Matrixx
Email Newsletters
Sign up to receive TelecomTV's top news and videos, plus exclusive subscriber-only content direct to your inbox.