MEF16 showcases 14 Proofs of Concept for "Third Network" services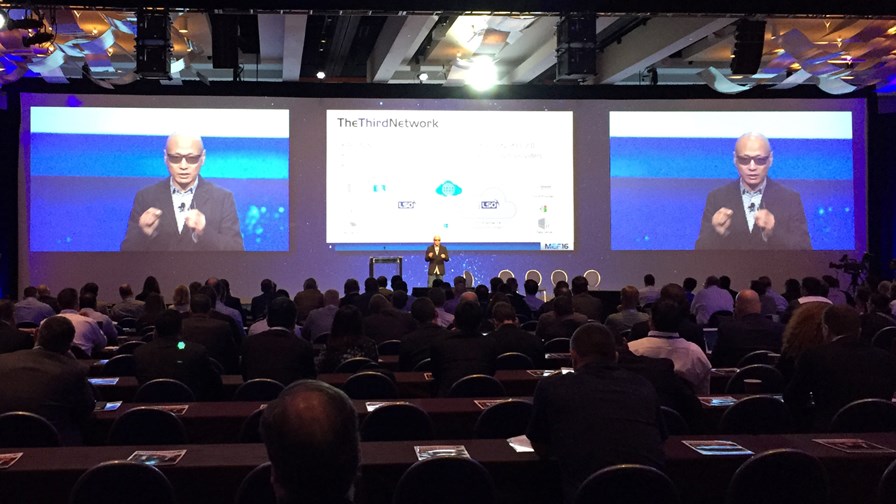 Who needs Trump and Clinton when you have a room full of PoCs to choose from?
Annual MEF16 event opens in Baltimore, Maryland.
Focus on Lifecycle Service Orchestration, SDN, NFV and CE 2.0
TelecomTV reporting from the event
The annual MEF event opens today in Baltimore, with its focus on bringing together NFV, SDN and orchestration to create the "Third Network". Open networking remains a major topic of discussion, as does the need for services to be orchestrated across multiple domains and networks – the so-called east-west interface. The MEF, of course, earned its reputation with its work on Carrier Ethernet, and is leading the way with the development of business-focused on-demand, assured and orchestrated services.
For this year's event, the MEF has gathered together 29 companies to demonstrate 14 Proofs of Concept (PoC), focusing on LSO (Lifecycle Service Orchestration), SDN, NFV, and CE 2.0. TelecomTV is reporting from MEF16 and will be conducting a series on video interviews and panel discussions – full coverage will be available on the site soon. In the meantime, we have news of three of the PoCs.
Multi-vendor service orchestration with Open APIs
CenturyLink, RAD and Ciena's Blue Planet division are showing a PoC on "multi-vendor service orchestration using Open APIs for service activation, performance monitoring and NFV" (yes, PoCs do tend to have rather unwieldly titles). A key component is the CenturyLink-led open source initiative to develop APIs and resource adapters within the MEF LSO framework for automated service provisioning and end-to-end delivery.
"This showcase aligns perfectly with the MEF focus on enabling dynamic 'Third Network' services," said Jack Pugaczewski, Distinguished Architect at CenturyLink. "It shows how the use of open APIs simplifies delivery of on-demand, orchestrated, and assured services. The ultimate objectives are to maximize the end-user's control of their network resources and cloud connectivity based on their specific needs, while standardizing management interfaces so we, as the service provider, can build best-of-breed networks without the huge IT overhead of yesteryear's proprietary networks."
Unified network monitoring technologies
CenturyLink has also been working with Accedian to showcase real-time visibility for global-scale services. The PoC demonstrates a diverse set of tools with enhanced monitoring capabilities that can overlay onto existing networks to deliver near-real time, end-to-end visibility of the service and network performance. They support full service lifecycle from service activation testing with MTU, bandwidth and performance verification at service turn-up to ongoing monitoring of SLAs with on-demand troubleshooting for fault isolation and repair.
"Combining a wide range of monitoring technologies together into a single, unified system provides near-real time monitoring, alarming and trend analysis, which is critical to delivering the best possible customer experience," said Drew Flechsig, Director of Network Policy and Performance at CenturyLink.
"The technologies we showcase have been field-proven in some of the most demanding circuits, in some of the most diverse regions that CenturyLink services," added Keith Donahue, VP Product Management and Marketing at Accedian. "These are locations where performance visibility is critical for remote troubleshooting, validated service activation, and performance optimization."
10G Carrier Ethernet services over SDN
Adtran and Spirent are hosting a PoC to demonstrate solutions for rapid, zero-touch on-boarding of cloud-based 10G Carrier Ethernet services over SDN-controlled NG-PON2 networks. It includes proactive assurance of services with automated turn-up verification, intelligent SLA monitoring and programmable network modification.
Meanwhile, Adtran has today announced the availability of its programmable 10G-PON SD-Access portfolio of residential and business gateways, natively integrated into the Adtran Mosaic Cloud architecture, which extends SDN control to the customer edge and supports service orchestration across the entire access network.
"Service providers are demanding highly programmable residential and business gateways that support both an agile 10Gbit/s physical connection and a zero-touch deployment model which leads to dramatically reduced operational costs and improved quality of experience," said Jeremy Harris, portfolio manager of customer devices at Adtran.
The new gateways support both NG-PON2 and XGS-PON, allowing service providers to create a user-driven service delivery platform, enabling them to operate at web-scale, supporting expanded service flexibility and velocity for voice, data, video and smart home applications.
"Service providers have historically faced a common problem with ONTs being closed and proprietary," said Julie Kunstler, principal analyst at research firm Ovum. "Native SDN control allows for greatly simplified interoperability, breaking service providers out of the vendor lock-in that exists in traditional PON systems. A direct cloud to subscriber edge, software-defined management architecture removes the need for lengthy multi-vendor integration cycles and enables the service provider to rapidly evolve its service offerings by taking advantage of emerging technologies."
Email Newsletters
Sign up to receive TelecomTV's top news and videos, plus exclusive subscriber-only content direct to your inbox.