Verizon conducts live over-the-air VoLTE call on its LTE Cat M1 network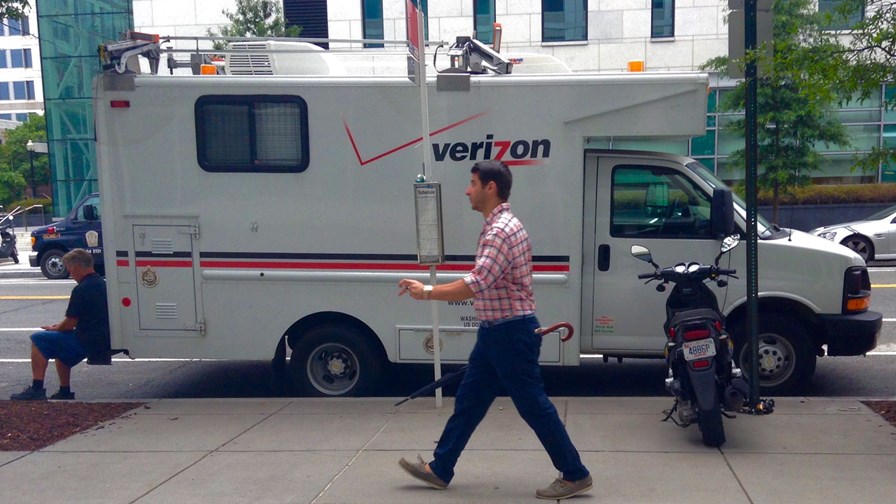 Telco claims first live Cat M1 VoLTE call on a production network
Verizon was the first operator to deploy a nationwide Cat M1 network
Objective is to add voice capabilities to IoT devices
Rival AT&T also testing VoLTE over Cat M1
Verizon has announced the first live over-the-air LTE Cat M1 VoLTE call on its network, which it says lays the foundation for the next generation of IoT connectivity. By proving CAT M1 VoLTE technology works on a commercial-ready network, Verizon, along with its technology partners Ericsson and Qualcomm, says it has demonstrated that the reach of Cat M1 can extend across Verizon's U.S. LTE network, creating new growth opportunities for IoT companies and developers, whether they are focused on data-only or voice-enabled products.
"Extending VoLTE technology on Verizon's nationwide LTE Cat M1 network is the natural next step in the evolution of IoT," said Rosemary McNally , VP for corporate technology at Verizon. "By proving that voice services can be delivered on a production LTE Cat M1 network, we're paving the way for new types of IoT applications and services."
For the trial Verizon used Ericsson's commercial network infrastructure deployed on the Verizon network and incorporated Qualcomm's global multimode LTE modem, whose chip is enabled for Verizon's ThingSpace IoT development platform.
"We are very pleased to have successfully demonstrated live VoLTE calls over Verizon's commercial LTE Cat M1 network, together with Qualcomm Technologies," said Eric Parsons , Head of Product Line 4G and RAN Mobile Broadband at Ericsson. "The IoT space offers new revenue-generating services for operators and adding voice capabilities to IoT devices takes use cases such as alarm panels and medical alert systems to the next level of functionality."
Verizon says Cat M1 is designed for devices that require extended battery life, which enables a variety of applications from water meters to wearables to asset trackers and consumer electronics. It also allows signals to better penetrate walls and floors to reach devices located in remote locations.
"Our MDM9206 global multimode LTE IoT modem, designed to support LTE Cat M1 with VoLTE, Cat NB-1 (NB-IoT) and E-GPRS, brings many enhancements and optimisations to LTE that can help reduce IoT complexity," said Joe Glynn , VP business development, Qualcomm Technologies, "and supports leading operators such as Verizon to quickly commercialise new types of applications and services that require voice."
Verizon claims a number of firsts with the 3GPP Cat M1 standard; the first service provider to launch a commercial Cat M1 network in 2016, the first operator to deploy Cat M1 nationwide in 2017, and now the first with VoLTE over Cat M1.
Competition intensifies
However, Verizon wasn't the first with an industry demo – that honour belongs to rival AT&T, which showed its solution at Mobile World Congress earlier this year. Again with vendors Ericsson and Qualcomm, and using the same MDM9206 modem, the partners performed a successful VoLTE call over Cat M1 – albeit in a controlled exhibition environment.
"AT&T is proud to participate alongside Ericsson and Qualcomm to advance VoLTE support over Cat-M1," said Chris Penrose, President of IoT Solutions at AT&T, back at the end of February this year. "The ability to support voice services is an important feature to many verticals within our IoT portfolio, including our customers in the alarm and security industry, automotive, wearables and connected health markets."
As Ericsson explained, this means that IoT devices using VoLTE on Cat-M1 will allow enterprises to make voice calls, extending the capabilities of operators' mobile networks by tapping into the IoT device ecosystem.
"The benefit of basic human communication blends perfectly into the IoT environment," said Anders Olin, Head of Network Applications, Business Unit IT and Cloud Products, Ericsson. "Supported by our radio and core portfolios, it will now be feasible to globally deploy voice services for IoT cost-effectively for all kinds of industries and different use cases."
VoLTE uptake is projected to accelerate (at long last, I hear you all cry) and reach 3.3 billion by the end of 2022, making up more than 60 per cent of all LTE subscriptions. That's according to the Ericsson Mobility Report from November last year, which adds that by 2022 there could be 18 billion connected IoT devices globally.
Email Newsletters
Sign up to receive TelecomTV's top news and videos, plus exclusive subscriber-only content direct to your inbox.