Microsoft shows off GLAS smart thermostat for home and business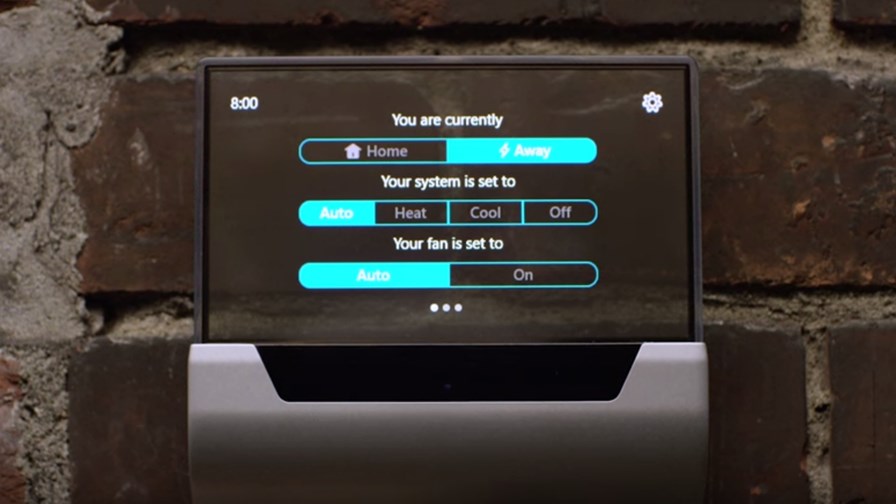 Microsoft takes a solid step into the smart home/smart premises segment
GLAS thermostat appears well designed and works with Cortana
Will be launched later this year
Microsoft this week unveiled one of those 'that's exactly what this product category should look like' products. It's a thermostat. But it's not the mess of plastic dials and and tiny switches that usually make up the user interface to the domestic or hotel thermostat. This one has been designed properly to be used by human beings. 'Real design' not 'let's make it look contemporary' design.
Microsoft has lined up with Johnson Controls for this, its first smart thermostat. And it's gone into enemy territory (Youtube) to show it off. Take a look.
There's not a lot of extra detail yet and the product won't be launched until later this year, but what's known is that GLAS works with Microsoft's Cortana digital assistant, so the temperature can be ordered up, down and off with voice commands. It operates under Azure Cloud.
Microsoft has plans to connect Cortana to more home devices - the usual things: refrigerators, washing machines and so on, so it's one more step into the smartish home where Microsoft plans to compete directly with Alphabet (Google), Amazon and Apple, as well as many of the world's telcos who would also like to claim a slice of this still emerging market. It will also find a home in offices, factories, hotels and so on.
The video suggests that GLAS is going to know when you (its owner) enters the room and could be programmed to respond appropriately by presenting calendar notifications, adjust temperatures in the room and so on, so it has a 'green' story attached to it as well. This extra knowingness is slightly worrying (see Great Aunt Mabel's FBI checklist for smart gift buying).
Since 2014 when he took over, CEO Satya Nadella has doubled Microsoft's share price thanks, it would appear, to a move away from the old proprietary 'on-the-premises' software business (Windows, Office etc) and on to a 'cloud-first' vision where, instead of defending or building a proprietary platform (as with the failed mobile strategy) it puts the software first and embraces different platforms to run it on and across. The IoT side of the business is part of that, via Microsoft's Azure cloud efforts, as is this foray. Yes, the thermostat is a lump of hardware but it is part of a cloudy push into the smart home.
The company has just reported its latest quarter which showed the PC segment had declined another 2 per cent to $8.8 billion, while revenue from its Intelligent Cloud business rose 11 per cent to $7.4 billion, and revenue from its Productivity and Business Process segment rose 21 per cent to $8.4 billion. It's working.
Email Newsletters
Sign up to receive TelecomTV's top news and videos, plus exclusive subscriber-only content direct to your inbox.