Fraunhofer develops secure Industrial IoT component with built-in cryptology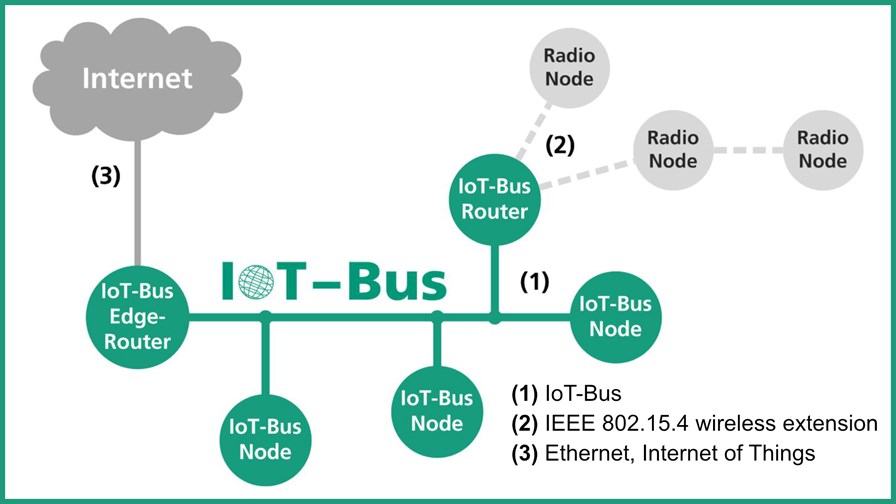 Secure solution for industrial IoT environments
Connects wireless access networks to fieldbus production networks
Developed by the Fraunhofer Institute in Germany
Features IPv6 support and built-in cryptology
Security of data and operations will be the major determining factor of IoT's success, especially with industrial Internet solutions. It's relatively easy to make IoT devices and distribute them in the field, and also not too difficult to get them to communicate, but securing these billions of devices is another matter.
The Fraunhofer Institute's department for Integrated Circuits has announced the development of a new IoT-Bus, which it says is the first fieldbus to feature IPv6 support and an integrated security system. It combines IP support with the advantages of a fieldbus, resulting in extensive range, high reliability and robustness and low latency.
A fieldbus is an industrial network that is specifically designed for communication between industrial controllers and their associated sensors and actuators. It refers to a family of industrial computer network protocols used for real-time distributed control, replacing point-to-point wiring that connects each sensor and actuator to the controller.
One of the current Industrial IoT problems today concerns the balance between the necessary bandwidth required by specific IoT devices and the trade off with security and costs. For example, if the data rate is too low (just a few kbit/s), then IP capability and encryption are not feasible. However, if the bandwidth is too high (in the high Mbit/s range), energy consumption and communication costs become prohibitively high.
Fraunhofer's design will enable production machines to securely connect with each other over long distances, with continuous communication from sensors to the cloud via TCP/IP. The standardised encryption methods used by this IP family – TLS and DTLS – will ensure secure data transfer wherever it is required. The IoT-Bus effectively creates a cross-media communication protocol and unites wireless access networks with fieldbus configurations without complex protocol conversion.
An IP-capable terminal node removes the need for protocol conversion, as by integrating the IPv6 protocol into the IoT-Bus, each terminal node receives its own IP address and can both transmit and receive data – so connected production machines can send status notifications and warnings to mobile devices. Built-in cryptology will also provide a trusted and tamper-proof connection, claims the Institute.
Fraunhofer says its IoT-Bus is suitable for applications ranging from Industrie 4.0 and building automation to energy management. Existing system components and sensors can easily be retro-fitted to work with IoT networks by making then IP-capable. It believes its solution will prove more reliable and have a greater point-to-point range than LPWA solutions. Once implementation is complete, the IoT-Bus protocol stack will be available for licensing.
Email Newsletters
Stay up to date with the latest industry developments: sign up to receive TelecomTV's top news and videos plus exclusive subscriber-only content direct to your inbox – including our daily news briefing and weekly wrap.