Expanded WLAN measurements under realistic operating conditions RF quality testing of IoT devices when WLAN security is enabled
23/10/2017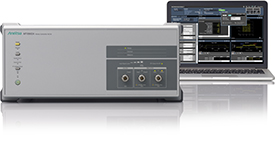 Luton, UK – October 23, 2017 – Anritsu Corporation announces new WLAN Security Function software for its MT8862A Wireless Connectivity Test Set, which supports evaluation of devices for the rapidly growing IoT market even when WLAN security is turned on.
Applications including TVs, the connected car, industrial equipment and sensors are rapidly adopting the WLAN standard. To ensure reliable operation, parameters such as wireless reception range and sensitivity need to be tested under realistic operating conditions.
The new software, MX886200A-020, allows the Anritsu MT8862A to use its Network Mode measurement function to execute tests while the WLAN device is operating; even if security is enabled. The software supports a range of standards, including WEP, WPA-Personal and WPA2-Personal. Previously engineers had to disable WLAN security for testing, which is not representative of typical operating conditions. Furthermore, many designers are choosing to eliminate the ability to disable security to meet demands for secure IoT deployment.
This new security function can be installed on existing MT8862A systems by updating the firmware and installing a license from a web browser, eliminating the need for factory upgrades and reducing downtime to a minimum.
About the MT8862A
The MT8862A is a WLAN test set that supports IEEE802.11ac/n/g/b/a. It uses built-in communications protocols and performs tests of WLAN device RF TRx characteristics, including Tx power, modulation accuracy and Rx sensitivity.
This content extract was originally sourced from an external website (
Anritsu News
) and is the copyright of the external website owner. TelecomTV is not responsible for the content of external websites.
Legal Notices
Email Newsletters
Sign up to receive TelecomTV's top news and videos, plus exclusive subscriber-only content direct to your inbox.