Deriving meaning and value from the Internet of Things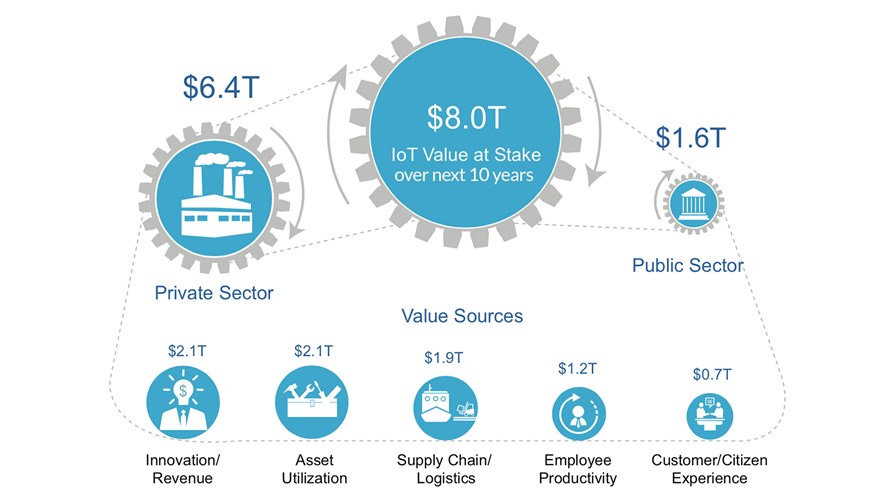 The Internet of Things (IoT) sector is forecast to experience explosive growth over the next few years, with embedded communications capabilities in an ever-increasing range of products and devices. Some of these will be two-way, whilst many others will be sensor-based, collecting data and forwarding it back to a central location. But what then? When we have built our connected society, what do we do with it? According to research firm IDC, less than 1 per cent of the world's data is currently being analysed.
Last week, Cisco announced a new data and analytics strategy and associated suite of solutions designed to help customers extract value from data generated by the IoT ecosystem. Cisco is effectively taking the current model of analytics, designed to help companies extract insights from data created within their organisations and residing in a centralised data store, and applying it to a geographic dispersed network. As it quite rightly says, data generated by IoT is increasingly "massive, messy, everywhere – and on the move".
The company recently conducted a study of IoT data and found that 40 per cent of respondents regarded the inaccessibility and inability to interpret data as the biggest obstacle to translating connections into actionable insights. It also estimated that analytics will drive $7.3 trillion of the huge $19 trillion IoE opportunity over the next 10 years (Cisco prefers to use its own "Internet of Everything" terminology, which has a wider definition than IoT). In fact, Cisco believes the actual IoT market will have a value of $8 trillion over the period. Of this, $6.4 trillion will be from the private sector, with $1.6 trillion from the public sector.
To maximise this opportunity, Cisco has combined intelligent networks and infrastructure (including its Intercloud network of clouds) with data virtualisation to enable customers to access highly distributed data, while adding analytics capabilities to extract insights. It enables the correlation of historic data with real-time streaming analytics, hopefully leading to instant responses to changing circumstances. Its Connected Analytics portfolio includes options designed for a wide cross-section of businesses, from retail and events, to IT and service providers.
Cisco's survey of 1,230 organisations across 16 countries found that "faster product or service innovation" was the main business driver for IoT, with "increased level of globalisation" and "demand for better customer experiences" the next two highest-rated business drivers. In Cisco's view, the IoT is not really about "Things", the devices themselves, rather it is about the data they generate. It cited a few examples of IoT data-gathering applications:
A jet engine generates 1TB of data per flight
Offshore oil platforms generate between 1TB and 2TB of raw data per day
As cars get smarter, the number of sensors is projected to reach as many as 200 per vehicle
By 2020, 40 per cent of all data will come from sensors.
An unrelated study by Forrester Research discovered that the number of enterprise IoT deployments have risen 333 per cent since 2012, and that 65 per cent of respondents had deployed IoT technologies in the enterprise in 2014, compared with just 15 per cent in 2012. And all of this is adding to an increased focus on edge computing (see today's other story).
"There is a massive shift in the market where the remote device at the edge is quickly becoming an incredibly strategic tool to share and collect data, enable more informed decision making, and deliver the best customer experience possible," said Edzard Overbeek, SVP, Cisco Services. "But, if customers don't have the right analytics solutions in place to make sense of it, that data is useless."
Email Newsletters
Sign up to receive TelecomTV's top news and videos, plus exclusive subscriber-only content direct to your inbox.