China marks World Water Day with NB-IoT projects for water management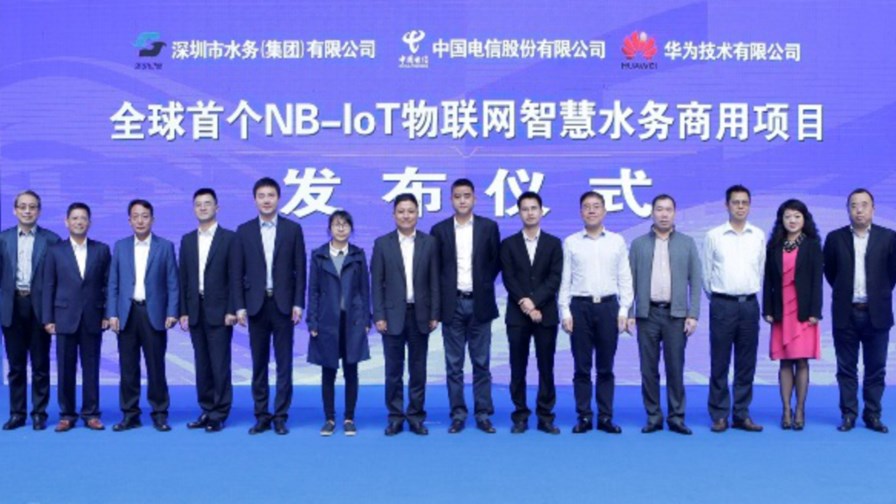 Huawei gives details of the 1,200 smart water meter network in Shenzen
ZTE releases new smart meters for NB-IoT networks
Announcements mark the 25th annual UN World Water Day
On the same day that the UK's Thames Water is fined £20m for pollution…
Today is the 25th annual World Water Day. Organised by the United Nations, the idea is to galvanise action to tackle the global water crisis. According to the UN, there are still 1.8 billion people who use a source of drinking water contaminated with faeces, putting them at risk of contracting life-threatening conditions from cholera to typhoid.
There is much irony in the fact that this year's theme is wastewater – with the vast majority of all the wastewater from our homes, cities, industry and agriculture flowing back to nature without being treated or reused, and in so doing polluting the environment. Because today, the UK's Thames Water utility company has just been fined a record £20.3 million for dumping 1.5 billion tonnes of sewage into the River Thames in 2013 and 2014. So much for "developed" countries.
Over in Germany at the annual CeBIT event, two of China's leading telecoms vendors have revealed details of separate projects that use IoT to help with water management.
Huawei announced of the release of the world's first commercial NB-IoT-based Smart Water project, in partnership with China Telecom and Shenzhen Water. The Shenzhen utility has deployed 1,200 NB-IoT-enabled smart water meters in the Yantian District of the city, integrated with China Telecom's E-Cloud 3.0. The solution will help water utility providers analyse water usage patterns of different consumer groups to build up or reconstruct the water pipe network to provide more reliable consumer water services.
"Shenzhen Water has been proactively exploring the in-depth convergence between water service management and next-generation information technologies, including cloud computing, IoT, and big data," said Han Dehong, Chairman of Shenzhen Water. "The next task is to deepen our cooperation with China Telecom Shenzhen and Huawei in Smart Water, IoT and other applicable sectors to facilitate the city government in achieving rigid water resource management."
Since 2016, China Telecom Shenzhen has begun working on its network upgrade programme for NB-IoT operating on in the 800MHz band. There are now more than 500 NB-IoT capable base stations deployed throughout Shenzhen.
"Establishing an ecosystem requires great emphasis towards contributions for IoT applications in relation to opening-up, cooperation, convergence, and innovation," said Li Shengfei, General Manager of China Telecom Shenzhen. "China Telecom is engaging in positive additions to ensure the setup of a comprehensive IoT ecosystem, on the basis of the leading ubiquitous networking and the dedicated IoT platform."
"I hope that the three parties can duplicate the cooperative achievements seen in Shenzhen and apply these principles across China, and eventually extend them to overseas markets," said Edward Deng, President of Huawei Wireless Solution, adding that in 2017 more than 30 NB-IoT networks are scheduled for launch by Huawei in the utility, smart city, smart agriculture and other sectors in more than 20 countries and regions around the world.
In a separate announcement, rival Chinese vendor ZTE has released two NB -IoT based smart water meters. The smart water meters use a number of new technologies in addition to NB-IoT wireless remote transmission and low power consumption, such as non-magnetic induction. They can also record water metering signals and store data locally.
ZTE says the new product series is based on its existing smart meter technology, as well as the "eccentric rotating vane water meter". That sounds more intriguing than it actually is though, as it refers to mechanical vanes on an eccentrically mounted rotor that measure the positive displacement of liquids. Engineers have no sense of humour.
Email Newsletters
Stay up to date with the latest industry developments: sign up to receive TelecomTV's top news and videos plus exclusive subscriber-only content direct to your inbox – including our daily news briefing and weekly wrap.