Scooters for hire: another IoT meets mobile connectivity app on the rise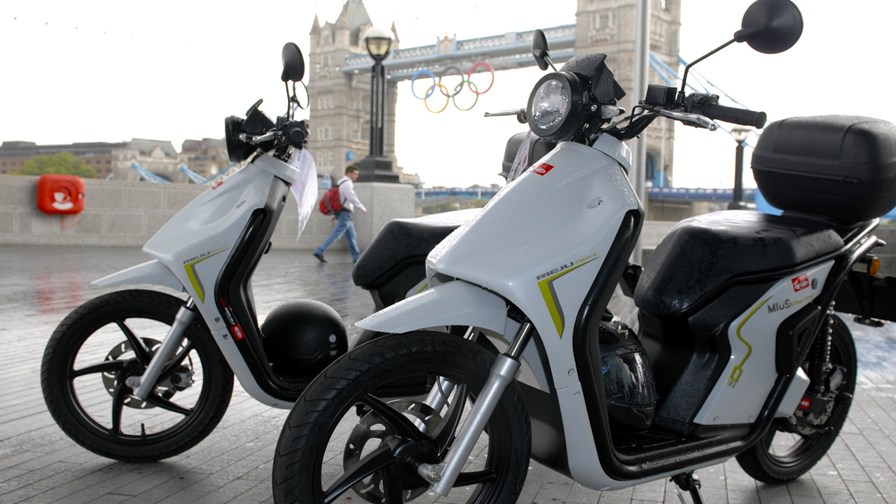 Electric scooter sharing is set to boom despite setbacks
Teething problems in both Europe and the US unlikely to halt growth
Share fleet to grow from 14,400 vehicles to more than 2.6 million vehicles in 2023.
Electric 'Scooter sharing' is supposed to be one of the trendy coming things. You know the rationale. Like bike and car sharing schemes this is more or less an IoT application with the clever comms technology and smartphones stepping in to reduce hire company staff involvement and increase manageability and security.
As a user you can automatically take possession of your hire scooter (small stand-on, or larger sit up) and digitally pay for it, thus keeping operational costs (and hire prices) low enough to attract users in bulk.
According to Berg Insight, which tracks this sort of thing, "Scooter Sharing operators offer access to scooters that are spread across cities. Usage is typically billed by the minute or by distance driven with rates that include fuel/charging, parking, insurance and maintenance. The scooter sharing operators have their own street team or utilise a network of partners that ensure that the scooters have fuel or are charged and are serviced on a regular basis. New technologies in the form of telematics systems and smartphones are key enablers of scooter sharing services."
Because it's so public - and presumably convenient for its users - scooter hire can become a 'thing' without too much promotion. And it has done so in many cities in Europe and North America especially.
There are obstacles though. A rising tide of complaints and one or two unfortunate deaths has suddenly made the ride bumpy. In fact this week the city authorities in Madrid have ordered all electric scooters off the city's streets within 72 hours claiming that they are a public nuisance. The move came a few days after a 90 year old pedestrian was killed in a collision.
The city council already had other scooter-related gripes. It claims that the three main e-scooter outfits - Lime, Wind and VOI - are not abiding by rules to ensure that users keep the vehicles in bicycle lanes and single lane streets and travel at or under 30 kilometers an hour.
In fact there are another 12 companies applying for permission to set up in Madrid, no doubt promising to obey the rules, and the companies that have been banished are likely to apply again.
Madrid is not alone either. The e-scooters have been reined back in several US cities as well. But scootering is a tide unlikely to be turned around by a setback or two and it has a tail-wind provided by urban sustainability and alternative mobility advocates.
In fact it's all booming according to Berg. Its latest market research forecasts that the scooter sharing craze will grow the fleet from 14,400 vehicles worldwide in 2017 to more than 2.6 million vehicles in 2023.
"Today the market consists of traditional sit-down electric scooters and stand-up electric scooters. Scooter Sharing services that use traditional scooters was the most popular in 2017, but stand-up scooter operators have scaled their services rapidly during 2018. The deployed fleet in traditional scooter sharing services is anticipated to reach 233,000 vehicles at the end of 2023. The fleet of stand-up scooters is anticipated to outnumber the traditional scooters by a factor of ten at the end of the forecast period."
According to Berg IoT analyst, Martin Svegander, "Stand-up scooter-sharing companies are today facing the sorts of regulatory hurdles that ride hailing companies did when scaling their services". But, he maintains that "if operators of stand-up scooter sharing services overcome regulatory hurdles, improve the robustness of vehicles as well as attract new riders, the stand-up scooter sharing market can potentially grow significantly in the upcoming years".
In fact all new modes of transport have historically enjoyed a boom followed by push-back regulation. Remember the UK Locomotive Acts under which a self-propelled vehicle had to be led by a pedestrian waving a red flag or carrying a lantern to warn of its approach?
Email Newsletters
Sign up to receive TelecomTV's top news and videos, plus exclusive subscriber-only content direct to your inbox.