What's up with… Telco energy costs, Ericsson, Telecom Italia, 1&1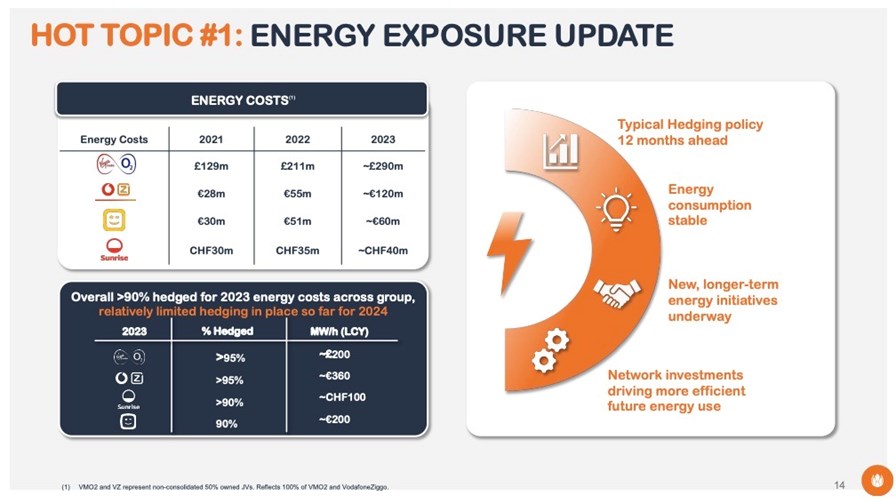 Liberty Global has shared its energy costs for key European operations
Ericsson's job cuts to hit 8% of its workforce
Telecom Italia (TIM) says KKR's NetCo bid is too low
German 5G newcomer 1&1 makes formal complaint against Vodafone
In today's industry news roundup: Liberty Global's investor presentation shows just how much network energy bills have been climbing; Ericsson's headcount reduction is set to affect around 8,500 staff worldwide; Telecom Italia says KKR's bid for its fixed line assets is too low – currently; German 5G network operator newcomer 1&1 claims its efforts to build out its network are being sabotaged by Vodafone and Vantage Towers; and much more!
Every network operator, like every household and business, is experiencing higher energy bills these days, and not all of them are sharing exactly how much they spend and how much more they're expecting to pay. But Liberty Global has done just that this week as part of its full year results presentation (a hat tip here to Tom Seal from Bloomberg who shared this on Twitter). As the slide above shows, UK operator Virgin Media O2 (in which Liberty Global holds a 50% stake) spent £129m on energy in 2021 but that bill is set to hit £290m this year, while Dutch operator Vodafone Ziggo (in which Liberty Global also holds a 50% stake) spent €28m in 2021 but is set to spend €60m on energy this year. Not every operator is seeing those costs go up by at least 100% in just two years, though: Liberty Global's Swiss operation, Sunrise, spent 30m Swiss francs (CHF) (€30.3m) on energy in 2021 but that is only set to increase by 33% over two years to CHF40m (€40.4m) this year.
Giant Swedish vendor Ericsson is reportedly set to cut 8,500 jobs globally, about 8% of its total workforce, in an effort to reduce costs. Reuters cited a memo sent to the company's staff, in which CEO Börje Ekholm said the process of headcount reductions will be managed according to local practices in countries affected. Layoffs in several countries have already been communicated, Ekholm was cited as saying. The news comes days after it emerged that Ericsson is axing around 1,400 jobs in its domestic market.
Telecom Italia (TIM) has rejected the bid by private equity firm KKR for its NetCo operations (comprising its domestic fixed line business and international unit Sparkle), saying the offer "does not wholly reflect the value of the asset and TIM's expectations". Neither party has published a proposed valuation, but reports suggest KKR's offer was around €20bn. This isn't the end of the line, of course. The Telecom Italia board is keen for KKR, and indeed others, to bid for NetCo and says it will "make available to KKR – on a non-exclusive basis – certain specific information" in the hope that will be enough to secure an improved offer before the end of March.
German 5G newcomer 1&1, which is building a greenfield Open RAN-based 5G network, is making a formal complaint to the Federal Cartel Office that Vodafone-owned Vantage Towers, a vital network rollout partner for 1&1, is sabotaging its plans. According to 1&1, it is facing "obstacles to the rollout of its 5G mobile network resulting from actions by Vodafone." The full complaint can be read here. That Vantage wasn't meeting its obligations last year was already known, but the public accusation of industrial sabotage is new.
Still with Vodafone… With Mobile World Congress almost upon us, the operator has shared details of several "industry-leading" Open RAN demonstrations that can be seen on the show floor in Barcelona. In collaboration with Intel, the telco is to showcase a prototype of a 'white box' radio unit which, it said, "encapsulates the true spirit of Open RAN" as it combines massive MIMO and an O-RAN Alliance-compliant reference design with silicon from Analog Devices. According to Vodafone, using common silicon and architecture will allow operators to simplify systems integrations and reduce costs. Vodafone will showcase technology from Dell Technologies, EdgeQ, Radisys, HPE, Qualcomm and Mavenir which, it claims, is evolving to "meet the demands of high-capacity, high-performance networks utilising the latest technology and functionality, such as massive MIMO, to ensure customers have the very best services and experience." The telco group will also show its development of energy-efficiency techniques to enable advanced energy optimisation of the end-to-end Open RAN platform, a project it is working on with Intel, Dell Technologies, Keysight and the O-RAN Alliance. The operator will also be showing off its Open RAN-compliant 5G network-in-a-box, which was unveiled earlier this month. See more.
And speaking of 5G network-in-a-box technology… Vodafone isn't the only one that's been busy using a Raspberry Pi 4 personal computer as the IT foundations for a mini, all-in-one integrated 5G system. Shenzhen, China-based RAKwireless has unveiled its rather awkwardly named All-in-one. 5G, which comprises a 5G and 4G/LTE radio, LTE/5G core network (based on the open-source code from the Linux Foundation's Magma project), and a Raspberry Pi CM4 core computer. The unit is compact – 300mm x 311.5mm x 79mm – but differs from the Vodafone prototype in that it is already commercially available but priced at $3,499, whereas Vodafone believes its 5G network-in-a-box can be priced about the same as a Wi-Fi router.
Australian operator Telstra has announced that its mobile plans are "100% carbon neutral". In a statement, it explained that it now offsets the carbon emissions of a customer's mobile plan, including those generated from the use of SIM cards and the energy that powers the operator's network. "While we don't offset your physical device (eg, your phone itself), we can contribute by ensuring that when you use it to make a call or use data, you're doing so in a more sustainable way," the telco noted, adding that its customers can also use loyalty points to support climate projects dedicated to offsetting emissions of carbon dioxide.
Telefónica has completed a trial of "a pioneering" end-to-end multivendor network slicing solution conducted in partnership with NTT Data, which included technology elements from Cisco, Mavenir and Nokia. Touting the move as "a milestone" for network automation and network-as-a-service [NaaS], the telco said it achieved "full automated end-to-end network slicing lifecycle management and service assurance use cases". It demonstrated that the allocation process for an end-to-end network slice from core, radio and transport can be less than 25 minutes, which Telefónica attributed to the solution's automation features. "Undoubtedly, this type of achievement in the technological field will accelerate operators towards the network automation and NaaS concepts and are key steps to achieve network slices as automated services in a simple and agile way," noted Teodoro Lopez, telecommunications partner at NTT Data. Cayetano Carbajo, director of core and transport at Telefónica, described network slicing as "a key part" of the company's 5G monetisation strategy, adding that it intends to bring the technology to its live networks soon.
Canadian operator Telus has joined forces with Amazon Web Services (AWS) to create a smart-living solution, comprising cloud technologies, internet of things (IoT), machine learning (ML) and artificial intelligence (AI) to deliver "automation experiences using all of your connected devices". The telco believes the invention will reduce "the complexity" of installing and managing connected home products: Because it is "device agnostic" it will allow consumers to bring together connected devices from multiple vendors, manufacturers and service providers that can be "universally controlled by a single Telus smartphone app with a zero-touch device onboarding process." The solution will be showcased at Mobile World Congress 2023 in Barcelona. Find out more.
In light of announcements about mass layoffs (such as those made by giants Amazon, Microsoft, Facebook parent Meta and Google parent Alphabet), it is refreshing to hear about some new job opportunities in the tech sector... UK operator BT has opened a new flagship office in the city of Bristol that will house 2,500 of its employees. The 13-storey "state-of-the-art" premises will be "one of the company's key hubs in the UK", and will accommodate 170 new roles, which are expected to be filled by 2024, as well as some 50 new apprentices and graduates by September 2023. The new office is part of BT's programme to modernise its workspaces and reduce the number of locations in the UK "from more than 300 to around 30". Read more.
- The staff, TelecomTV
Email Newsletters
Stay up to date with the latest industry developments: sign up to receive TelecomTV's top news and videos plus exclusive subscriber-only content direct to your inbox – including our daily news briefing and weekly wrap.