Are fibre and 5G greener? Telefónica has the stats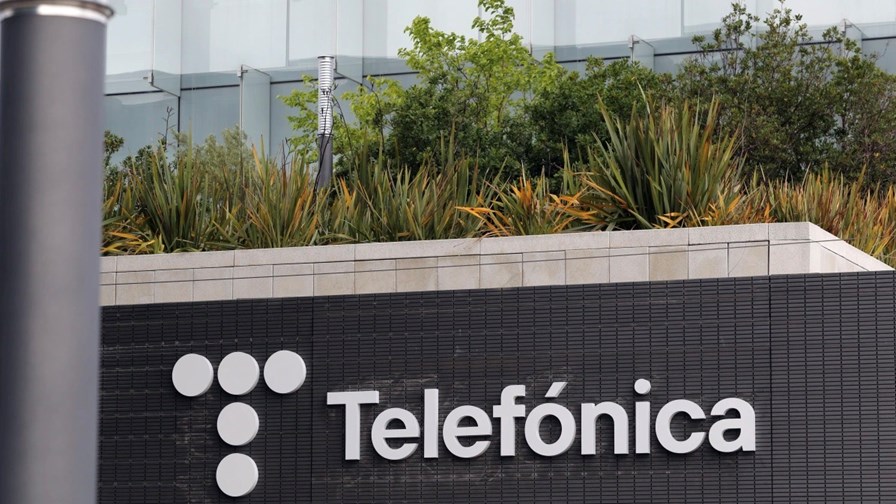 Operators of all kinds face mounting pressure to reduce their carbon footprint
Telefónica has been assessing the environmental impact of connectivity solutions throughout their lifecycle
It claims that in fixed broadband networks, fibre is nearly 20 times more efficient than copper per petabyte (PB) of data transmitted
The environmental impact of 4G and 5G networks is dramatically less than that of legacy 2G and 3G networks
The deployment of fibre access, 4G and 5G networks delivers significant sustainability benefits to network operators, according to the results of an extensive new study of access networks by Telefónica.
In its Connectivity solutions' Life Cycle Assessment report, the Spanish telco noted it will be promoting services based on its fibre, 4G and 5G technologies over legacy network options (copper-based broadband and 2G/3G cellular) to achieve environmental gains – and the gains are significant, the operator has found.
In addition, the operator is increasingly using renewable energy sources, as the company has found that renewable electricity has reduced the carbon impact of its network operations by more than 70% for fibre, 4G and 5G.
Fixed network environmental impact
In relative terms, the company has discovered that enhanced capacity and data transmission capabilities of its fibre access network result in "significantly lower environmental impacts" when compared with copper-based xDSL lines: Its study found that the impact of fibre-to-the-home (FTTH) per petabyte (PB) of data transmitted is 18 times lower than that of copper, while on a per connection basis it is five times lower (see the chart below).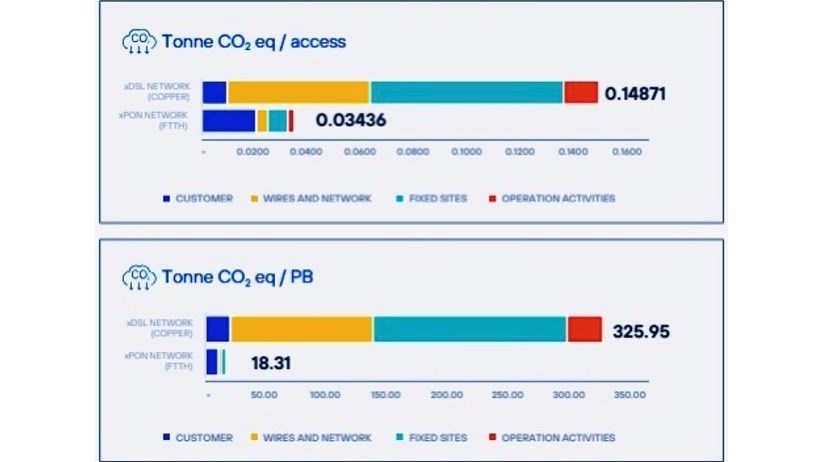 The company also highlighted that its use of renewable energy plays a big role in achieving such reductions: If it wasn't consuming renewable energy for its access operations in Spain, for instance, the total carbon impact would be about 30% higher based on a lifecycle analysis (LCA).
Telefónica found that with its copper access networks, the major energy consumption pain points are at the switch sites and in the wire network, while with FTTH, the biggest impact (both per PB and access line) is from the energy consumption of the customer premises equipment (CPEs), as the operational activities are based on renewable energy.
Considering these findings, the operator noted it plans to speed up the rollout of FTTH connections and continue sunsetting legacy fixed networks, with a deadline to decommission all copper plants by 2025. "Thus, it is to be expected that the total environmental impact of copper technology will be progressively reduced until its disappearance", it stated.
Mobile network impact
Telefónica's assessment also found that 4G and 5G technologies have a lower environmental impact compared with 2G and 3G, because of "a more efficient and lower energy consumption during the transport and processing of data in the network system".
According to the telco's calculations, the environmental impact of 4G and 5G per access and per PB is more than 7 times lower than 2G and 3G (see chart below).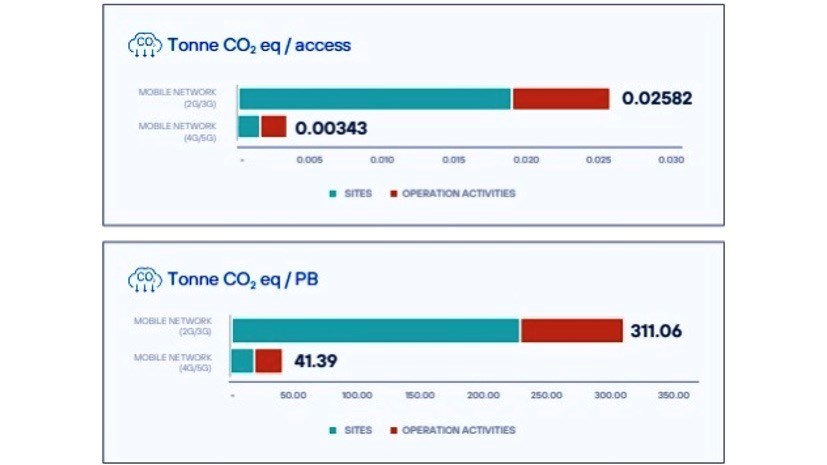 "The main environmental impact of the 4G/5G network arises from network operations activities and assets at the base stations, as in the case of the 2G/3G network", the company noted, adding that it did not assess the impact of customer devices, such as smartphones, as they are not part of its network.
It also highlighted efforts to increase renewable energy consumption for its mobile networks.
"According to the strategic plans on mobile technologies, Telefónica Spain will keep investing to transform mobile networks (e.g., evolving from 2G and 3G to 5G capacity) and modernising radio equipment thanks to 5G deployment with new technologies much more efficient in power consumption", the operator added.
It also plans to use its findings to reduce the current and future impact of connectivity solutions across all of its markets.
Telefónica's report follows other studies, including one from UK broadband provider TalkTalk which claimed that full fibre can bring as much as 80% improved energy efficiency compared to copper-based services – see TalkTalk finds fibre networks will cost the planet much less than copper.
BT has also shared the environmental benefits (as well as financial savings) of switching off its legacy networks – see BT eyes savings of £500m by pulling the plug on legacy fixed networks.
And 4G and 5G have been identified by Vodafone UK's chief network officer, Andrea Dona, as technologies that are "much more efficient" in terms of power consumption – see Vodafone UK shares its recipe for energy efficiency.
- Yanitsa Boyadzhieva, Deputy Editor, TelecomTV
Email Newsletters
Sign up to receive TelecomTV's top news and videos, plus exclusive subscriber-only content direct to your inbox.