Google launches Pixel phones and fleshes out its 'Google Assistant' on everything strategy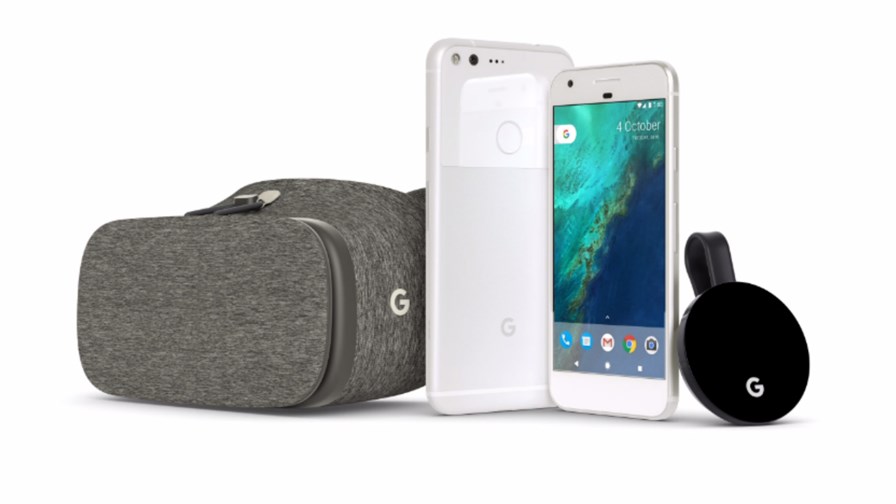 Google announces its new smartphones and new hardware strategy
Meanwhile in Europe Google is looking at huge fines from the European Commission
I'm not sure whether Google's series of announcements today were, as its billing had it, the most important Googly thing since the launch of Android. But there certainly was a lot of it. Towards the end the streaming presentation seemed more like a shopping channel than a technology launch as the presenters rattled through the different hardware bits and pieces and the way these intersected with its overall strategy and the main point of today's big event.
Which was?
To provide a clever artificially intelligent interface between Google users and Google's huge store of information about the world. The most important strategic announcement this week was therefore the role of 'Google Assistant' - its Siri (Apple's voice driven assistant) on steroids. Not only does Google Assistant know (or can find out about) everything, but Google is going to have it lurking on a large and growing range of devices around the home. Users simply say "OK Google," and issue a voice command and their Google smartphone, tablet, home hub or music system discretely lights up and finds and where appropriate, actions, the request. So "OK Google, I need cheering up, play me Heaven knows I'm miserable now by the Smiths, will get you what you want in a trice.
There was talk of 'conversational interactions' being enabled for partners, which you can safely take to mean Google is going to monetise the whole thing. A request "where is the nearest pizza?" will trigger directions and no doubt action a small monetary exchange between a 'partner' pizza parlour and Google.
Partners might also include consumer product manufacturers so that Google Assistant could replace that manual you always get with 50 languages supported.
So lots of products thus enabled including Google's Chromecast (it's sold 30 million of them so far) OneHub and other home networking gadgets will all learn to speak and process.
But the Android fans, who were waiting to see if Google had arguably knocked the iPhone off its perch, weren't to be disappointed.
What about the phones?
Google did unveil new 'Pixel' phones as the rumours suggested it would and on paper they seem powerful and expensive enough to arguably do the trick. At least they will please Google fans. They use Qualcomm's Snapdragon 821 processor, run Android Nougat 7.1 and come in three colours and two memory sizes - 32GB or 128GB. One has a 5 inch screen and costs $650 the other a 5.5 inch screen and costs $770. Verizon is the exclusive telco in the US but they can be bought online from Google, SIM free, in the US and in much of the rest of the world. They can be pre-ordered from today.
The phones support Google's much vaunted virtual reality and come with a free VR headset to kick things along. And because of all that VR capture and high res, 4K video they will come with unlimited storage (unlike iCloud) and (ha ha) they have an old-fashioned earphone socket.
Google hasn't totally merged Chrome OS and Android as I suggested it might - maybe next time - but it has adopted one of Chrome OS' most valuable features for the Pixels - continual OS updates.
Meanwhile, in Europe..
Google is facing the big problem of success - antitrust actions. It escaped regulatory attention for anti-competitive behaviour in the US but has run smack-bang into the EU competition commissioner, Margrethe Vestager, who is proceeding with three separate sets of charges against Google's business practices started by her predecessors at the Commission.
Given the huge bite Vestager has just taken out of Apple, Google is no doubt expecting an equally aggressive onslaught. It was recently put on notice that it had three weeks to respond to Commission accusations that it had breached competition law in the way it has managed its online shopping service, Android software and its key advertising business.
That ultimatum from the EC is the culmination of six years' worth of investigation into Google's activities in Europe. If Google's mid October answers aren't good enough, the Commission can fine it up to 10 per cent of its annual revenues for anti-competitive practices - that's up to $7.5billion.
It's possible that Google could come forward with a deal, promising to change its behaviour as part of a settlement and a reduced fine, but observers seem to think that this is unlikely and that Google will fight on through the courts.
Email Newsletters
Sign up to receive TelecomTV's top news and videos, plus exclusive subscriber-only content direct to your inbox.