Amazon discovers the real cost of competing against Google and Apple
Amazon last night reported Q2 revenues up 23 per cent to $19.3 billion, but it made a net loss in the period of $126 million against a loss of just $7 million in 2Q13. Its operating loss was better, at "just" $15 million and down from $79 million a year ago. But it was still a loss. The larger than expected number was largely attributed to Amazon's investment in its Fire range of devices and new digital services.
And to dispel any thoughts that its operating loss was experiencing an improving trend, Amazon announced that it is expecting a loss next quarter of between $410 million and $810 million. Ouch. Investors weren't impressed, obviously, and shares fell 10 per cent on the news.
Yes, revenues were up significantly. In fact, there has been double-digit sales growth for the past 52 consecutive quarters. That is impressive and unprecedented growth, and must surely lead to healthy profits? But it doesn't. For the past couple of years, the company has alternated between quarterly profits and loss as it seeks to grow its revenue. The trend, as you can see from the chart below, is downwards – completely at odds with its revenue growth.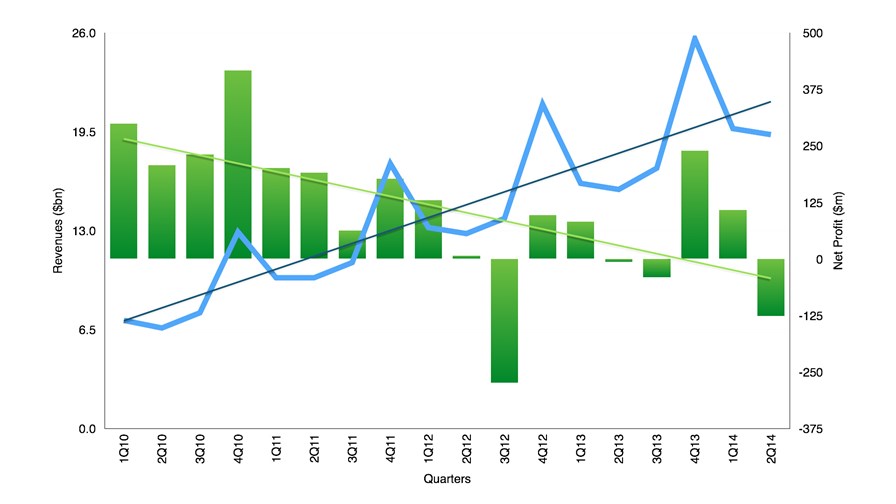 So where's the problem? Amazon's retail operations run lean and mean – as anyone who has watched one of the undercover filming television documentaries can see for themselves.
Amazon Web Services is now a hugely popular product that is competing head on with similar offerings from Google, Microsoft and others. But it's becoming commoditised. To counter a price cut from Google, Amazon had to follow suit, and dropped its prices in March by about 65 per cent. Business volumes improved – Amazon said there has been a 90 per cent year-on-year usage increase – but it hit its balance sheets hard. How hard is unknown, as Amazon does not break out AWS into a specific profit line, but it is bundled in "North America Other" which showed a 38 per cent revenue fall.
Then there's its Fire range. Amazon followed up its Kindle Fire tablet range with a smartphone that is not exactly generating a lot of industry buzz. Launched just a few weeks ago, Amazon is remaining tight-lipped about sales numbers, only saying that the rate of appstore submissions has doubled. Not very helpful.
Finally, we get to Amazon Prime. The company said it will spend $100 million on original video content in the coming quarter (such as producing a series based on its excellent Bosch pilot). Whilst it said that Prime subscriptions were "growing nicely", it declined to reveal specific numbers.
"We're going to continue to invest on behalf of customers with the understanding that long-term has to come," said CFO Tom Szkutak. It sure does, and investors are saying that it has come now, and their patience is wearing thin.
Amazon wasn't content to remain an online retailer. It wants it all. It wants to ensure it also becomes a digital content company, with its own content and distribution platforms, not totally reliant on others. We are now seeing the real price of competing with Google and Apple and the rest. This is not a business for the faint-hearted.
Email Newsletters
Sign up to receive TelecomTV's top news and videos, plus exclusive subscriber-only content direct to your inbox.