IBM and Apple kiss and make up, as they move to secure the lucrative enterprise market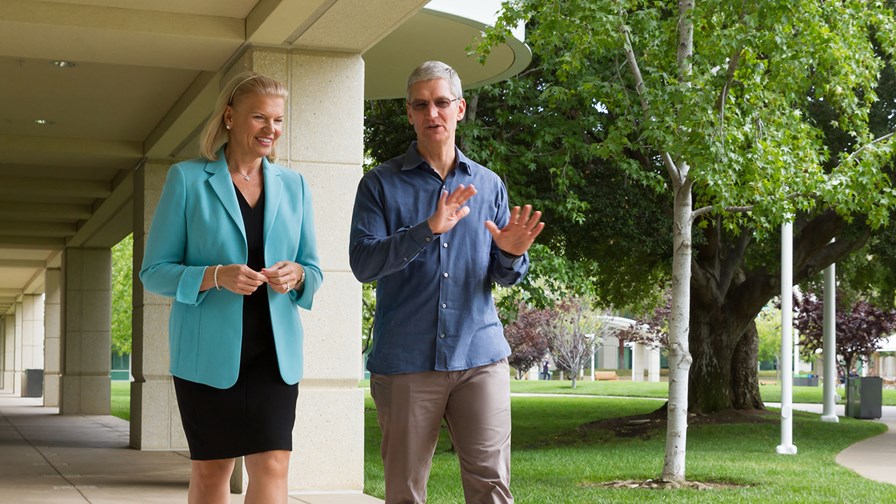 A few years ago it would have been unheard of: IBM and Apple playing nicely with each other. When the PC industry was in its infancy, the two firms were bitter rivals. It wasn't long before IBM won and Apple faced extinction. Today, it's a different story. Apple has reinvented itself as a mobile-first company producing desirable hardware and commanding an enviable developer ecosystem. IBM retreated from PCs in 2004 and is focused on the enterprise.
The news that Apple and IBM have announced an exclusive partnership with the aim of transforming enterprise mobility through a new class of business apps was completely unexpected. It's a hugely significant move, no matter what ill-informed financiers and commentators might think.
IBM is going to devote 100,000 of its employees to the deal – including industry and domain consultants and software developers. If that isn't indicative of just how serious this deal is, then what else is?
The partnership includes four core capabilities:
a new class of more than 100 industry-specific enterprise solutions including native apps, developed exclusively from the ground up, for iPhone and iPad;

unique IBM cloud services optimized for iOS, including device management, security, analytics and mobile integration;
new AppleCare service and support offering tailored to the needs of the enterprise;
new packaged offerings from IBM for device activation, supply and management.
"iPhone and iPad are the best mobile devices in the world and have transformed the way people work with over 98 per cent of the Fortune 500 and over 92 per cent of the Global 500 using iOS devices in their business today," said Tim Cook, Apple's CEO. "For the first time ever we're putting IBM's renowned big data analytics at iOS users' fingertips, which opens up a large market opportunity for Apple. This is a radical step for enterprise and something that only Apple and IBM can deliver."
Enterprise mobility
But despite Cook's bullish outlook, according to mobile data company Citrix, iOS is installed on less than half of enterprise devices in EMEA markets – although it fares better in North America with 68 per cent and Asia with 81 per cent. Whilst its main competitor is obviously Android, in EMEA Windows Mobile has a 21 per cent market share.
There are also industry-specific trends in play. Citrix found that the oil and gas sector is dominated by Windows Mobile, with iOS holding less than 20 per cent. Healthcare is also a weakness for iOS (of great concern given the massive interest in mHealth) with Android commanding 55 per cent of the market.
To break down these legacy barriers, Apple knows it has to have the software to support individual enterprise needs. It's not enough to simply sell bare bones iPhones and iPads, or hope that the BYOD trend changes enterprises' IT policies. Enterprises often rely on tried and tested software that is specific to their sector – if an iOS version doesn't exist, then they are not going to undertake expensive platform migrations.
Apple doesn't stand a hope in hell of reaching these enterprises on its own. But IBM does. It already has the business relationships, the sales and support structure, and is expert in producing enterprise software and services. Put the two together and you have a potentially winning combination.
The planned 'IBM MobileFirst for iOS Solutions' are described as a new class of "made-for-business apps" targeting specific industry issues or opportunities in retail, healthcare, banking, travel and transportation, telecoms and insurance, that will become available starting later this year and into 2015.
The IBM MobileFirst for iOS Solutions will be built in an exclusive collaboration between the two companies, utilising IBM's big data and analytics capabilities and Apple's consumer experience, hardware and software integration and developer platform. IBM will also sell iPhones and iPads with the industry-specific solutions to business clients worldwide, becoming in effect a value-added reseller.
"Mobility, combined with the phenomena of data and cloud, is transforming business and our industry in historic ways, allowing people to re-imagine work, industries and professions," said Ginni Rometty, IBM Chairman, President and CEO. "This alliance with Apple will build on our momentum in bringing these innovations to our clients globally, and leverages IBM's leadership in analytics, cloud, software and services."
The 'IBM MobileFirst Platform for iOS' will deliver the services required for an end-to-end enterprise capability, from analytics, workflow and cloud storage, to fleet-scale device management, security and integration. Enhanced mobile management includes a private app catalogue, data and transaction security services, and productivity suite for all new solutions. In addition to on-premise software solutions, all these services will be available on Bluemix – IBM's development platform on the IBM Cloud Marketplace.
"When you look at the surveys of companies and how they think about mobility, 60 per cent of them are doing calendars and email and the like. But they're not remaking professions and industries with mobility," Rometty told the Re/Code website. "We can do a whole lot more with this. I think a lot more companies would like to make more progress with mobility, and they're frustrated."
Market dynamics
The question remains: is this the full extent of Apple's enterprise ambitions, or will it look towards further partnerships? The most obvious being, of course, HP. Given that it appears to be IBM that will be putting in the most effort into this relationship, Apple must feel it occupies the higher ground. I wouldn't rule out further enterprise deals with other vendors in the near future.
Meanwhile, Google is left scratching its head. Yes, Android has made tremendous inroads into the enterprise, but can Google match IBM's capabilities? It recently announced that through Samsung it would be bringing Knox to Android, rebranding as 'Android for Work'. Whilst this helps with separating a user's personal data from their work data (similar to BlackBerry Balance), it does nothing to address the real needs of the enterprise. And what of Microsoft and its attempts to reposition the company for mobility-first? Not a good time to be rumoured to be laying off staff.
It appears that IBM has forgiven Apple for the famous photo of Steve Jobs giving the finger to the Big Blue logo, and that the new guard are now the best of buddies.
"We've come from 30 years ago being competitors to today being incredibly complementary," said Cook in a CNBC interview, "and I think that the people that will really benefit from this are the enterprise customers who can be more productive running their businesses."
Email Newsletters
Sign up to receive TelecomTV's top news and videos, plus exclusive subscriber-only content direct to your inbox.