What's up with… Telefónica, IBM, ONF, Verizon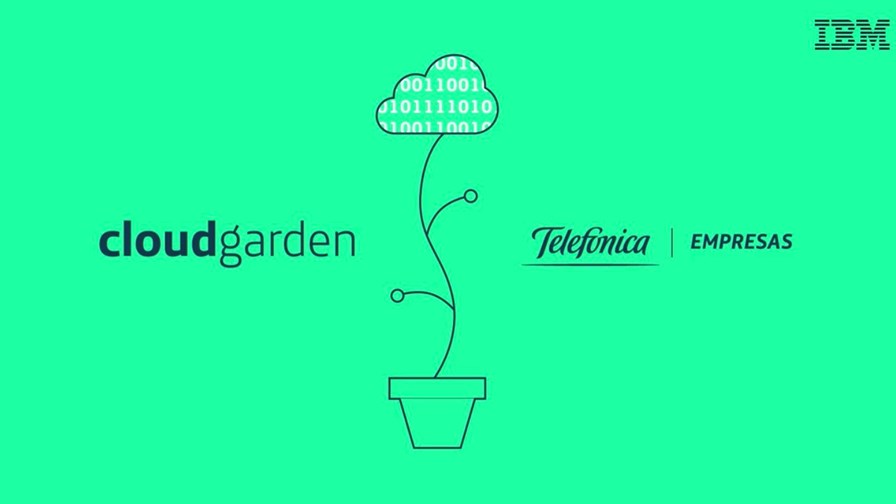 Telefónica tends to its cloud service roots with IBM and Red Hat
The ONF unveils its first SD-RAN release
Verizon on course for capex dip
The latest telco push into the enterprise cloud services sector, a new software stack for the Open RAN brigade and a resilient set of financials from verizon make waves in today's sea of news.
Telefónica has advanced its cloud services strategy with the launch of Cloud Garden 2.0, a hybrid cloud services platform built using IBM Cloud PAK and Red Hat OpenShift. "Now, Telefónica clients can run their applications based on containers on premises or in the cloud environment of their choosing, as well as simplify and speed how they bring new solutions to market," noted the operator in this announcement. Telefónica cited insurance company TIREA as a customer that is already using Cloud Garden 2.0.
The Open Networking Foundation (ONF)'s SD-RAN project, which was launched in August last year, has unveiled its first software release, which it says provides an Open RAN stack consistent with the O-RAN Alliance architecture. The SD-RAN project was initiated to develop elements for open, disaggregated radio access network deployments that were not attracting enough attention from the commercial vendor community, such as the Near Real-Time RAN Intelligent Controller (nRT-RIC). SD-RAN v1.0 includes a nRT-RIC, a white-box based RU/DU/CU solution, interfaces to Samsung Android smartphones and mobile core platforms, and the start of an application software development kit (SDK) designed for the creation of "xApps that are portable across different nRT-RIC platforms." For further details, see this ONF announcement.
Verizon reported fourth quarter 2020 revenues of $34.7 billion, down just 0.2% compared with the same period in 2019, and full year revenues of $128.3 billion, down by 2.7% compared with 2019. Its full year 2020 capex came in at $18.2 billion, slightly more than in 2019, while this year it expects to spend between $17.5 billion and $18.5 billion in capex, with investments targeted at "the further expansion of 5G Ultra Wideband in new and existing markets, the densification of the wireless network to manage future traffic demands, and the continued deployment of the company's fiber infrastructure." Verizon ended the year with 94.4 million mobile customers, slightly less than a year earlier. For further details, see this press release.
ZTE reported a near 12% increase in full year 2020 revenues to RMB101.4 billion (US$15.7 billion) but a near 27% decrease in operating profit to RMB5.54 billion ($857 million). The Chinese vendor said it grew its sales both domestically and from overseas markets, with 5G rollouts in China helping to drive sales in its home market (and no doubt denting its operating margins too). For further details, see this earnings announcement.
Ericsson has launched 5G RAN Slicing, which "allocates radio resources at 1 millisecond scheduling and supports multi-dimensional service differentiation handling across slices," so enabling service providers to "deliver customized 5G services with guaranteed performance."
Junichi Miyakawa has stepped up from the role of CTO at Japanese operator SoftBank to become its new President and CEO, starting 1 April. New Chairman Ken Miyauchi will oversee the Group, while current Chairman of the Board, Masayoshi Son, who has had a challenging couple of years in terms of overeas investments, will become "Board Director, Founder." (See Softbank sells ARM to Nvidia for $40B: Another home-grown loss for the UK and The Ressurection Man: Masayoshi Son pulls Softbank back from the brink.)
European neutral host giant Cellnex Telecom has appointed Bertrand Boudewijn Kan as its non-executive Chairman following the resignation at the start of this year of Franco Bernabè. Find out more about Kan, who has been a Director at Cellnex since 2015, in this company announcement.
Mirko Voltolini, one of the nicest characters in our industry with a host of great restaurant recommendations up his sleeve (for when we can all go out to eat again), has climbed the corporate ladder at his long-time employer Colt Technology, where he is now VP of Strategy and Innovation. Voltolini has been at Colt for more than 18 years, so he's surely not far away now from being awarded a grandmaster clock…
In more 'people news'… BICS (Belgacom International Carrier Services) has appointed Matteo Gatta as its new CEO after it parted ways with long-standing chief Daniel Kurgan following a reported disagreement about the company's strategic direction.
With its global 5G ambitions tamed (and with no sign that Biden will significantly, if at all, soften the US stance), Huawei is doing the obvious thing and pushing ahead with alternative comms/IT segments - preferably those that don't rely on US technology supplies, such as the 'health wearables market'. Reports that it was intending to sell off its key Mate and P Series smartphone lines appear have been vehemently denied by the vendor, and now, it seems, it has spied other opportunities in the expansive international devices market. Huawei has plans to focus on wearables, especially for health. According to the South China Morning Post, Huawei announced on Saturday that it is investing in three health research programmes for wearables -- hypertension management, body temperature and coronary heart disease. Huawei is already the world number three for wearables behind Apple and Xiaomi, according to IDC, so it's in a good position to do even better, considering that wearables is a segment that doesn't rely so much on Google or US components – plus, it would seem to be well placed to pick up on individual health concerns in the wake of a global pandemic. And, of course, Huawei may have been dented in the telco infrastructure market but it's still a global carrier kit giant -- not every country views Huawei as a proven security risk, especially in parts of Asia, South American and Africa, while there could still be plenty of growth opportunities in the huge enterprise tech sector, where cloud and private 4G /5G networks are big news at the moment.
In the UK, one epidemic is leading to another. As Covid-19 maintains it deadly grip on UK society and the economy, credit card fraud, identity theft and a myriad of other online cyber scams and hacking is now rampant across the country. It has become so widespread that respected think-tank the Royal United Services Institute (RUSI) says it is costing individuals and the UK economy overall at least £190 billion a year. The scale of loss is so huge and so bad, RUSI says, it is now an issue of national security and high time the intelligence agencies be given a major role in helping to stem it. The British public have become cynical about the constant and insidious frauds they face daily and, with good reason, complain about the scant resources spent on minimising them. RUSI says it is now getting so bad that online cyber fraud and identity theft is actually undermining public confidence in the rule of law and the sheer industrial scale of fraud against the private sector is impacting impact the reputation of the UK as a safe and secure place to do business. Meanwhile, after year a decade of austerity and repeated cuts to public services, frauds affecting the public sector are costing the Exchequer and tax payers somewhere between £31 billion and £48 billion a year. That's equivalent to the entire annual national defence budget. Despite this the UK still does not have a national anti-digital fraud strategy. Nor would it have enough people to implement it even if one did exist.
Is the clock ticking for Tok? TikTok rival, Beijing-headquartered Kuaishou, the second biggest short-form video-sharing platform on the planet, is looking to raise a minimum of US$5.1 billion in an IPO on the Hong Kong Stock Exchange. Kuaishou is owned by the Chinese multinational conglomerate Tencent and it is expected that the company will begin to trade shares on 5 February. The South China Morning Post speculates that the IPO may actually raise more than the $5.1 billion target and that, as a result, the company could well soon be valued at an astonishing $61.7 billion, thus easily outstripping its closest rivals Bilibili of Shanghai and iQiyi of Beijing. Kuaishou is very much on the up-and-up. Its latest usage figures show that its 200 million-plus devotees each spent an average of one hour and twenty-six minutes on the site and visited it more than 10 times a day. Interestingly, although Kuaishou is popular across the whole of China, it has a particularly loyal user outside the big cities in the smaller regional conurbations, towns and villages. It is also available in India, where after recent deadly border skirmishes between the two countries it goes under the nom de guerre of Snack Video.
- The staff, TelecomTV
Email Newsletters
Stay up to date with the latest industry developments: sign up to receive TelecomTV's top news and videos plus exclusive subscriber-only content direct to your inbox – including our daily news briefing and weekly wrap.