Proximus unveils NXT big step for enterprise growth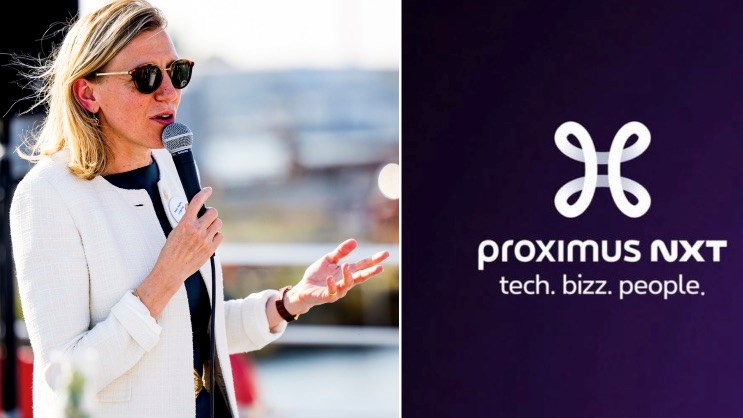 Belgian operator is looking to capture more enterprise opportunities
It has rebranded its business arm to Proximus NXT
The telco claims NXT can help businesses tackle challenges around rapid technology innovations, such as AI
Similar steps have already been taken by other telco giants in Europe
Coming late to the party compared to its major European rivals, Proximus has rebranded its enterprise arm as it aims to seize new business opportunities in its markets of Belgium, the Netherlands and Luxembourg.
What was previously known as Proximus Enterprise has been renamed as Proximus NXT, a step Belgium's national operator believes will magically turn it into "the leading player in the ICT sector" in the Benelux region, which comprises the three neighbouring European countries.
The company claimed the repositioning of its business offering will help its enterprise customers "embrace the digital transformation and stay on top of the game" by guiding them through "the digital labyrinth" of constantly evolving technological developments, such as artificial intelligence (AI), advanced data analytics, virtual reality (VR), quantum computing, cloudification and machine learning (ML).
To further prove its point and depict a chaotic landscape in the ICT sector, Proximus highlighted the ever-changing needs and expectations of customers "at a pace never seen before", opening the door to new cyberthreats. The operator cited data that suggested one in three companies dealt with at least one cyber incident in 2022, driven by spear phishing (a targeted attempt to steal sensitive information, such as account credentials or financial information), ransomware and malware attacks. At the same time, the number of AI misuses is said to have increased 26 times since 2012.
Noting that there are also "tremendous opportunities" from technologies such as generative AI (GenAI), which is set to bring "a new world of practical possibilities", Proximus emphasised that enterprises can experience "a real difficulty" in adapting to innovations if they fail to work with "the right partners" on reinventing their business models.
This is where Proximus NXT, as the telco put it, comes to the rescue in "a scattered B2B landscape", as it pledges to help its enterprise customers "transform these technological challenges into opportunities".
The new name of Proximus's enterprise unit was determined by the company together with its employees, customers and partners to convey its focus on next-generation technologies, with the 'X' in Proximus NXT standing for "the close collaboration that Proximus wishes to have with its customers and its partners within its ecosystems."
The Belgium-based telco, which claims to be a pioneer in 5G and fibre, stated that its arsenal offers "solid assets", adding that it enjoys a leading position in domains such as cybersecurity, hybrid cloud, sovereign cloud, workplace and AI, thanks to its inhouse talent and partnerships with numerous companies, including HCL, Microsoft, Google, Cisco and Odoo. Its partnership with Odoo aims to deliver digital solutions that help small and medium-sized businesses with their day-to-day operations, such as managing customer relations, sales, e-commerce and accounting – see What's up with… Proximus, the global RAN market, pureLiFi.
Better late than never?
With this move, it appears that Proximus is following in the footsteps of other operators that are aiming to position themselves as ideal partners to enterprises and take advantage of their digital transformation through the use of AI, ML and other innovative technologies. Prime examples in Europe include Orange Business, Telefónica Tech, Vodafone Business, BT Business and even Verizon Business.
And while some of these companies (such as Orange, BT and Verizon) have been relying on overhauling their enterprise units by appointing new management figures, Proximus has taken a different approach: Proximus NXT will be headed by Anne-Sophie Lotgering (pictured above), who has been leading Proximus Enterprise since July 2020, in the role of enterprise market lead.
Commenting on the rebranding, Lotgering noted that the move is not just about using a new name but is, in fact, "a new way of being". "Proximus NXT anticipates and prepares for the challenges" of the ever-changing business landscape by "fostering open networks and partnerships, and helping our clients to be successful while prioritising end-to-end security and sovereignty."
She noted that the company's biggest asset is its "highly skilled people", pointing out that Proximus has increased its IT talent "significantly" over the past year with the addition of 400 new specialists. "In the context of a heightened war for talent, it is good that Proximus NXT is increasing our attractiveness to IT professionals", she added.
While the company does not offer a breakdown of how much group revenue was generated by enterprise customers, it did state in its annual report for 2022 that in Belgium alone (the company's largest single market, naturally), business users generated revenues of almost €1.9bn in 2022, up by 1.7% year on year.
- Yanitsa Boyadzhieva, Deputy Editor, TelecomTV