Jio's Plume deal signals a new era for India's broadband sector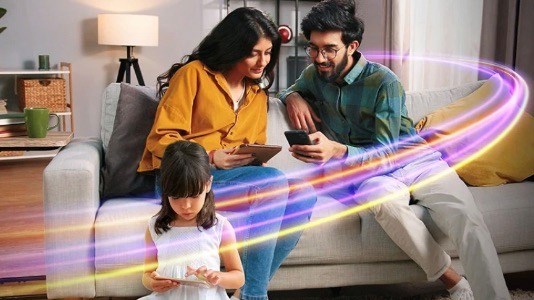 Reliance Jio is best known for being India's mobile market leader
But it is also investing in a fibre-based fixed broadband network
It offers fibre-to-the-premises (FTTP) and fixed wireless access (FWA) services
Now it is enhancing those services with in-home connectivity management specialist Plume
The move highlights the growing importance of fixed broadband in India
India has long been, and still is, a mobile-first connectivity market: At the end of July this year, the country had almost 1.15 billion mobile connections in total, of which 91.3% were "active" (that is to say, were used for any kind of communications service) during the month, according to statistics shared by the Telecom Regulatory Authority of India (TRAI). By contrast, India had just 35.7 million fixed broadband connections at the end of July.
But alongside the many developments in the technology and communications sectors in India, spurred on by the government's Make in India strategy, there is now a concerted effort to boost the fixed broadband services sector in India, with consumers as well as businesses the target. One of the companies spearheading this effort is Reliance Jio, which has turned India's mobile sector on its head during the past seven years to become the country's mobile market leader with 442.5 million mobile connections at the end of July, giving it a market share of 38.6%, a position helped by its speedy rollout of 5G services that have already attracted 50 million users – see India's Jio tops 50 million 5G subs.
When Reliance Jio decided to build a greenfield 4G network and take the mobile broadband sector by storm, it knew it needed not just an extensive radio access network (RAN), but a data transport network to support that RAN and the vast volumes of data that would flow back and forth across it. It also knew that the same data transport network could be used to support other services too, including fixed broadband.
And now Jio is making a concerted effort to position itself as the go-to fixed broadband, as well as mobile broadband, service provider, using its 5G radio access network and its supporting fibre network infrastructure to deliver the services.
And now it has taken the next step in truly transforming India's fixed broadband services sector by teaming up with Plume, the cloud-based, AI-enabled in-building Wi-Fi management specialist that helps service providers and their customers make the most of the downstream and upstream broadband connections to their premises. We'll come to that in a short while, but let's first look at Jio's broadband service development.
The operator's national fibre network runs "in close proximity" to 200 premises across India, and with its JioFiber service, which in various guises has been on offer since late 2019, it can deliver a FTTP service by extending that fibre infrastructure to a customer's premises. That service is currently being delivered to 10 million customers, with the operator claiming that hundreds of thousands of new connections are being added each month.
What's more likely to attract greater and quicker demand is the company's JioAirFiber service, which was launched in eight cities (Ahmedabad, Bengaluru, Chennai, Delhi, Hyderabad, Kolkata, Mumbai and Pune) in September and which uses the operator's now extensive 5G network (supported by that same fibre transport infrastructure) to offer 5G fixed wireless access (FWA) broadband connectivity.
As other operators around the world have found, most notably in the US, the 5G network built out for cellular service provision is more than capable of providing decent and reliable fixed wireless broadband connections to homes and businesses – Jio's unlimited data FWA service starts at (up to ) 30 Mbit/s for 599 rupees ($7.20) per month, while the fastest service offers downstream speeds of up to 1 Gbit/s for 3,999 rupees ($48.04) per month.
But Jio wasn't first to market in India with a 5G-enabled FWA service – its main rival, Bharti Airtel (375.2 million mobile customers for a 32.7% market share), which has also very quickly built out a national 5G RAN, launched its Xstream AirFiber service in Delhi and Mumbai in August. Airtel also recently announced it has attracted more than 50 million users for its 5G service, so India, in just a year, has a 5G customer base of more than 100 million.
But as telcos know, offering a broadband service is one thing – delivering a decent broadband service that keeps customers happy is quite another, and one of the major challenges with broadband service is enabling decent broadband connectivity inside a home or business premises. There have long been Wi-Fi extenders and boosters designed to deliver decent broadband connectivity beyond the room that houses the router, but such devices are of variable quality and often deliver little service enhancement.
But one company that has cracked the in-home connectivity conundrum is Plume, which not only has efficient mesh Wi-Fi technology but a smart, cloud-based service management platform that provides real-time and detailed information to service providers and users alike and which uses machine learning algorithms to constantly monitor and understand usage patterns and quality of experience and enhance Wi-Fi service delivery within a customer's premises based on that data. The capabilities of the company's technology has resulted in multiple service provider deals and attracted massive backing from investors – see Plume banks $270 million to accelerate growth, joins Unicorn club
Now it has added Reliance Jio to its list of telco customers – see Jio Harnesses Plume's Cloud Platform.
Jio will use Plume's technology – its HomePass and WorkPass solutions – to offer broadband customers whole-home adaptive Wi-Fi, optimisation of connected devices and applications, cyberthreat protection for connected devices, advanced parental controls and more. In addition, Plume's Haystack support and operations suite will enable Jio's customer support and operations teams to identify, analyse and act upon performance-related issues, find and isolate the location of network faults, and monitor customer experience.
Reliance Jio's president Mathew Oommen noted: "As we continue to expand our portfolio of connected home services, it is critical for Jio to provide our customers the most advanced and secure in-home digital services, delivering the best end-to-end customer experience. With scalable and leading-edge platforms from partners like Plume, Jio will continue to strengthen and enhance our connected home service offers and experience," he added.
This engagement is significant not only for Plume and Reliance Jio, but also for India's broadband sector. The idea that an Indian telco would source market-leading broadband service enhancement technology from a company such as Plume even as recently as five or six years ago would have seemed far-fetched – now it looks like a smart strategic move and also signifies that India's broadband services sector is not just a small-time adjacency to the mobile service sector but something that India's telcos, and their customers, are taking very seriously. This isn't just delivering a connection – this is connectivity with cutting-edge quality-of-service capabilities.
It might take a while for the combination of Jio's broadband services and Plume's in-building smarts to make an impact with paying customers in India, but it's likely to make an impact with the part of the market that can afford such enhancements and also spur Bharti Airtel, as well as other Indian ISPs, to go down the same route. Fixed broadband services have, until recently, never been a big deal, but the use of 5G access network capabilities (already in use by more than 100 million mobile customers), fibre network capacity and advanced broadband service management systems such as Plume's, signify a very real shift in what could ultimately be a significant revenue-generating sector for India's telcos.
- Ray Le Maistre, Editorial Director, TelecomTV
Email Newsletters
Sign up to receive TelecomTV's top news and videos, plus exclusive subscriber-only content direct to your inbox.