eSIM market to top $16bn by 2027 – report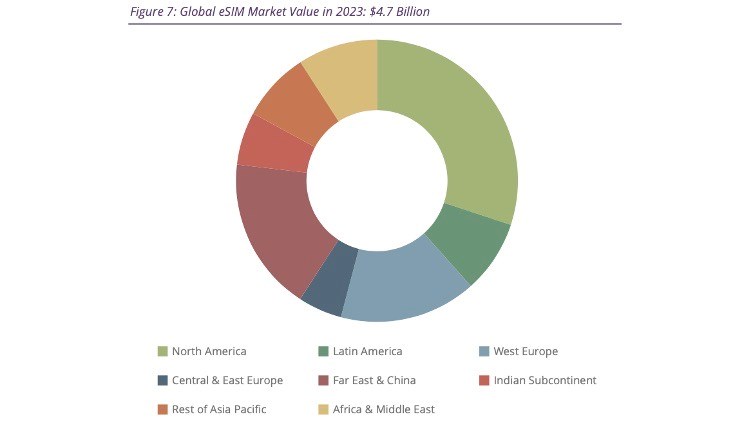 The eSIM market is expected to be worth $16.3bn by 2027, according to Juniper Research
The growth will be driven by the increasing availability of eSIM-capable devices, including eSIM-only smartphones
Although eSIM will disrupt the telco market, network operators are well placed to develop new associated business opportunities, suggests the Juniper Research team
The value of the global embedded SIM (eSIM) market is expected to increase from $4.7bn in 2023 to $16.3bn by 2027, according to a new study from Juniper Research, which highlights how mobile operators will face additional pressure to quickly adapt to avoid subscriber dissatisfaction and develop new monetisation possibilities.
According to the company's report, the eSIM market will grow by "an impressive" 249% in the next four years, as consumers are set to increasingly adopt eSIM-enabled smartphones as they become widespread. The company's valuation includes revenues from connected device and sensor eSIM module shipments (hardware), and platform revenues from connected device and sensor eSIM management. The market value covers three key sectors – consumer, industrial and public – according to Scarlett Woodford, the author of the report.
The adoption of eSIM functionality devices by consumers was given a significant push in late 2022 when tech giant Apple released an eSIM-only model of the iPhone 14 in the US, triggering "accelerated operator support", noted Woodford.
Apple is expected to this year launch such devices in markets across Europe, where eSIM technology is seen as key to tackling the "time-consuming establishment of roaming agreements within the fragmented European telecommunications market".
Needless to say, Apple is not all alone in abandoning physical SIMs. Manufacturers, such as Samsung and Google, are also working on equivalent eSIM-only smartphones running the Android OS.
In total, the number of smartphones using eSIM connectivity is expected to grow from 986 million in 2023 to 3.5 billion by 2027, Juniper Research estimated.
Perhaps unsurprisingly, there is a strong positive correlation between the geographic spread of the eSIM market's value this year and current device availability, with the expectation that the North American market will be the largest this year, followed by the Far East and China, and western Europe – see chart, above.
The report notes there is a plot twist for the Chinese market, though. The growing use of eSIM-enabled smartphones will only be possible if current regulations change: As it currently stands, the country's rules forbid the country's device manufacturers from selling eSIM-enabled devices in their home market, which limits investment and innovation, noted Woodford.
She suggested "industry bodies must work closely with the Chinese government to develop specifications that allow eSIM support whilst addressing requirements for device monitoring and tracking".
If the current restrictions are lifted, the total number of eSIM-connected handsets in China is forecast to grow from 103 million in 2023 to 385 million, or 11% of the global total, by 2027. The largest single market by that year is expected to be India – see chart, below.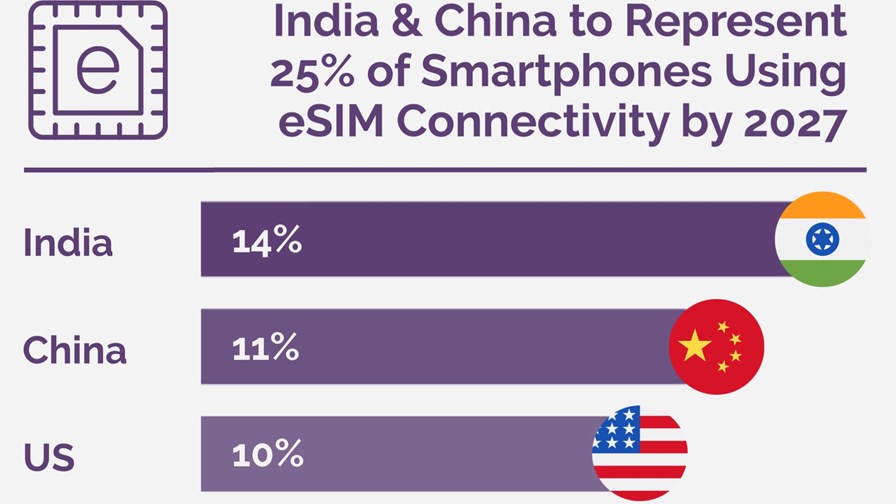 eSIM as a telco market disruptor
According to the research, the widespread adoption of eSIM will shake up the telecoms market – and operators need to be prepared for the impact.
"Despite operator concerns regarding the disruptive impact of eSIMs on existing business models, growing support from smartphone manufacturers will place additional pressure on operators. In response, service providers must support eSIM connectivity to avoid subscriber attrition as technology awareness increases", noted Woodford.
One expected change will be a shakeup in operator sales channels. "There will no longer be a need for operators to own physical brick-and-mortar stores on the high street. Instead, end users will be able to buy connectivity via an app or web page, or in-person at device stores (such as the Apple store)," the report suggested.
In another prediction by Juniper Research, there will be heightened in-app and sponsored connectivity. For instance, the study claimed: "[Digital] service providers that rely on connectivity for their core business models, such as Uber, can 'sponsor' connectivity from a network operator for a small package of data. This enables consumers to use the service, without paying for operator data which can be expensive while roaming."
The ability to provide "verification and authentication services for eSIM-based digital identity initiatives" is seen as a "lucrative" opportunity for network operators.
And the new business potential doesn't end there as network operators are "in a prime position" to "monetise premium, highly secure authentication services" at an elevated price point. According to Juniper Research, this will mainly appeal to stakeholders in verticals such as financial services, government and healthcare "where high levels of data security are sought after".
- Yanitsa Boyadzhieva, Deputy Editor, TelecomTV
Email Newsletters
Sign up to receive TelecomTV's top news and videos, plus exclusive subscriber-only content direct to your inbox.