OnePlus One says no to mobile operators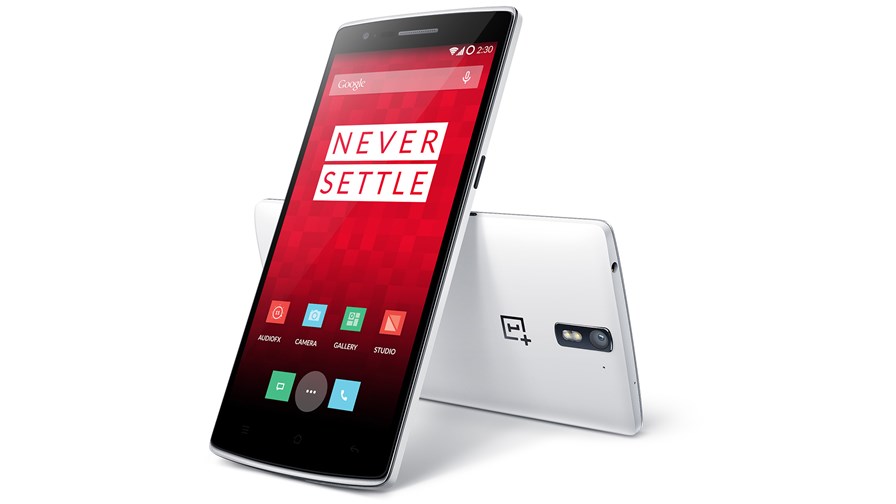 A modified Android smartphone from a China-based OEM start-up promises to circumvent operators to deliver high-end specs to a global audience for a remarkably low price.
"Never settle"; that's the slogan of new China-based smartphone manufacturer OnePlus, which this week is launching its first device. It's already got the industry buzzing with its incredible low price (for such a feature-packed device) and its implied promise to remove operator bloatware.
True, the company is choosing its official words carefully, and probably doesn't want to rule out large-scale operator deals, but for the moment it is directly targeting end users. Hitting out at the likes of the Samsung Galaxy S5 and iPhone, it boldly states that its first device is 2014's "Flagship Killer".
The OnePlus One certainly packs a punch. It runs on an adapted version of Android 4.4 – skinned with CyanogenMod 11S (more on that later) and is powered by a Qualcomm Snapdragon 801 processor with 2.5GHz quad-core CPUs, an Adreno GPU and 3GB of RAM. It promises global LTE coverage, has the latest 'ac' wi-fi variant, Bluetooth and NFC.
Not quite global LTE coverage though; there's no support for Band 20, which rules out networks like O2 and Vodafone in the UK. Neither is there support for Band 2, 5, 8, 13, 19, 25… So if you're looking for a robust LTE device, check your network before you buy. Otherwise, you'll have to make do with 3G.
Size wise, its 5.5-inch screen puts it in the "slightly large" category (dare I use the 'phablet word?), but it does use this to maximum advantage by supporting full HD (1920 x 1080) with 401 ppi.
It also has the obligatory big megapixel camera – a 13MB Sony Exmor sensor – and can support 4K video recording, as well as matching Apple's 120fps slo-mo feature at 720p.
But perhaps the most attractive spec of all is the price – $299/€269 for the 16GB model and for $349/€299 for the 64GB version. Consider that Samsung's new S5 SIM-free is around $650, plus the fact that Apple is allegedly talking to operators about covering a $100 price hike for its next iPhone.
Would you really lock yourself into a two-year contract with an operator in order to get a subsidised S5 or iPhone for $50 or more per month? Or would you be better off going SIM-only with the OnePlus One and taking out a much cheaper airtime contract (or pay as you go?). It used to be simple: if you wanted a high-end smartphone, you had to go down the operator route (unless money was no object and you could afford to splash out $600 in one go); the SIM-only option was only affordable to the masses on low-cost and low-spec devices.
But for OnePlus' strategy to work, it needs simple global distribution. Its first device will be available from Friday in Austria, Belgium, Denmark, Finland, France, Germany, Hong Kong, Italy, Netherlands, Portugal, Spain, Sweden, Taiwan, the UK, and the US, with other countries to follow at a later date. We'll soon find out how easy it is to order, and what the build quality of the device is like. But for the moment, it's an impressive package.
"By paying attention to the smallest details, taking a holistic approach to product design, and working with the best partners such as Cyanogen and Qualcomm Technologies, we have been able to create the greatest day to day user experience in a smartphone without compromise," said Pete Lau, CEO of OnePlus.
Lau was formerly the VP of Oppo, a Chinese handset OEM. He only set-up OnePlus last December. Interestingly, Oppo released a limited edition version of its N1 smartphone last September that featured a version of CyanogenMod and which ran on a Qualcomm processor.
Customised firmware distribution
Returning to Cyanogen, OnePlus announced a partnership with the Seattle-based software firm back in January. CyanogenMod is a customised, aftermarket firmware distribution for Android devices running 4.1 or higher. Based on the Android Open Source Project, it is designed to increase performance and reliability over Android-based ROMs released by vendors and carriers.
"I am incredibly proud of the effort our team has put in to the CyanogenMod build for the OnePlus One," said Steve Kondik, CTO of Cyanogen. "We've brought out the full potential of the hardware and complemented it with innovative new features to give users a fresh new experience and the tools to tailor the One to their personal style. We will continue to expand this effort to provide a genuinely enjoyable and powerful operating system for the user."
The OnePlus One uses CyanogenMod 11S, a special release tuned specifically for the device. The company describes it as "a unique visual experience blending the best of Android with the freedom CyanogenMod is known for". The Android skin is fully customizable by users. Note that it's not a forked version of Android, but the UI of Android 4.4 OS has been heavily adapted.
CyanogenMod is known primarily for its privacy enhancements. The new device will feature SMS encryption and promises full control of how apps use your data.
OnePlus adds that its first device "offers features that you really want and simplifies your user experience without adding extra, unnecessary bloat". That's as close as they get publically to chastising operators and OEMs for screwing around with mobile operating systems, a trend that is becoming increasingly irksome as telcos engage in their branding battles with device manufacturers to get in front of users.
We put up with bloat in exchange for handset subsidies. But if we can finally avoid subsidies, then it's time we avoided the bloatware. OnePlus promises disruption for the mobile device sector, let's hope they can deliver.
Email Newsletters
Sign up to receive TelecomTV's top news and videos, plus exclusive subscriber-only content direct to your inbox.