Level 3 targets video companies with new cloud service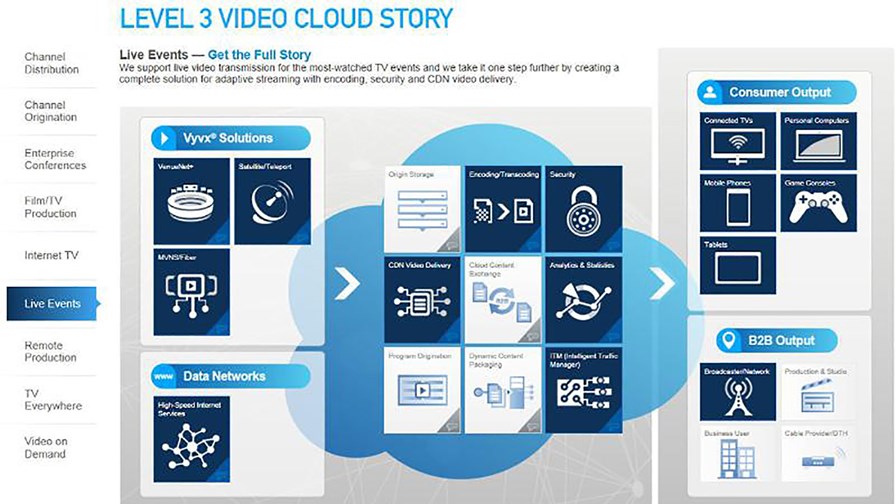 Level 3 Communications announced this week the launch of its Video Cloud Services, a global cloud-based solution that moves, stores and delivers broadcast and Internet video, creating what it says is a complete solution for adaptive streaming with encoding, security and CDN video delivery.
"The one recurring theme we keep seeing is that [content-driven] companies want a one-stop-shop for high-quality video transfer and storage – for both traditional and online media," said Mark Taylor, VP of Media and IP Services at Level 3. "Video Cloud Services simplify every aspect of video delivery, giving our customers the performance and global reach they need to not only deliver an unparalleled video experience, but also realize cost efficiencies."
Content companies and broadcasters need to transfer massive amounts of video content and data in a whole range of formats to locations and devices around the world. It's a complex to manage, often resulting in production efficiency losses, missed deadlines, poor user experience and missed revenue. Level 3 says its Video Cloud Services combines the telco's content delivery, video broadcast and cloud storage capabilities to create a more scalable, secure and streamlined approach to global content distribution.
"Ubiquitous networks, hyper-connected devices, and the ever-increasing consumer appetite for time, space and device-shifted, on-demand content have forced media companies to revisit their business models and technology capabilities," said Mukul Krishna, global director of Digital Media at Frost & Sullivan. "For a media company to survive and thrive in today's environment, agility is critical. Companies need to leverage the cloud to cost effectively and efficiently manage video throughout its lifecycle and deliver it measurably and intelligently across multiple screens. Media companies that do that well will be best poised for success."
Level 3's Video Cloud Services comprise of a suite of IP-based video services designed to support all stages of content delivery, from signal acquisition to delivery to viewers.
Email Newsletters
Sign up to receive TelecomTV's top news and videos, plus exclusive subscriber-only content direct to your inbox.