First the FTC, now Apple: is Qualcomm's business model under threat?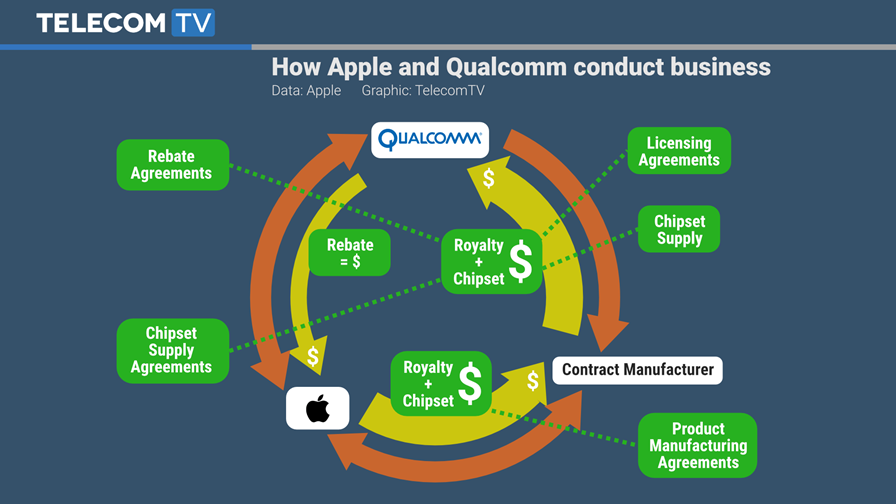 Apple brings lawsuit against Qualcomm, demands trial by jury
Claims Qualcomm has withheld $1 billion
Did Qualcomm contribute to the demise of WiMAX?
Qualcomm wanted Apple to correct and retract its statements
Who remembers the so-called standards wars around the development of 3G? We're going back some 17 or 18 years, but it was a rich source of content for those of us in the telecoms publishing sector, in the laid-back pre-Web days, and comprised a number of bruising rounds of fighting. In the red corner you had the predominantly European GSM community, convinced that 3G would simply be an extension of their 2G technology. Whilst in the blue corner you had Qualcomm and the feisty CDMA Development Group (with rather close ties between the two), determined to muscle in on the lucrative patent and licensing business.
The result of that tiresome contest was that the GSM community eventually triumphed and saw off the threat of IS-95 and CDMA 2000 networks, leading to a more harmonious and scalable LTE-based 4G. But they paid a high price and Qualcomm won important battles to ensure it became best positioned to dominate the all-important wireless baseband processing technologies.
Fast forward to 2017 and we are now in a situation where Qualcomm's dominance is under threat. Qualcomm has already been fighting cases in Asia and Europe. The Japan Fair Trade Commission (JFTC) has been investigating Qualcomm since 2006, and concluded in 2009 that the firm violated its Antimonopoly Act. Also that year, the South Korean Fair Trade Commission (KFTC) levied a fine of $207 million on Qualcomm for abusing its dominant share of the CDMA chipset market. In December last year, the KFTC imposed an additional fine of more than $850 million on Qualcomm.
In late 2013, China's National Development and Reform Commission launched an investigation into Qualcomm's practices, finding in 2015 that Qualcomm violated China's Anti-Monopoly Law and imposed a fine of 8 per cent of Qualcomm's annual revenue within China for 2013 – amounting to a $975 million fine. In 2015, the European Commission issued two Statements of Objections against Qualcomm, one of which alleged that Qualcomm's exclusivity arrangements with "a major smartphone and tablet manufacturer" harmed chipset competition. That manufacturer was Apple.
It's been a tough ride for Qualcomm, but you don't get to be a multi-billion company at the forefront of wireless technology by taking the easy route. The Jacobs family knew what they were doing and executed their plan accordingly.
Defending the home front
However, 2017 is starting very badly indeed for Qualcomm. It is about to defend another front in its IP battle, this time more closer to home. First, the FTC appeared to rush out its call for legal action against Qualcomm on the grounds of anti-competitive behaviour (in the closing moments of the Obama administration). Then just days later, Apple issued a lawsuit claiming at least $1 billion in damages – and more likely expecting a lot more when it gets its time in court and in front of a jury.
The Apple legal complaint filed last Friday afternoon comprises 104 pages in its redacted form without attachments and makes for some seriously heavy ready. The notion that it was written after the FTC filed its suit is impossible to believe. So, coincidence then? Or are we seeing a concerted attack on Qualcomm? And where Apple leads, will other smartphone vendors follow?
The document covers 25 counts of alleged wrongdoings by Qualcomm and seeks a trial by jury. Here's a summary of the reasons Apple brought the action:
Qualcomm has been declared a monopolist by three separate governments in the past two year;
Its business model is to collect royalties based on unrelated innovation by companies that utilise mobile standards;
Qualcomm believes it is entitled to collect its "tribute" on every improvement to iPhone features;
Qualcomm owes to Apple $1 billion under an agreement between the two companies and has withheld the contractual payments;
Apple seeks redress for Qualcomm's "abuse of its monopoly power" in the technologies used to connect to cellular networks;
Qualcomm "broke its promise and has breached its FRAND commitments";
The vendor "illegally double-dips" by selling chipsets that allow mobile telephones to connect to cellular networks and then separately licensing (but never to competitors) the purportedly necessary intellectual property;
For years, Qualcomm has abused its business relationships with Apple and blocked competitors from selling chipsets.
The quest for the essential patents
It's worth looking at a part of this in more detail. Apple is clear that having a common set of standards for cellular networks is beneficial to consumers because it encourages investment in infrastructure and technology. However, it says it is only beneficial if those holding intellectual property (IP) that is part of the standard make that IP widely available on terms that fairly compensate the holder of the IP, while also recognising the monopoly power obtained through standardisation. And so we arrive at FRAND – the widely agreed contractual obligations to license such patents on fair, reasonable, and non-discriminatory terms.
"FRAND commitments," says Apple, "are the heart of the standard setting process." However, it adds that "Qualcomm broke its promise and has breached its FRAND commitments" because it sells its baseband chipsets and then separately licenses the IP. "By tying together the markets for chipsets and licenses to technology in cellular standards, Qualcomm illegally enhances and strengthens its monopoly in each market and eliminates competition," claims Apple.
At which point, it's over to the collections team to ensure vendors make their payments, leveraging its market power (according to Apple) to "extract exorbitant royalties, later agreeing to reduce those somewhat only in exchange for additional anti-competitive advantages and restrictions on challenging Qualcomm's power, further solidifying its stranglehold on the industry." Such "abusive practices" have particularly harmed Apple, with Qualcomm asserting that it believes Apple's products (which now use both Qualcomm and Intel chipsets) infringe many Qualcomm patents that are essential to cellular standards, and that it will file lawsuits to assert its patents.
What doesn't help matters is that nobody really knows which particular patents are "essential". It sounds crazy, but nevertheless that's the situation. There's a lot of trust in this industry, and where's there's a reliance on trust you can bet that some sharp practices will soon follow, leading to cries of foul play and prolonged periods in court.
As Apple sees it, patent owners, like Qualcomm, can claim that their patents are standard essential patents (SEPs) without having to prove that they are essential. Many standards organisations do not test declarations of essentiality or validity for accuracy. It cites ETSI as one, which states that it has "no involvement" in "the assessment of the validity and essentiality of patents declared as SEPs." According to ETSI's self-reporting portal, Qualcomm has declared over 30,000 global assets to be "essential IPR," though Apple maintains that no objective party has tested the actual essentiality or validity of these assets. This leads to a situation that Apple says it (and others) can be "faced with claims of patent infringement based on nothing more than the unilateral assertion by a company like Qualcomm that its patents are essential".
Qualcomm's licensing model
Apple says it has been indirectly paying Qualcomm licensing fees since 2007, when it released the first iPhone. It became more reliant on Qualcomm in 2011 when Apple released an iPhone that could connect to Verizon's CDMA network, and Apple says that Qualcomm remains the only possible supplier of CDMA chipsets for its iPhone products.
Rather than grant Apple a direct license on FRAND terms, Qualcomm entered into confidential licenses with specific third-party contract manufacturers to Apple, who in turn pay the "exorbitant royalties Qualcomm demands" and pass the costs along to Apple in full. By licensing the manufacturers directly, Apple says Qualcomm can demand higher royalties because these third parties have no incentive to negotiate. Instead, they agree to license Qualcomm's SEPs on non-FRAND terms, locking Apple into "outrageous royalties". These agreements are confidential and Apple says it has not been allowed to see them as Qualcomm has refused to give consent. And because Qualcomm allegedly conceals the licenses from Apple, it is not clear what patents Apple is indirectly paying for.
The diagram at the top of this article is based on information from Apple's legal document issued last week, and attempts to make some sense out of the complex licensing arrangements.
Apple says Qualcomm's "exorbitant royalties are price gouging", but the public version of the document has the actual amounts redacted. Hopefully all will be revealed when the two parties finally meet in court. It did say, though, that in 2016 the amount it paid Qualcomm was "more than Apple pays to all other cellular patent holders combined".
A baseband processor chipset, incidentally, sells for around $10 to $20, with the royalty based on an undisclosed percentage of that figure. With the iPhone 7, Apple was able to use a Intel' chipsets as well as Qualcomm's, but this choice to introduce competition cost Apple in exclusivity-based royalty relief.
Qualcomm's royalty payments are also based on a percentage of the final selling price in which they are used. In other words, a high-end, feature-rich device (such as an iPhone) attracts far higher payments than the most basic Android device, despite the baseband functionality being essentially the same. Not the basis of FRAND, claims Apple.
The Billion Dollar question
As part of the labyrinthine agreements between Apple and Qualcomm, since 2013 Apple has been receiving quarterly rebates from Qualcomm, including amounts determined in their Business Cooperation and Patent Agreement (BCPA). Apparently, Qualcomm abruptly stopped making BCPA payments in September 2016. According to Apple, this was because Apple had testified to Korea's KFTC a few weeks earlier as part of the authority's investigation into Qualcomm.
On December 2, 2016, Qualcomm apparently said that it believed the dispute could be resolved if Apple retracted and corrected its statements to government agencies, offering to (and this is Apple's lawyers quoting Qualcomm) "work with Apple on such corrective statements." It offered to pay Apple the nearly $1 billion it owed if Apple would (paraphrasing Qualcomm's alleged text to Apple):
publicly retract and correct each of Apple's misstatements about Qualcomm to regulatory agencies;
inform the relevant agencies that such statements were untrue;
disclose Apple's correspondence with any agencies relating to any investigation of Qualcomm;
provide all additional facts to regulators and Qualcomm relating to Apple's dealings with Intel concerning any consideration from Intel to Apple relating to Apple's implementation of WiMAX or use of Intel chips;
provide Qualcomm with information about any communications between Apple's senior executives and Samsung.
Needless to say Apple baulked at such demands and starting preparing its legal action.
Qualcomm denies wrongdoings
Here's Qualcomm's public rebuttal in full, attributed to Don Rosenberg, EVP and general counsel of Qualcomm:
"While we are still in the process of reviewing the complaint in detail, it is quite clear that Apple's claims are baseless. Apple has intentionally mischaracterized our agreements and negotiations, as well as the enormity and value of the technology we have invented, contributed and shared with all mobile device makers through our licensing program.
"Apple has been actively encouraging regulatory attacks on Qualcomm's business in various jurisdictions around the world, as reflected in the recent KFTC decision and FTC complaint, by misrepresenting facts and withholding information. We welcome the opportunity to have these meritless claims heard in court where we will be entitled to full discovery of Apple's practices and a robust examination of the merits."
What became of WiMAX?
Another interesting revelation from the document concerns WiMAX. The IEEE-led standard never looked like it was going to overturn LTE and become the global defacto 4G technology, but there was certainly a lot of interest in North America. Whether it could have continued as an alternative choice for providers will never been known for sure, but there might have been more contributors to its decline than we originally thought.
According to Apple, Qualcomm forced it to "renounce WiMAX" just as WiMAX was gaining traction in the marketplace: "Qualcomm acted to eliminate the competitive threat posed by WiMAX by ensuring that Apple would not market wireless devices with WiMAX technology". This was part of a marketing incentive agreement between the two companies in 2007, just prior to the launch of the first iPhone. Given how US-centric Apple was at the time, there's every reason to believe that a WiMAX option was a possibility.
How might this damage Qualcomm?
Qualcomm reported full year 2016 revenues of $23.5 billion, with $15.4 billion attributed to Qualcomm CDMA Technologies and $7.6 billion to Qualcomm Technology Licensing. QCT develops and sells the chips, while QTL licenses the IPR. Both business units are under threat from the FTC complaint, which alleges that QCT overcharges for some of its baseband processors and QTL overcharges license fees and royalties.
The QTL revenue is extremely profitable, it may contribute "just" 33 per cent of overall revenues but around 85 per cent of this amount goes straight to earnings. That's $6.5 billion of EBT from QTL, against just $1.8 billion from QCT, making up total group earnings of $6.8 billion when losses from the small Strategic Initiative (QSI) unit are included. QCT's revenue's and profit contribution have been falling slowly but steadily in recent years, with the company becoming increasingly reliant upon the licensing side of the business.
Fortunately for Qualcomm it has a sizeable war chest of cash available, worth about $19 billion, so it can afford further legal battles and fines. Yet it also has around $10 billion of debt, so it's not all plain sailing. What would be more damaging is if Qualcomm was forced to change its licensing and business models, lower its fees and therefore its earnings-making potential. Add to this the uncertainty over 5G essential technology IPR – and Qualcomm will be up against some serious competition in this area, especially if a standalone 5G architecture is prioritised.
Alternatively, the FTC case could collapse, especially with the likely changes brought about with the new Trump administration. That would just leave the Apple case, which isn't going away anytime soon and will likely keep lawyers in sharp suits and new Teslas for many years to come. The rest of the industry may decline to follow Apple's lead, although they privately look to renegotiate terms with Qualcomm. Apple will no doubt continue to leverage Intel and hope that its next chipsets are on par with those of Qualcomm, or indeed better. Like Qualcomm, Apple and Intel are both heavily involved in the 5G standards process.
Possibly the best result anyone can hope for is that Qualcomm and Apple eventually settle their differences and as a result of protracted legal cases we all get to benefit from serious improvements to SEPs and FRAND licensing. If all that happens is that we get a more transparent and fair patent system in place for the roll-out of 5G products, then that would be an incredible achievement.
Email Newsletters
Stay up to date with the latest industry developments: sign up to receive TelecomTV's top news and videos plus exclusive subscriber-only content direct to your inbox – including our daily news briefing and weekly wrap.