Ericsson provides clues as to what makes for a successful telco business strategy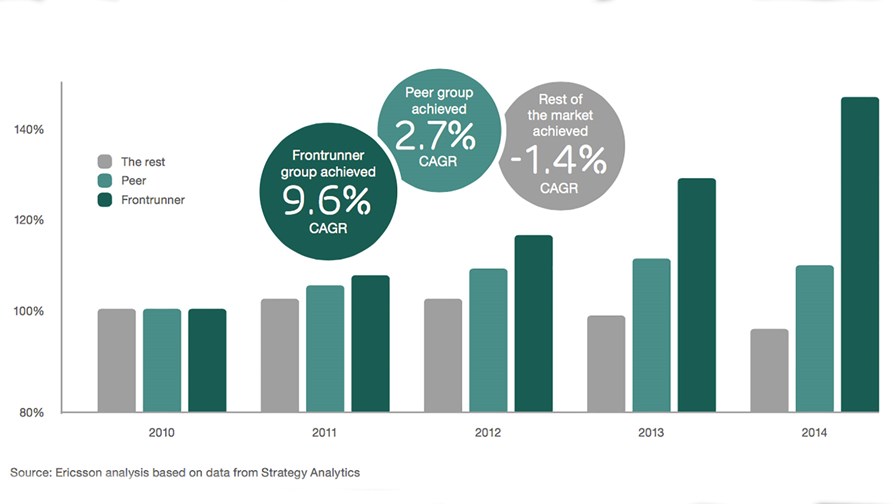 Keep on running, is the new mantra from leading telecoms vendor Ericsson, as it seeks to answer that fundamental question common to all mobile operators: what makes for a successful business strategy? In collaboration with consultancy firm Ernst & Young, Ericsson has released a new study that identifies the so-called "frontrunners" – those operators who are outperforming the market in terms of revenue growth – and has attempted to classify three distinct strategies.
Between 2010 and 2014, the study says that these Frontrunners reported an average 9.6 per cent CAGR while competitors in their markets achieved only 2.7 per cent. For full details of the methodology, the report is here. If true, and if they can maintain that advantage, that's a significant result for those operators, especially as traditional revenues are coming under increasing pressure and mobile data use continues to soar.
The three strategy categories are:
Quality-led progression: Where operators differentiate through high-performing networks and high brand preference;
Market-led adaptation: Includes those operators that differentiate through quick adaptation to market conditions; and
Offering-led transformation: Which refers to operators that differentiate by being first to market with uniquely designed offerings.
In 2013, most of the 12 identified Frontrunners were associated with the Quality-led strategy, says the report, leveraging their size and assets to deliver better quality service and thereby achieve profitable growth. Market-led operators were in the minority. In 2014, the number of Frontrunners increased to around 20 and included Offering-led operators for the first time. By 2015, it is projected that there will be 30 or more Frontrunners, with distribution between strategies starting to even out.
The report notes that Frontrunners are not necessary market share leaders in their respective regions, underscored by the fact that in 2013 most Frontrunners were ranked third by market position. "Frontrunners" would appear to be a rather confusing term, in that case.
"We wanted to understand what makes operators successful in order to be the best partner to our customers," said Patrik Cerwall, head of radio strategic and tactical marketing at Ericsson. "The journey toward 5G in 2020 will be marked by both new technology advances and new business models, but that transformation really started with the shift from voice to data-driven networking. The operators who are managing that transition successfully may provide the blueprint for success in 5G."
It pays to be disruptive
So what links these Frontrunners? The study found that they share similar views on connectivity and services as differentiators rather than commodities, and that they focus on innovating new revenue streams rather than attempting to maximise old ones. They also show greater interaction between marketing and technical roles, and they leverage network performance by either using their superior network performance as a differentiator or by improving network performance to meet customer expectations.
"We clearly see that despite their different strategies, frontrunner operators share a common commitment to network quality," said Martin Sebelius, Executive Director of Nordic Advisory at Ernst & Young. "Not surprisingly, Frontrunners constantly seek new ways of challenging industry conventions to make connectivity more relevant to people, business and society."
Stéphane Téral, research director for mobile infrastructure and carrier economics at Infonetics Research, said that study could help operators in different markets answer the universal question of where to invest and generate returns.
"Operators are trying to keep up with the growth in data traffic while facing significant economic conditions, including flat-to-declining revenue in often saturated markets," said Téral. "As it provides a nuanced view drawing on a global scope, this study is exactly what is needed for operators to thrive in any market condition."
The study also notes that the presence of a Frontrunner benefits all operators in that market, as peers in markets with them are growing at 2.7 per cent while markets without them have negative growth of 1.4 per cent.
Email Newsletters
Stay up to date with the latest industry developments: sign up to receive TelecomTV's top news and videos plus exclusive subscriber-only content direct to your inbox – including our daily news briefing and weekly wrap.