BT and Openreach push the capabilities of G.fast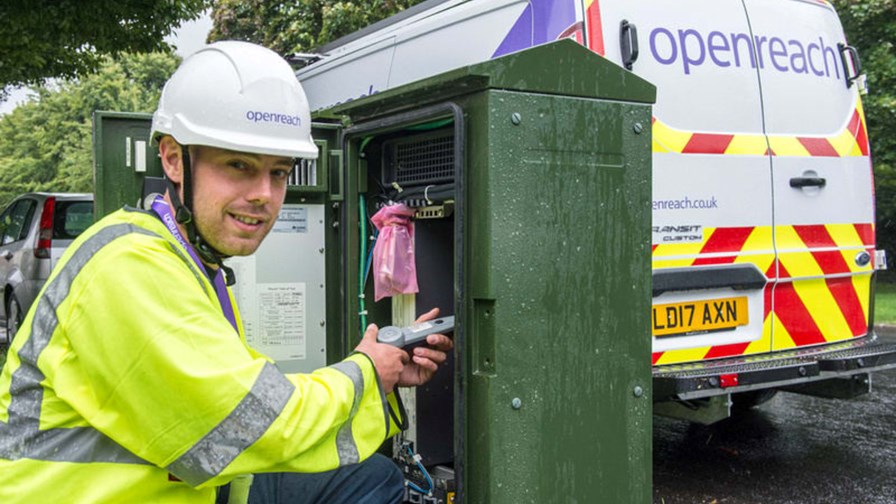 Over 500,000 premises now connected to BT's G.fast trial
Openreach has 96 port capable hardware in lab trials
Cerebus now taking orders for commercial G.fast service in UK
G.fast global revenue predicted to grow almost 600 per cent in 2019
We've been following some interesting UK-based G.fast developments over the past week or so. First, Cerebus announced a commercial solution to UK customers using the BT network (thanks to our friend Dave Burstein in New York for flagging this on his G.fast News site), and today Mark Jackson over at the always-excellent DSL Reports has obtained exciting data on the progress made by BT on pushing the technical limits of G.fast in its trials.
Looking at the commercial launch first (which is a pleasant development, given the years of testing and trials). Business ISP and comms provider Cerberus announced its new range of G.fast broadband services, delivering speeds of up to 330Mbit/s downstream and 30Mbit/s upstream at "break-through affordable prices". The caveat here is that this is "currently in advanced stage trial" and consequently "subject to limited availability", but Cerebus says that if a business is lucky enough to be in one of Openreach's trial areas, then they can order now and receive the service "months before general roll-out".
Pricing of new technology is always fascinating. Cerebus has pitched its business G.fast at an introductory price of £67.50 per month, or £55 per month for a 220Mbit/s version. On paper, that looks very competitive, but we will have to wait for actual commercial take-up before judging market potential. At the moment, coverage to UK premises is approaching 500,000, but BT is looking to reach one million homes and businesses across the UK by the end of 2017, ramping up to 10 million by 2020 with full commercial rollout.
BT pushes G.fast capabilities
Meanwhile, ISP Review has received data via Openreach from Trevor Linney, Head of Access Network Research at BT. A year ago, Linney revealed that about 75 per cent of lines on BT's G.fast field trial reached download speeds of over 300Mbit/s, but around three quarters of those lines were shorter than 150 metres from exchange to premises. One of the main drawbacks of G.fast is that performance drops off a cliff at relatively long distances, so is really suitable for short connections, such as closely-packed buildings and apartment blocks. However, if BT and its vendor partners can stretch this optimal distance it would prove G.fast's value over a much larger percentage of properties.
Technology enhancements in the works include a move to double spectrum usage to 212MHz, now that commercial units are hitting the market, and more efficient spectrum sharing with existing VDSL2 services. ISP Review also reports that Openreach has 96 port capable hardware (currently it is 48) from Huawei working in its labs.
So will G.fast reach the goal of 300Mbit/s download? This is the figure that regulator Ofcom defines as being "ultrafast". The Thinkbroadband website provides additional data. It estimates that currently only 20 per cent of premises connected to a G.fast exchange would benefit from this speed (although of course other factors, such as domestic interior wiring quality, would quickly knock this down). It believes that 52 per cent would be able to receive 150Mbit/s downstream (and 20Mbit/s up), with 64 per cent able to receive a minimum of 100Mbit/s. Again, we're looking at about distances of 300 to 370 metres from an enabled exchange for these latter two speeds (you'll need to be within 150 metres of an exchange cabinet to have any chance of benefiting from the 300Mbit/s speeds).
It's worth noting that Openreach regards 100Mbit/s as the lowest possible speed for G.fast, and it will not install or enable G.fast where a line won't meet that criteria, as it then becomes subject to an unacceptable level of signal errors.
2019: the year of G.fast?
All the while G.fast is growing in significance. A report published last week by Dell'Oro Group predicts that G.fast revenue will grow almost 600 per cent in 2019 as operators complete testing and trialling G.fast amendment 3 chipsets and systems.
"G.fast is off to a slow start so far but we think it will ramp in 2019," said Alam Tamboli, Senior Analyst at Dell'Oro Group. "Operators are holding off on massive deployments throughout their networks until they have more hands-on time with amendment 3 chipsets and systems, which will be available in early 2018."
The report suggests that many operators that wish to deploy G.fast into larger buildings via FTTB architectures are waiting for 32 or larger port units to be tested more thoroughly.
"Momentum will continue through at least the rest of our forecast horizon as we anticipate that G.fast revenue will account for over a third of the overall DSL market by 2021," Tamboli added.
Email Newsletters
Sign up to receive TelecomTV's top news and videos, plus exclusive subscriber-only content direct to your inbox.