Anritsu Introduces Extended-K 43.5 GHz Connector Family
01/07/2020 Expanded Frequency Coverage on K Connector Provides Price and Configuration Benefits in Variety of Emerging High-frequency Applications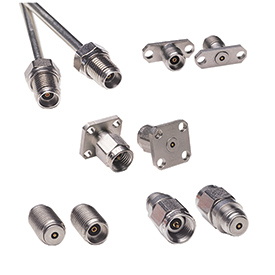 Luton United Kingdom – July 1, 2020 – Anritsu Company introduces the Extended-K™ family of connectors with mode-free and traceable performance up to 43.5 GHz. The new Extended-K family provides price and performance benefits, along with guaranteed electrical specifications, high reliability, and environmental robustness in numerous high-frequency applications, including 5G backhaul, aerospace/defense satellites, and millimeter wave (mmWave) body scanner designs. For designs and configuration that do not require frequency coverage beyond 43.5 GHz, the new flexible Extended-K connectors can serve as an alternative to retooling a test set for 2.4 mm connectors.
Performance of all Extended-K connectors is traceable to a national metrology institute. Its mode-free performance to 43.5 GHz eliminates the possibility of incorrect measurement data at a resonance point. The connectors provide true parameter performance in the proposed frequency band with a 99% level of confidence. Rated to MIL-PRF-39012 and MIL-STD-202F, the Extended-K connectors maintain their high reliability and robustness in harsh environments.
Fully operational from DC to 43.5 GHz, the Extended-K connectors remove needless costs associated with migrating from 2.92 mm to more expensive high-frequency connectors when operation past 43.5 GHz is not warranted. These new connectors can be used in a variety of applications, from component connectors to PCBs and test equipment.
This content extract was originally sourced from an external website (
Anritsu News
) and is the copyright of the external website owner. TelecomTV is not responsible for the content of external websites.
Legal Notices
Email Newsletters
Sign up to receive TelecomTV's top news and videos, plus exclusive subscriber-only content direct to your inbox.