Car driving smartphone users represent a huge market for the connected car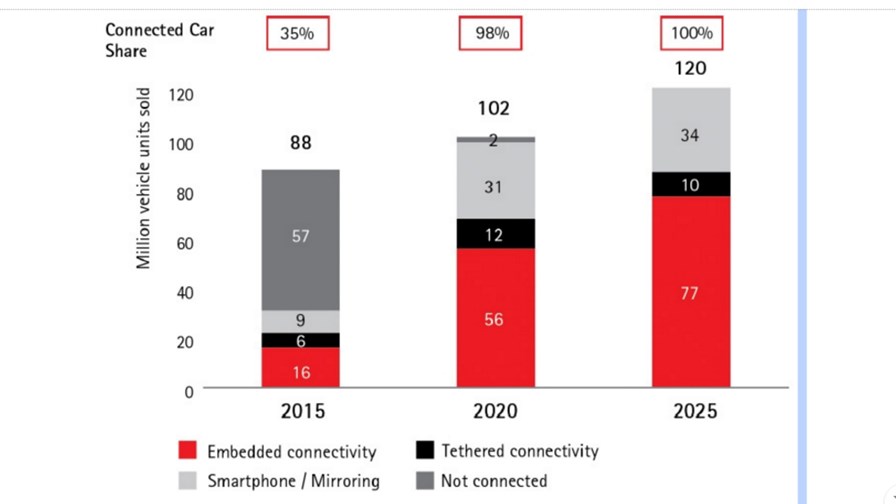 Connected car a natural for the smartphone owner
Potential buyers are keen to get access to paid-for features, like entertainent
Accenture predicts 'ker-ching' for car makers
According to Accenture the global driving public is all revved up and ready to seriously welcome in connected cars and the new features and services they will bring with them - many potential customers even say they're willing to pay 'up front' for infotainment, emergency and maintenance services, according to the report.
This is exciting stuff if you're a car manufacturer because it implies there may be a technological way out of the low margin commodity 'trap' the car market appears to be in.
The study particularly highlights the opportunity in China where it finds drivers are particularly "interested in paying a little more for navigation and diagnostic features in their future new car."
Accenture's report was surveyed 5,111 respondents in China, Germany and the United States - all over the age of 18, regular drivers and either smartphone owners or planning to buy one within the next year.
Cars are getting smarter
Thirty five per cent of cars sold in 2015 had at least one connectivity feature and the report says that the largest proportion featured embedded connectivity, including remote diagnostics and location based services. Smartphone/mirroring came in second.
By 2020, the number of new vehicles sold will breach 100 million, of which, 98 per cent will likely have at least one connectivity feature. Almost half will sport embedded connectivity, while 31% will in some way engage a smartphone.
What consumers were interested in
Not only did they want exciting features with their connectivity, but many said they were willing to pay more to get them. Over two thirds said that they would pay up to 10 per cent of the car price on infotainment services relevant to their needs - considering the price of a new car, that's quite a 'must have' requirement. The function - eCall - with which a vehicle sends an automated distress signal and bCall - same for breakdown - were also mentioned. Again, a large proportion (61%) said they wanted the eCall function, with 41% willing to pay for the service. Enthusiasm was also elicited for vehicle health reports (43% would pay extra) and vehicle tracking (29%).
Payments
Nearly half of the respondents said they'd like to either pay for digital services 'up front' when making the car purchase or pay over the lifetime of the services. About a third were keen on a conventional subscription model, paid via credit card or similar. And a third liked the idea of extending the 'freemium' model, already well understood through their use of Internet apps and online services.
According to Axel Schmidt, Managing Director in Accenture's automotive practice, "the willingness of consumers to pay for in-car services separately from a new vehicle's purchase price will provide the industry with new sources of revenue, further enhancing the global connected vehicle market."
Of course, what people say in a survey when excited by the range and utility of the services on offer at some future date might differ markedly from what they'll do in practice when the services (many without any premium) become available. Being prepared to pay for things (if they really have to) is not the same as actually wanting to pay for them.
Email Newsletters
Stay up to date with the latest industry developments: sign up to receive TelecomTV's top news and videos plus exclusive subscriber-only content direct to your inbox – including our daily news briefing and weekly wrap.